1 View
Top 10 Wildest Mud Machines
June 19th, 2015 3:33 PM
Share
We're committed to finding, researching, and recommending the best products. We earn commissions from purchases you make using links in our articles. Learn more here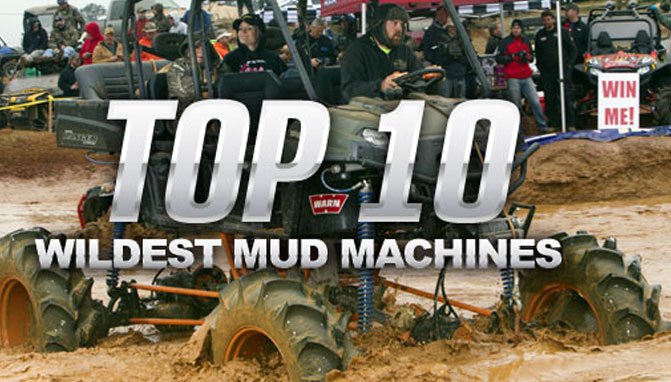 Just about every off-road rider has spent at least a little time playing in the mud – that's what four-wheel drive is for, right?
While stock machines are fine for some lighthearted mud play, hidden away in shady garages are off-road artisans hard at work constructing the biggest, fastest, and most visually appealing mud machines they can dream up.
After a trip to the world's largest mud event – the 2014 High Lifter Mud Nationals – we decided to look back over the array of crazy machines we've spotted at the event over the years and actually got a good photo of. These are not normal mud riding rigs, with some topping $30,000, and it's amazing to watch them being dunked in the muddy abyss.
Caged
Our first machine is the divine invention appropriately named Caged. This Can-Am ATV was built to stun the masses in the Bad 2 'da Bone competition and is still talked about to this day in mud-riding circles.
High Lifter Rescue Rig
This beast can be seen wading in and out of the muddy race pits to drag broken machines out. Owned by High Lifter, four-wheel steering allows this monster to maneuver in and out of the tightest spaces.
Hi-Fi Honda
Strolling through the main vendor areas you will no doubt see some incredible machines, but this big Honda caught our attention and with the ability to go deep and play some cool tunes at the same time I bet this beast is a blast.
Ranger Crew 6×6
The Side-by-Side world has grown by leaps and bounds, but when a fabricator takes the time to build a super custom rig such as this Ranger Crew Big Boss you know he has to love his job. The fully military paint scheme really turned heads.
Cat With Swollen Paws
Although Arctic Cat has built its own mud-worthy ATV, some people still feel it necessary to overachieve. This Cat was fitted with huge shoes just to play in the deep stuff.
Pink Power
The Can-Am Renegade is a popular machine when it comes to racing in the mud and this creation was built just for that. The pink color should let you know that a very fast woman rides this beast.
Mini Mud Masher
The Polaris Sportsman 90 is a great machine for youth riders, but add over 10 inches of lift, gear reduction sprockets, and Nitrous and you have a ride built for any age!
Old School
It has been quite a while since we spotted any wagon wheel dressed machines, but it just so happens that back in the day some thought it would be cool to build steel wheels similar to those used on older farm equipment. This ride was able to stretch its legs in the mud bog, but probably didn't feel good on the trail.
Big-Wheeled Sportsman
Polaris products are also very mud worthy rides when sealed up properly and this beast seems to at least have the height down to get down!
High Stepping RZR
Possibly the most intriguing ride we have spotted lately would be yet another incredible creation by High Lifter Products. This machine started as a Polaris RZR4 and now comes complete with massive lift and an over 500hp small block engine for power. It is an incredible sight and sound to behold. I wonder if I could borrow it for a few days to ride around the neighborhood. Published April 29th, 2014 3:02 PM
Top Brands
Popular Articles