1 View
2015 Polaris RZR XP 1000 Gets Power Boost
June 18th, 2015 2:34 PM
Share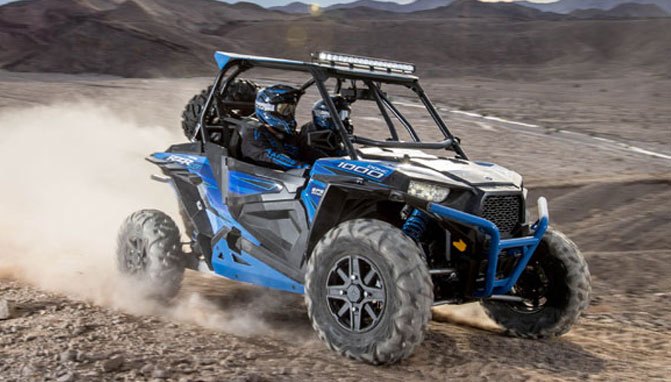 Polaris has given the RZR XP 1000 and RZR XP 4 1000 a power boost for the 2015 model year. Each model now produces a claimed 110 horsepower – up from 107 horsepower when they were introduced last year.
Read our 2014 Polaris RZR XP 1000 Review
"As always, RZR has been the leader of recreational side-by-sides due to their ultimate combination of power, suspension and agility," says Craig Scanlon, general manager of Polaris Side-by-Side Vehicles. "Even though we just launched the RZR XP 1000 and XP 4 1000 last year, we're always looking to improve upon every aspect of our vehicles' performance."
To achieve 110 horsepower, Polaris says the 2015 RZR XP 1000 and XP 4 1000 feature a new calibration with high-output cams, stiffer valve springs and a higher compression ratio of 11:1. Polaris boasts that the RZR XP 1000 and XP 4 1000 offer nine-percent more power than anything else in their classes. According to Polaris, a revised exhaust system, incorporating closed loop control and catalyst technology, enables the ProStar 1000 engine to not simply add power, but also be cleaner and more efficient. To handle the increased power, the 2015 RZR XP 1000 and XP 4 1000 feature new direct flow intake covers, new belt and a new clutch cover with more ducting providing two times more airflow directly to the clutches.
The RZR XP 1000 will be available in Havasu Red Pearl, Voodoo Blue and White Lightning, and the RZR XP 4 1000 in Havasu Red Pearl and Voodoo Blue. All units feature standard Electronic Power Steering (EPS) and will be available in dealerships starting in July.
Published July 2nd, 2014 12:18 PM