1 View
Bobcat Unveils 2015 3400 and 3400XL UTVs
June 19th, 2015 2:01 PM
Share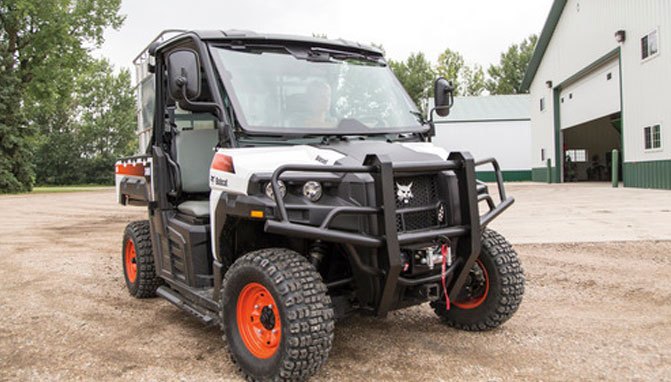 Bobcat has unveiled its 2015 four-wheel drive 3400 and 3400XL Utility vehicles, which boast improved suspension systems, industry-leading payload and towing, faster travel speeds and more integrated accessories.
Both the 3400 and 3400XL models have a sealed constant velocity transmission and are available with two engine configurations: a 40-horsepower (570 cc) gas engine or a 24-horsepower (1120 cc) diesel engine. The gas and diesel engines provide operators with greater performance – up to 40 mph with a dealer-installed kit.
The 3400 and 3400XL gas units provide easier start-up and responsive acceleration with an electronic fuel injection system, which adjusts to temperature and altitude changes. The 3400 and 3400XL diesel units have automatic glow plugs that adjust to colder starting conditions.
An ergonomic lever allows 3400 and 3400XL utility vehicle operators to shift between high, low, neutral and park positions. The four-wheel drive system allows operators to shift on-the-fly to adjust to changing ground conditions.
For machine protection, both models have a full skid plate, a constant velocity shield and an optional brush guard to protect the undercarriage, engine, transmission and radiator when traveling over rough terrain, logs, rocks and other debris.
New Bobcat 3400 and 3400XL utility vehicles provide both an adjustable independent front dual A-arm suspension and an adjustable rear de Dion multi-link suspension system. The new suspension system provides the operator and passengers with a more comfortable ride, tighter turning radius, increased payload capacity and more stability when towing. Each utility vehicle wheel moves independently, keeping all wheels in contact with the ground, for maximum traction.
Bobcat Company spent considerable time designing the new 3400 and 3400XL models to help minimize installation time to add options and accessories to the utility vehicles. Bobcat enhanced the models to include modern interior and exterior styling. For example, the utility vehicle's frame has flat-sealing surfaces to ensure a good seal – designed to keep dirt and water out of the cab – and to improve operator comfort and for uptime protection.
Front and rear windows, a roof, and canvas or hard-sided doors – available on 3400 models – can be easily added and removed, as needed to both models. Once 3400 owners get the hinges installed, the doors simply lift on and off. Owners can convert the utility vehicles from an open to an enclosed modular cab in a few minutes.
The 3400 and 3400XL utility vehicles have a cargo box with 1,250-pound payload capacity and a longer cargo box – seven inches longer than previous models – making it one of the largest cargo boxes in the industry.
A durable easy-to-clean composite cargo box features a single-latch mechanism, an integrated fastening system and tie-downs to secure cargo. A standard manual or optional hydraulic dump lever is available to easily empty materials from the vehicle's cargo box.
Both the 3400 and 3400XL feature standard power steering and tilt steering, and ample legroom and foot space. New 3400 utility vehicles come with a standard three-passenger bench seat with three-point seatbelts for all passengers. The 3400XL utility vehicle has two bench seats that can accommodate up to six passengers. Options include dealer-installed heated cab and a lower step height for ease of use.
To better accommodate utility vehicle passengers, Bobcat has added under-the-seat storage and new storage across the dash to complement the existing glove box. Two 12-volt accessory plug-ins also come standard on both models, allowing operators to conveniently charge a phone, iPod® or other mobile devices.
Bobcat has incorporated a new LCD display for the 3400 and 3400XL. Operators simply press a button to toggle through the instrumentation screen. The LCD includes the following items:
• 4×4 position
• Battery voltage
• Electronic fuel gauge
• Engine temperature
• Fuel gauge
• Miles
• RPM
• Service intervals
• Speed
• Time
• Total hours
• Transmission position
Fuel tanks on both models are conveniently located, and daily checks of items such as fluids, filters and the battery can all be easily accessed through the machine's engine compartment. Water cooled engines in the new 3400 and 3400XL allow for easier and more efficient shutdown protection, keeping the engine cool in the hottest of days on the jobsite. To help minimize downtime, liquid-cooled engines protect critical engine compartments from overheating, which also results in more performance and power from the machine, because components are kept cooler at higher rpm.
When it comes to snow and ice removal, the 3400 and 3400XL models have an optional snow blade that connects to the machines with a winch kit. For ground maintenance professionals, landscapers and homeowners with acreage, a 60-gallon sprayer can be mounted in the machine's cargo box. The sprayer is ideal for spot weed control and broadcast spraying of liquid fertilizers and chemicals.
General purpose tires come standard on the 3400 and 3400XL utility vehicles. ATV/mud, turf and hard surface tires are available through the parts departments at local Bobcat dealerships. Additional accessories include a two-inch front receiver, front and rear work lights, radio and speakers, strobe light, backup alarm, a 4,500-pound winch and turn signals.
Cargo box accessories include a divider/extender to separate, protect and transport cargo, or extend the length of box by length of the tailgate; rear window guard to secure cargo that extends above the top of the cargo box; tool holder mount; weather resistant tool box, and chain saw mount to transport a chain saw on the side of the cargo box.
Bobcat 3400 Specs
Transmission and drive: High, low, neutral, reverse and park; CVT
Drive system: 4×4
Horsepower: 40 hp (29,6 kW) gas or 24 hp (17,9 kW) diesel
Vehicle towing capacity: 1900 lb. (862 kg)
Cargo box load capacity: 1250 lb. (567 kg)
Maximum travel speed: 40 mph with dealer installed kit
Accessories: full line; including snow blade (with winch kit), sprayer for cargo box
Bobcat 3400XL Specs
Transmission and drive: High, low, neutral, reverse and park; CVT
Drive system: 4×4
Horsepower: 40 hp (29,6 kW) gas or 24 hp (17,9 kW) diesel
Vehicle towing capacity: 2150 lb. (975 kg)
Cargo box load capacity: 1250 lb. (567 kg)
Maximum travel speed: 40 mph with dealer installed kit
Accessories: full line; including snow blade (with winch kit), sprayer for cargo box
Published December 31st, 2014 12:38 PM