1 View
Top 10 Places We Want To Ride in 2015
June 16th, 2015 5:34 PM
Share
We're committed to finding, researching, and recommending the best products. We earn commissions from purchases you make using links in our articles. Learn more here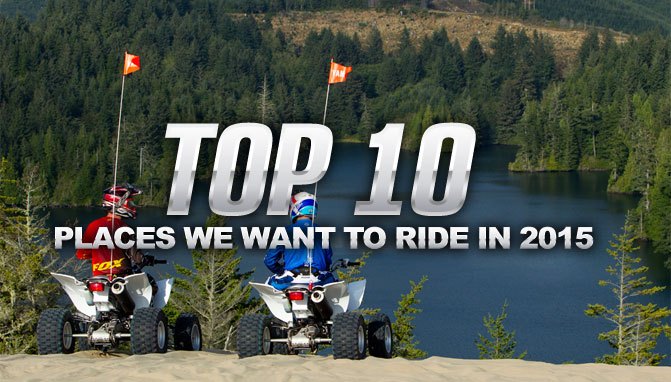 With much of North America dealing with a snowy winter, many are longing for another chance to get out and ride without dealing with the bitter cold. While we can't offer you a ride on a sun-soaked trail, we can tease you with a look at where we want to ride this year.
We scoured our memory banks and old articles to come up with 10 places we hope to get a chance to visit in 2015 – and 2016, 2017, 2018…
This is just a small taste test of the awesome riding destinations available to be explored, so if we missed anything don't be offended; just tell us about it in the comments so we know where to go next time. This list is presented geographically, from east to west.
Mattawa, Ontario
We have spent many days exploring Ontario's vast ATV trail network, but one place that keeps bringing us back again and again is Mattawa. Located about a half hour east of North Bay and across the Ottawa River from Quebec, Mattawa and its surrounding Voyageur Multi-Use Trail System are not to be missed. The town itself is very ATV friendly, so you can ride right up to area restaurants and accommodations. But it's the mapped and marked trails, which offer something for everybody, that really put a smile on our face. A summer visit would give you a chance to leisurely ride around a picturesque lake and stop for quick swim to cool off, but we are partial to the colorful beauty of an autumn ride. Real adventure seekers will appreciate the varied terrain with some challenging, steep trails thrown in for those who want to test their limits.
Hatfield-McCoy Trails
ATV and UTV riders have been flocking to West Virginia's Hatfield-McCoy trails for years, and for good reason. The area boasts thick, forested trails and impressive elevation changes. Best of all, the trail network keeps on growing and area communities are supporting it with lodging, gas and food within easy reach. Eight different trail networks make up the 700+ mile trail system. Whether you are into gnarly, rock-strewn climbs, slick mud or easy and scenic rides, the Hatfield-McCoy trails have you covered. If you like sharing the trails with thousands of our closest friends, you'd be wise to check out the annual Hatfield-McCoy National Trailfest.
Cumberland Mountains
When it comes to ATV riding in the southeast, we can't think of anywhere we'd rather go than the Cumberland Mountains in Tennessee. Huntsville, Tenn. is right in the middle of it all and makes for an ideal base camp. With hundreds of miles of trails winding through the thick, forested mountains, you are greeted by inspiring views and awesome riding. And while you're sure to have a great time riding the trails with just a couple of friends, if you want to see a big southern off-road party, come to the White Knuckle Event on Memorial Day weekend run by Brimstone Recreation.
Black Lake
Like Ontario, Michigan is a haven for both snowmobilers and ATV riders. While we've explored parts of this state, one area we haven't been to yet is Black Lake. Located slightly southeast of Cheboygan (the top of the mitten), Black Lake boasts about 65 miles of ATV and UTV trails. Trails are serviced by three parking lots and visitors can camp out at the Black Lake Campground. You can expect to see plenty of wildlife in the area, which is popular with anglers and hunters.
Moab
When it comes to off-road riding in the United States, Utah is awfully hard to beat. Moab, in particular, offers more than 3,000 miles of trails and is home to some of the nastiest rock crawling you will find anywhere. But the area offers so much more than that. Leisurely rides with snow-capped mountains in the distance will put a smile on your face, and large rallies with guided tours make exploring this massive riding area fun for the whole family.
Sand Hollow State Park
When we are asked what is the prettiest place we've ever ridden, Sand Hollow State Park near St. George, Utah is always first to mind. The red sand of the dunes has to be seen in person to be appreciated, while the rock formations look like an art project carved by beings from another planet. The mix of dunes and rocky landscape make this area fun for everybody. Our only visit was at the original Kawasaki Teryx introduction in 2008, so it's high time we make our way back.
Imperial Sand Dunes (AKA: Glamis)
Every off-road fan should make the pilgrimage to Glamis at least once. Located in southern California about three hours east of Los Angeles, the Imperial Sand Dunes offer sand as far as the eye can see. If you go on a long weekend, prepare to share the space with thousands of ATVs, UTVs, dirt bikes and sand rails. We prefer to visit Glamis mid-week when it's nice and quiet and it feels like you have the whole place to yourself. As it's a bit far off the beaten path, it's a good idea to bring a travel trailer or toy hauler along so you can ride all day and camp at night.
Oceano Dunes
(Photo courtesy of Jason McClintock)
With only 1,500 acres open to off-road vehicles, Oceano Dunes (Pismo Beach) is fairly small, but it is dripping with off-road history. People have been ripping up the sand at Pismo Beach for decades and it's one place you need to put on your bucket list. This is the only dune riding area in California with beach access and you can camp out as well. Any place you can ride and swim in the ocean is OK by us.
Capitol State Forest
We first got to experience the trails of Washington's Capitol Stage Forest in 2010 at the Yamaha Grizzly 450 press intro and have been itching to go back ever since. Situated near Olympia, Wash., about 100 miles of trails are open to ATV use on the northern half of the forest; the southern half is reserved for hiking and horseback riding. Because of the thick cover provided by the trees, trails is shaded virtually everywhere, which is ideal for riding in the middle of a hot summer. Connected to the trail system is the Straddleline ORV Park, where you can camp out for a nominal fee.
Oregon Dunes National Recreation Area
Home of the annual Oregon Dunefest, the Oregon Dunes National Recreation Area combines dune riding, pine forests and coastal views. It is a favorite destination for ATV manufacturers to host new vehicle introductions, due to the stunning views that make any machine look amazing. The area is made up of three different dune locations – Florence, Winchester Bay and Coos Bay – so you can visit again and again without riding the same area twice. And unlike other dune locations where temperatures can soar to unbearable levels in the summer, this area is cool enough to ride all year long. Lucas Cooney
I have been working exclusively in digital media since 1997. I started out with TSN.ca, spending nearly nine years creating and editing content on Canada's leading sports website. I left to join VerticalScope, Inc., one of the world's largest online publishers, to start a number of powersports publications. While at VerticalScope, I've helped create and oversee content for a wide variety of different publications, including ATV.com, Off-Road.com, ArcheryTalk.com, Tractor.com, RVGuide.com, and many more.
More by Lucas Cooney
Published January 19th, 2015 4:03 PM
Top Brands
Popular Articles