1 View
BFGoodrich UTV Tires Ready for Order
July 31st, 2015 3:31 PM
Share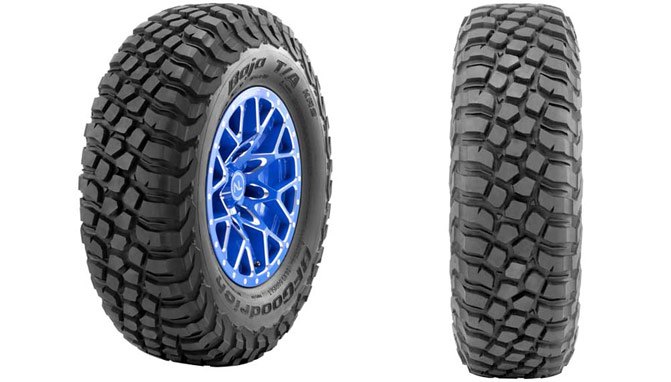 New Baja T/A KR2 UTV tire designed for desert applications
At long last, BFGoodrich is ready to take orders for its first ever UTV tire as of August 1, 2015. The Baja T/A KR2 UTV tire made its debut at the Baja 500 and is designed specifically for desert use.
Many of the features of the new UTV tire were derived from BFGoodrich's off-road truck racing experience. The KR2 UTV tire boasts CoreGard technology on the sidewalls, split and bruise-resistant rubber, stone ejectors for extra tread cleanout, raised bars in the shoulder to help release compacted mud, and staggered shoulder blocks for improved traction and braking performance.
BFGoodrich Unveils First UTV-Specific Tire"We have developed a winner in the KR2 desert race tire," says Chris Baker, BFGoodrich racing director. "It's become sought after in several classes from Trophy Trucks to Class 1 and Class 10. Our BFGoodrich race tire engineers have been able to design the tire so it meets various specifications while maintaining the toughness and performance needed in the desert. With the KR2 now available in the growing UTV race class, we continue charging forward with our goal of providing the best desert race tires to the broadest collection of racers. The KR2 is on its way to becoming the go-to race tire in the desert."
Vist Beat1301.com or call 1-800-RACE-BFG for more information.
Published July 31st, 2015 3:29 PM
Top Brands
Popular Articles