1 View
Polaris Awards $107,000 in T.R.A.I.L.S. Grants
November 4th, 2015 3:24 PM
Share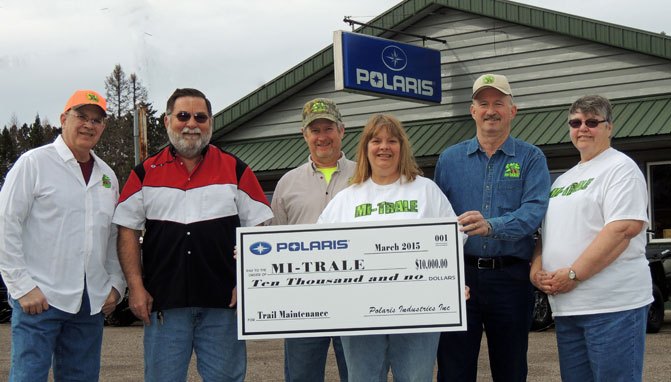 Grants given to ATV and ORV organizations
Polaris recently donated $107,000 through its T.R.A.I.L.S. Grant Program to nine off-road vehicle organizations to be used towards toe development, improvement and expansion of trails, lobbying efforts, and the update and expansion of education materials.
The nine not-for-profit organizations received awards ranging from $7,000 to $10,000.
Since Polaris launched its T.R.A.I.L.S. Grant Program in 2006, the company has donated more than $1.7 million to ATV and ORV clubs, associations and grassroots groups across the United States. So far, Polaris has awarded 200 grants.
The grant program encompasses two main objectives: promoting safe and responsible riding and preserving trail access. Funds can be used by organizations for trail development and maintenance projects, safety and education initiatives, lobbying, and other projects to increase and maintain land access.
The acronym T.R.A.I.L.S stands for:
T = Trail Development
R = Responsible Riding
A = Access
I = Initiatives
L = Lobbying
S = Safety
"Off-Road organizations are the heart and soul of our sport," said David Longren, president of Polaris Off-Road Vehicles. "The T.R.A.I.L.S Grant Program was developed to support the initiatives of those organizations to help ensure the future of off-road riding."
The September 2015 T.R.A.I.L.S. grant recipients are:
BlueRibbon Coalition Legal Defense Fund (Idaho)
San Diego Off-Road Coalition (California)
Ravalli County Off Road User Association (Montana)
Woodtick Wheelers (Minnesota)
Cope Environmental Education Center (Indiana)
Southwest Regional Recreation Authority (Virginia)
Itasca County Land Department (Minnesota)
State Organizations
VT ATV Sportsman's Association (Vermont)
National Organizations
Daniel Boone National Forest (Kentucky)
For more information on the T.R.A.I.L.S. grant program and an application form, visit the Polaris website.
Published November 4th, 2015 3:24 PM
Top Brands
Popular Articles