1 View
Teryx Girls To Take on King of the Hammers
December 22nd, 2015 3:37 PM
Share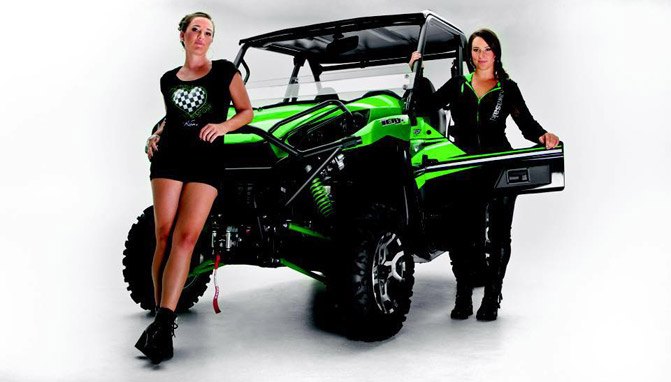 Sara Price and Erica Sacks preparing for the Ultimate Desert Race
After an adventurous 2015 saw them competing in the Sahara Desert, the Teryx Girls are ready for a new challenge and have committed to the 2016 King of the Hammers.
Sara Price and Erica Sacks will race through Johnson Valley, Calif., speeding through open desert and slowly tackling the technical rock crawling sections of the course.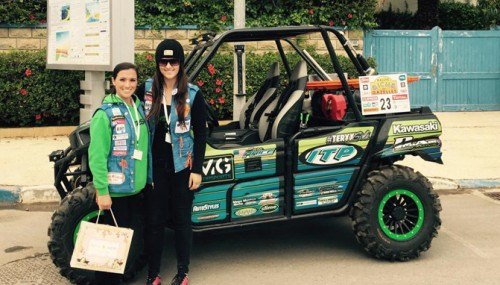 Kawasaki Complete Rally Race in Africa"The King of the Hammers is a true test of (wo)man and machine as last year only three of the 51 entrants finished the race in 2015," Kawasaki says in a release.
"When Erica and I formed the Teryx Girls last year, we knew we would be racing some of the toughest races in the world," said Price. "We formed a strong bond in the Sahara Desert last year and now we are ready to take on new challenges to show everyone the strength of the Teryx Girls."
In March of 2015 the Teryx Girls, with the support of Kawasaki, made history in their Kawasaki Teryx Side-by-Side by finishing the 25th Annual Rallye Aicha des Gazelles. Price and Sacks are the first American UTV team to compete in what's known to be the toughest all female motosports event on the planet.
"This past year has been amazing for both of us," said Sacks. "Sara and I are excited to face new challenges and we can't wait for The King of the Hammers. We know it is going to be a hard race to finish, but we are determined to get a good finish."
This year IMG Motorsports will build a 2016 Kawasaki Teryx for the King Of the Hammers. Fans can watch the Teryx Girls race live on Wednesday, February 3rd at www.ultra4racing.com/live.
The Teryx Girls would like to thank all of their supporters including:
Kawasaki, Kawasaki Genuine Parts, IMG Motorsports, HCR Racing, Super ATV, F&L Racing Fuel, Summers Brothers Racing, Raceline Wheels, Arisun Tires, Slime, Alpinestars, Bell Helmets, PRP Seats, KC Hilites, PCI Race Radios, 100% Goggles and Factory UTV, Oasis Medical, Coyote ENTS.
The team can also be followed on their journey, from training for the Race to daily updates at www.facebook.com/TeryxGirls.
Published December 22nd, 2015 3:37 PM
Top Brands
Popular Articles