1 View
Can-Am Mavericks Sweep Podium at Parker 250
January 13th, 2016 12:13 PM
Share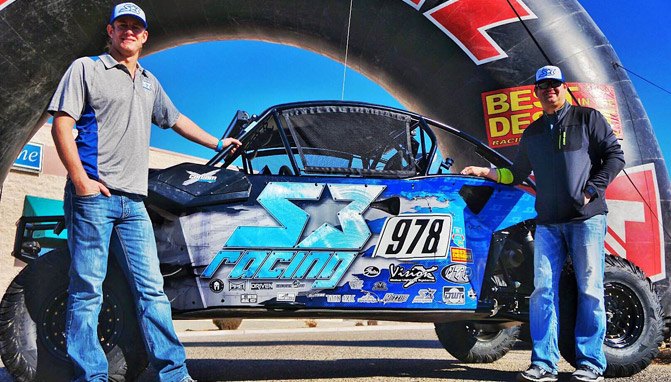 Mavericks go 1-2-3 in BITD UTV Turbo class
The Can-Am X-Team kicked off 2016 with a podium sweep in the UTV Turbo class at the Best In The Desert THR Motorsports Parker 250 opener in Arizona.
Dustin Jones and Shane Dowden (Can-Am / S3 Racing) won the class. Logan Gastel and Murray Racing also finished on the Turbo class podium, earning second and third, respectively. Can-Am ATV racer Chris Robinson also posted a class victory in the Expert Ironman (ATV) class.
"Our Maverick 1000R Turbo race teams started off the year with great success at the BITD opener and made a clear statement that Can-Am is a force to be reckoned with this year," said Jeff Leclerc, Racing Project Leader, Can-Am. "Our Can-Am racers — no matter the class — are determined to win BITD championships and this is exceptional start to a long season and a perfect way to highlight the capabilities of our off-road vehicles."
Round one of the BITD schedule, the Parker 250, stopped in Parker, Ariz. The new season also brought a new class, the all-new UTV Turbo (Pro Turbo Production) class. Can-Am had several teams competing in several classes at the opener, as the Maverick side-by-side vehicle count continues to rise.
S3 Racing finished with a two-lap time of 3:13:51.737 to win the class. The team had to overcome a few issues to reach the finish and notch its second straight class victory in the BITD Side-by-Side series.
"It was a tough day against some really fast guys. After some troubles and help from our amazing crew, Shane and I were able to battle back to the front to take the victory," said Jones on his Facebook page.
Gastel (Rugged Radios / Racer Tech) and co-pilot Josh Lucero finished a little more than a minute behind the S3 / Can-Am team to take the runner-up spot and third place on the overall podium. The No. 1917 Can-Am / ITP / Murray Racing Maverick MAX Turbo of Derek Murray, Jason Murray and Monty Aldrich scored the third-place UTV Turbo class podium position with its two-lap time of 3:16:12.287, which was less than a minute behind Gastel.
The S3 Racing / Can-Am team won two classes at the Parker 250, as Can-Am Renegade racer Chris Robinson won the Expert Ironman ATV class and Dustin Jones and Shane Dowden teamed up to win the UTV Turbo class in their Maverick MAX Turbo.
Robinson, representing S3 Racing / Can-Am and riding solo, put his Renegade 1000 X xc atop the Expert Ironman ATV class. His two-lap time of 3:30:47.884 made him the top ATV finisher and secured seventh overall in the entire Motorcycle and Quad Ironman division. Also, the Dynamic Airways / Jet MidWest-backed Can-Am Maverick of pilot Jason Farrell and co-pilot Anthony Perez finished second in the Unlimited class and 16th overall.
Published January 13th, 2016 12:13 PM
Top Brands
Popular Articles