1 View
Wienen Sweeps Motos in Texas to Extend Championship Lead
April 11th, 2016 1:50 PM
Share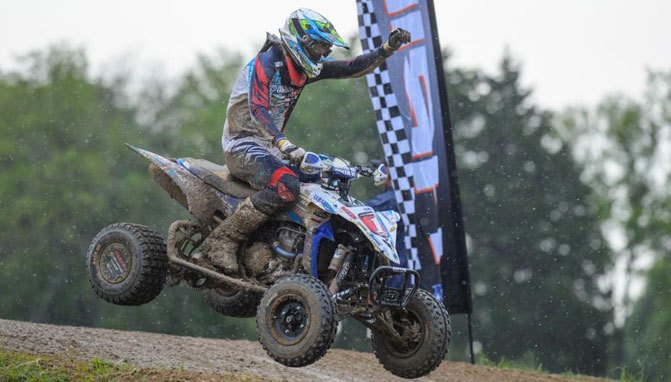 Hetrick, Natalie complete ATVMX podium
(Press Release) The 2016 ProX ATV Motocross National Championship presented by CST Tires, an AMA National Championship, continued today, April 9, at Underground MX Park (UGMX) in Kemp, Texas. The racing action was nothing short of exciting with changing weather conditions creating an all-around exciting race day. With a mix of sun and rain the ATV Pro class was put to the test when it comes to their riding skills, but at the end of the two grueling motos it was Wienen Motorsports/Yamaha/Maxxis/SSi Decals/Walsh Racecraft/FLY Racing's Chad Wienen who took home the esteemed overall win.
"Our program has really advanced this year and that's been proven with getting both the holeshots today," said Wienen. "The goal is to get our fifth straight championship and there's still a lot of racing and work left to do, but we are on the right track."
Chad Wienen (center) celebrates his win on podium. (Photo by Ken Hill)
After two timed qualifying sessions it was Maxxis/Elka Suspension/Liquid Wrench's Joel Hetrick who claimed the ATVriders.com Fastest Qualifier Award. Although Hetrick had the first gate pick, Wienen would ultimately claim the SSi Decals Holeshot Award in moto one with Maxxis/FLY Racing/Baldwin Motorsports-backed John Natalie right on his bumper.
Wienen used the early lead to his advantage and quickly pulled away from the rest of the field, and while Hetrick gave it everything he, had he came up just short of the win in second. Still suffering from his knee injury that happened just one month ago in Daytona, Hetrick proved today that he has the drive and determination to make a comeback and be considered a contender for the coveted AMA National Championship.
"Heading into this weekend I had no expectations when it came to taking the win, but for what I did today between the fastest qualifier and two podium finishes it just feels great, this is exactly where I wanted to be," said Hetrick.
Hometown hero and Maxxis/Root River Racing/JB Racing's Thomas Brown managed to pick the talented pro field off one-by-one as he worked his way from mid-pack to finish third in moto one.
Rain began to fall right before the second moto began creating quite the opposite track conditions than the racers experienced in the first moto. However, once the gate dropped it was much the same story with Wienen once again pulling the holeshot and Natalie following his tracks. After falling back to fourth in the first moto, Natalie was able to hold onto the second place position earning him third overall.
Rain before the second moto made for a muddy track, but it wasn't enough to throw Wienen off his game. (Photo by Ken Hill)
"I ended up stalling my bike over one of the jumps and that let Rastrelli and Brown get around me in the first moto," said Natalie. "I was able to pass Rastrelli, but just ran out of time when I was finally able to get Brown in sight. The second moto went much better. I suffered from roost, but it feels great to end up on the podium."
Hetrick would maintain his consistency and finish on the podium in third for second overall. Brown finished just off the overall podium in fourth followed by JB Racing/Root River Racing/Gold Speed Tires' Jeffrey Rastrelli in fifth.
Jeffrey Rastrelli finished fifth overall after 6-4 moto finishes. (Photo by Kenn Hill)
The 2015 Rookie of the Year and AGX Designs/Walsh Racecraft/Maxxis' Nick Gennusa finished an impressive sixth overall with 7-5 moto score, with Root River Racing/Hoosier Tires/Rage ATV-backed Josh Upperman following in seventh and Argentina's Nico Cavigliasso in eighth.
Factory Honda/Joe Byrd Quad Riding School/ Walsh Racecraft's Joe Byrd and Two Seven Motorsports/Dasa Racing/Maxxis-backed Brad Riley rounded out the top ten.
Thomas Brown just missed the podium with a fourth place finish. (Photo by Ken Hill)
Maxxis/Liquid Wrench/Elka Suspension/Honda's David Haagsma suffered from a string of bad luck at UGMX. The California native was struck by a rock in the face while running top five in the first moto and then found himself tangled up with SSR/FTR/Maxxis/Corrosion Specialties' Nick Moser off the start of the second moto.
The ATVMX circuit travels resumes in two weeks, April 23 and 24, with the Muddy Creek National in Blountville, Tennessee.
For more information on the 2016 ProX ATV Motocross National Championship, visit the official series website at www.atvmotocross.com. Join the conversation on the series Facebook page, follow on Twitter and Instagram, and be sure to always hashtag and
ATV Motocross Pro Standings
Chad Wienen (75)
John Natalie (58)
Thomas Brown (55)
Jeffrey Rastrelli (55)
Nick Gennusa (45)
Joel Hetrick (45)
Josh Upperman (41)
Joe Byrd (34)
Brett Musick (28)
Nico Cavigliasso (25)
Published April 11th, 2016 1:50 PM