1 View
2016 Rally in the Pines Report
August 18th, 2016 10:49 AM
Share
We're committed to finding, researching, and recommending the best products. We earn commissions from purchases you make using links in our articles. Learn more here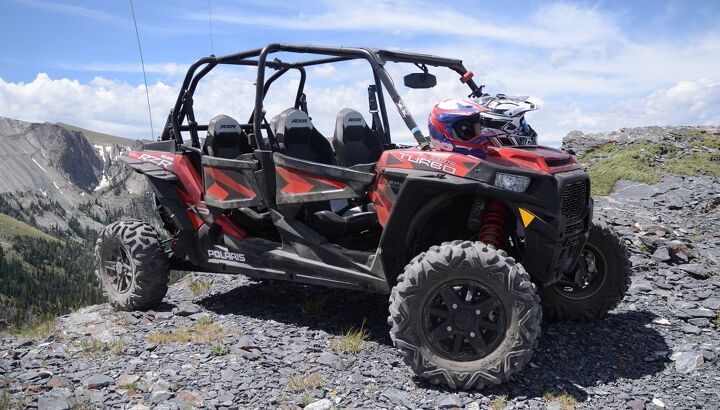 An ATV and UTV Mecca in a sleepy western town
Western UTV drivers and ATV riders made their way to Mackay, Idaho recently for the 2016 running of Rally in the Pines. We decided to join in on the fun.
Rally in the Pines is an event organized and hosted by BAM Film Productions, whose owners Blake and Meg Allen work hard to assure a UTV and ATV rally happens in a fashion somewhat resembling the Sturgis Motorcycle Rally in Sturgis, South Dakota. We loosely compare the two, but state this to give an idea of what Rally in the Pines is about.
In all honesty, Rally in the Pines is about dirt wheelers coming together to ride, wave hello, cook s'mores, share ideas, show their colors, their dogs, and their deep love for the outdoors as seen from the seat of a Side-by-Side or ATV. These riders are old and young alike, moms and dads with children, retired folk who found a way to beat sleeping sickness, honeymooners, anniversary vacationers, ladies building a new skill set at four wheeling in the mountains, and folk from Washington State to Kentucky and other points in between and beyond.
A perfect blend of dirt toys for the backcountry filled the trails outside Mackay, Idaho.
Mackay, Idaho is an old miner's town birthed in the 1880s, where cooper, lead and iron ore was dug and blasted from the rugged mountains. As time marched on, mining activities in Mackay died, and by the end of World War II and prior to the Korean conflict, mining had almost come to a stop. Mackay was becoming a modern ghost town, but the town and country folk refused to give in and give up the ghost. The town flourishes as a quaint "village," with farms, cattle, patriotism, and an "I-am-my-bother's-keeper" attitude.
Also, the mountains surrounding this sage brush town is a mecca trail system for off-road dirt bikers, ATVers and UTVers. This is the town's new gold mine. Steep inclines are available on the Southwestern mountains and narrow trails run through in deep Douglas Fir tree forests and mountains on the Northeast. Trails, we would say, are beginner, novice, expert and oh-so narrow through the gullies made for the patient traveler.
High above Mackay, Idaho, UTV drivers lifted their souls to new mountain heights.
Besides having a taste of Sturgis, this rally also feels a bit like Moab, Utah's Rally on the Rocks, with vendors and participants showing off their high-end rock crawling and trail burning Side-by-Sides and ATVs. Three days of limited organized tours filled the three days. Unlike Rally on the Rocks, Rally in the Pines also caters to the ATV rider and owner; vendors and the guided tours accommodate both the ATV and UTV pilot.
Speaking of tours, all guided tours brought a healthy mix of Side-by-Side and ATV riders, with many ATVs being the two-up kind. We saw more Polaris RZRs than any other UTV. Sprinkled within the RZRs were Can-Am Mavericks and Commanders, Kawasaki Teryx, Honda Pioneers and Arctic Cat Wildcats. For ATVs, one brand or model did not stand out as supreme like that of the Polaris RZR.
ATVs of all types were found at Rally in the Pines.
On day one, final check-in, riders gathered together that Thursday evening for a meet-and-greet. The Rally's organizers fed the participants and provided an avenue for the participants to meet the volunteer staff and tour guides. Vendor booths opened for all that evening.
On day two, the ATV.com crew, consisting of me, my wife Lori and our son Rhett, loaded in our 2016 RZR XP 4 Turbo and with Jerry Mathews, general manager at Starting Line Products, Idaho Falls, ID, as the tour guide, left the rodeo grounds for the high country. Half the tour riders were in Side-by-Side vehicles, the other half on ATVs.
Jerry Matthews from Starting Line Products uses this RZR as his guide UTV.
After leaving town and driving for about three miles in a southwesterly direction, Mathews held up the tour group for a drivers' meeting where he discussed safety, trail etiquette and trail conditions. There we began to tour the old and abandoned miner sites and railroad tracks – now serving as some backcountry trails. One trail took the group to a high knoll called Near White Knob that overlooked Mackay City. From atop the high country, the town appears quiet and quaint – which it is. After dodging many cow pie land mines and driving around some wandering open range cattle, we began an ascent where Mathews stopped each UTV and ATV driver to give some advice on how to best climb the steep zig-zag trail with loose rock and flour-like dirt. Some drivers bailed and took a long route around the steep mountain side to join the hillclimbers on an adjoining trail.
With our RZR's Maxxis Bighorn tire pressure set to nine PSI, the ATV.com RZR easily and graciously climbed the steep trail with no worry. The tires griped the loose and stationary rock, and with transmission in L (low) and with differential lock engaged, the four-seat, 1000 turbo RZR, sped up the hill. One ATV driver took a sharp turn down when their passenger became queasy with vertigo or motion sickness; proof the steep grade and sharp switchbacks could challenge one's stomach and will.
The ATV.com RZR XP 4 Turbo slips past some Goliath red rocks.
The tour route took us to some tall and stout trees, struck down by lightning, reminiscent of the many mining camps struck down by supply-and-demand. Large rock outcroppings were eclipsed by 10,000-foot high peaks, which gave man and machine a perspective they are small to nature's vast and large beauty.
The old miner camps and ore separation and loading facilities filled our minds with wonderment – wonderment in the sense that: "Who were these hardy men, women and families who chose to make a living, and to raise families, in such hard conditions?" If only the walls could talk.
In the background a rundown cabin waits to tell its story the Rally in the Pines ATV riders.
That night, day one, my wife, son and I, built a fire and cooked our Hobo burgers (tin foil wrapped hamburgers), made S'mores, and ate about every junk food morsel that RZR campers partake of.
Also that evening, Rally in the Pines sponsored a Show and Shine parade around the rodeo grounds, camping areas which eventually wandered down Main street where UTV and ATV owners dressed up, Mardi Gras style, in their decorated vehicles which matched their costuming. This was humorous to witness and quite artistic. Dogs also participated in the costuming.
You never know who's going to show up at the Show and Shine.
On day three, breakfast was served again by the High School rodeo club and off we went to join other off-roaders to a Rally Luncheon deep in the forested backcountry where Quaking Aspen trees, small creeks and brooks, and large Douglas fir trees covered the steep landscape.
As we headed to this luncheon, we hooked up with a pack of Side-by-Side drivers and passengers bound to explore several tight and narrow trails. Here we tested our skill and the RZR's prowess on some trails that more suited for 50-inch wide UTVs and ATVs, but we succeeded in the twisty lefties and righties through small water ways, gullies and ravens. These hills we explored were much different than the mountains that held the old miner camps. These were richly forested mountains where on the north slopes the trees existed, the south slopes, rocks and sage brush – a lovely contrast.
At the luncheon, grilled bratwurst links were served up on hot dog buns, complete with all the summer outdoor gilling fixings. To entertain the dusty crowd, a singer-songwriter crooned away with his electric six string classical guitar. Magic.
We returned to our campsite with full bellies; and we took a nap.
That night, a second show-and-shine parade occurred. A dinner was served by the Rally organizers of barbecue pulled pork sandwiches. But this was not the final activity.
Eclipsing all rides, not in difficulty, was the "Ghost Town Night Ride," where each major sponsoring-vendor, such as Whip It Lights and Kurts's Off-Road, staged at each historic miner's site an eerie haunted village full of chilling ghoulish zombie miners. This high-mountain loop, the same one we took on the second day with Starting Line Products, was spectacular. Each vendor, in a haunted-house, ghostly miner,and trick-or-treat fashion, scared and treated the participants. As my son and I sat in the RZR XP high atop a mountain, we saw a line of headlights ascending like a five mile-long centipede, and likewise taillights descending. Mind blown.
Old ATV riders never die…except maybe this guy.
Approximately 1200 to 1300 UTV drivers and ATV riders attended BAM Film Production's Rally in the Pines. This is the event's seventh year; it first began in Island Park, Idaho and now has settled in Mackay for the third straight year.
The event's purpose is to raise funds for some deserving projects such as trail maintenance, which included clearing trails, fixing bridges and installing cattle guards; funds for this are channeled to the Challis National Forest and the Bureau of Land Management (BLM). Other monies go to the Mackay High School Rodeo Club and to the high school's FFA (Future Farmers of America), Mackay City's 4H, and to the Mackay Historical Society whose task is to preserve the old miner camps and towns in the backcountry. The Rodeo Club earned its way by providing a hearty breakfast for minimal cost to the trail riders.
Registration for next year's ride (2017) opens December 02, 2016. New ride activities will include a dinner in the backcountry after the night ride and hearty buffalo burgers for the day time luncheon ride. Additionally, next year's goal is to build a bridge over a river to help preserve the native bull trout, and adding gates and other cattle guards. Rally in the Pines sets out to make ATV and UTV riding as historically and environmentally friendly as possible, without giving up our rights to ride.
ATV Riders were able to view the vast expanse and take advantage of the many trails near Mackay, Idaho as Rally in the Pines progressed.
At this Rally, proof was given the ATV and UTV industry is healthy. With the vast amount of RVs, campers and motorhomes that came in droves, motorheads like you and I are enjoying this sport.
Make plans for next year's Rally in the Pines and enjoy a smash up of Old West, ghost town, Mardi Gras, and Sturgis in a space of three- to four-days. Visit RallyInThePines.com for more information. Published July 18th, 2016 4:06 PM
Top Brands
Popular Articles