1 View
2019 Honda Talon 1000X vs. Polaris RZR XP 1000: By the Numbers
August 23rd, 2019 4:09 PM
Share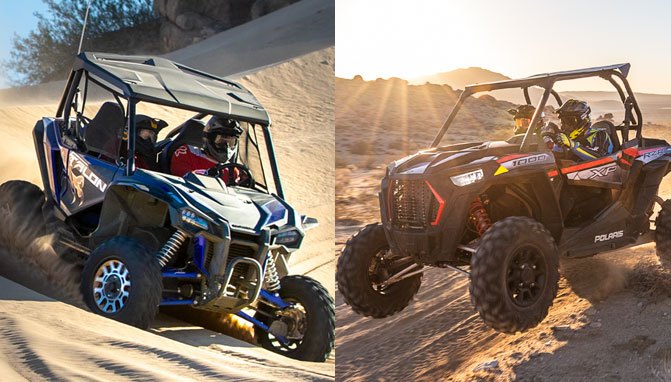 We waited a long time to meet the 2019 Honda Talon 1000X and see how it compares to the Polaris RZR. Let's find out how they stack up on paper.
The UTV industry has known for some time that Honda was working on a Sport SxS to give the brand some foothold in that market. When spy photos of the machine were leaked this past autumn, we all knew it was getting closer to being reality and not just speculation. Now that covers have officially been pulled off of the 2019 Honda Talon 1000X and 1000R, we're starting to get a pretty clear picture of what the company has been working on and what it means for the sport. The question we keep hearing, though, is a familiar one – How does it compare to the Polaris RZR?
The off-road world waited a very long time to meet the Honda Talon.
While it'll take some serious seat-time to answer the question fully, for now we can look at how these machines compare on paper. But to get to that point, we need to understand a few things about the history of these machines. While Honda does all of its R&D here in North America, it is still a Japanese company, and by that, I mean it is fairly conservative. So whereas Polaris came into the Sport UTV segment hard with the original RZR, and has dominated that market since, Honda has been more than happy to sit back and see the directions the industry follows. I remember a couple of years ago, talking to a high-ranking member of Honda's staff and he said that while some companies consider themselves manufacturing companies, Honda feels it is an engineering company first and foremost. That is evident with some of the choices Honda made with how it designed the Talon.
Power
The drivetrain is the heart of the beast, and when looking at the 2019 Polaris RZR XP 1000, it is a drivetrain we are all familiar with. The RZR runs a 999cc ProStar twin-cylinder four-stroke, dual-overhead-cam, High-Output motor that pumps out a crowd-pleasing 110 horsepower. The motor is fed through a digital fuel injection system that is drive-by-wire. The engine runs out through a Polaris CVT transmission with a high and low range. If you've spent any time behind the wheel of a XP 1000, you know that these motors make a bunch of fun power and are generally a blast to drive. You don't get to be the number one selling sport SxS without being fun.
With the 2019 Honda Talon 1000X, Honda went a somewhat predictable route, and it is one that I'm very happy they took. It runs on its 999cc Unicam Parallel twin motor that powers the Pioneer 1000 and the Africa Twin motorcycle. For the Talon, the motor is tuned to deliver 104 horsepower. This motor has serious potential, too. It is fed through fuel injection, as you would expect. It also runs a sport-tuned version of Honda's six-speed automatic dual-clutch transmission with high and low subtrannies. This is big news. Like the Pioneer 1000, you have automatic mode that has shift mapping set at select RPMs. There is also a Sport mode that alters the mapping to let you run the RPMs up before the machine shifts gears. In the Talon, this is more pronounced. There is also a manual mode that has you doing all of the shifting via paddle shifters. This transmission gives you six high range gears and six in low range. That will make the Talon a rock crawler's dream. Also, being a DCT transmission, there is no CVT lag.
Suspension
Up front, the 2019 Honda Talon 1000X has dual wishbone independent suspension with 14.6 inches of travel in the Fox QS3 shocks. Honda developed a three-link trailing arm rear setup for the 1000X. The Fox shock has 15.1 inches of travel. The Talon 1000R has a different rear setup with a four-link, but that's a story for another day. The 1000X is 64 inches wide and has 12.7 inches of ground clearance. It rolls on 28-inch tires mounted to 15-inch aluminum wheels.
The Polaris RZR XP 1000 runs on independent dual A-arms up front and trailing arms in the rear. They use Walker Evans Racing shocks with 16 inches of travel in the front and 18 inches of travel in the rear. There is 14 inches of ground clearance and the RZR rolls on 29-inch Maxxis Bighorn tires mounted to 14-inch aluminum wheels.
Bits and Pieces
You don't get to be as popular of a machine as the RZR XP 1000 by being uncomfortable. The interior of the RZR is well appointed with comfortable seatbelts, decent, high-back bolstered seats and easy-to-reach controls. The RZR uses a bowed ¼ door, which leaves you exposed to a lot of trail, but will help keep you in the car when need be.
The 2019 Honda Talon 1000X comes with a little larger door and a safety net for the upper part of the door. The interior is "very roomy" according to our own Rick Sosebee, who had the opportunity to drive both models of the Talon before the official release. He said it is very well thought out and extremely comfortable. You can check out his impressions of the Talon along with some video of the machine here.
The RZR will set you back $17,999. Pricing info for the Talon hasn't been released just yet, but expect it to be competitive. If you're in the market for a Sport UTV and are interested in the Talon, you might want to wait until they hit dealerships this coming spring. If you just can't wait, the RZR is readily available at a dealership near you.
Published December 7th, 2018 4:00 PM
Top Brands
Popular Articles