9 Views
2019 Yamaha Grizzly 90 vs. Polaris Sportsman 110: By the Numbers
November 30th, 2018 11:31 AM
Share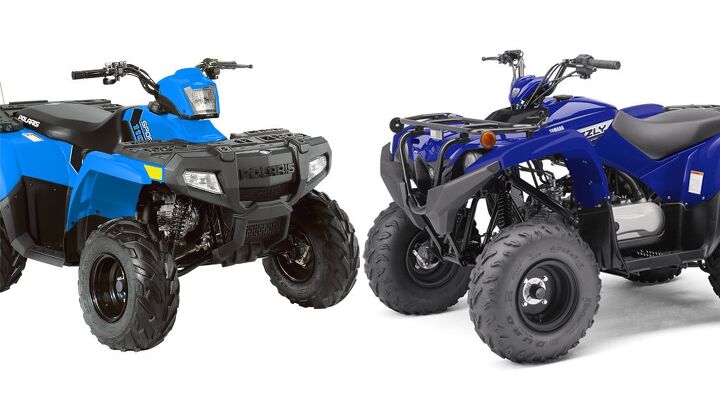 Both the 2019 Yamaha Grizzly 90 and Polaris Sportsman 110 offer young riders a chance to have a Utility ATV, complete with cargo racks, just like mom and dad.
It is a well-known and proven fact that kids like to emulate their parents. Farm kids grow up often wanting to play with tractors. Teachers' kids tend to want to be teachers, and so on. If you ride a utility-class ATV, chances are good that your child will want one too, just to be like mom and dad. With that in mind, Polaris has had success with the Sportsman 110 and this year, and the all-new Yamaha Grizzly 90 is a scaled down version of the legendary Grizzly 700. Which of these amazing machines is right for you? Let's take a look and see if we can help you decide.
Starting Off
Both machines are aimed at the rider 10 years of age or older. If your little one is under 10, there are 50cc machines available from both companies to fit that age group (6-10). While a beginning rider can start off with a 90-class machine if they meet the age requirements, the younger ones should start on the appropriate age class machine. Why? It's all about safety and confidence. I know my seven-year-old has a need for speed, but if I were to throw her on a 90cc machine and she gets scared, it's all over.
Engines
The Yamaha has a 90cc air-cooled single-cylinder motor fed through a 13mm carburetor and running out through a CVT transmission complete with forward and reverse. It has electric start with a kick-start backup, something that is a nice feature in case the little one leaves the key on and the battery runs down. Trust me, I know. Yamaha worked overtime to make the maintenance requirements for the Griz low, and added touches like a tool-less airbox design to make keeping the Yamaha Grizzly 90 running peak easier. That is great for both you and your child.
Polaris runs a 112cc single-cylinder, air-cooled motor in the Sportsman. It runs on electronic fuel injection and rolls out through Polaris' CVT transmission system with forward and reverse gears. Like the Yamaha, there is electric start. Another thing that is like the Yamaha, is the ease of maintenance.
Styling
Both machines take styling cues from the adult versions. However, keep in mind that these are two-wheel drive units. Another difference is in the chassis setups. While the adult machines have fully independent front and rear suspension systems, the youth models do not. The Polaris Sportsman 110 has single A-arm front suspension with five inches of wheel travel. Out back there is a mono-shock swingarm with 6 inches of travel and a solid rear axle. The Yamaha Grizzly 90 has a similar setup with 5 inches up front and 5.7 inches out back.
If you're starting to think that these machines are very similar, you're right. The Polaris has a slight advantage in engine displacement, but the Yamaha has an advantage in width, being nearly four inches wider. In other words, the Sportsman will be a little quicker and the Yamaha a little more stable.
Both machines have small but functional racks that will allow your child to carry cargo. My daughter has the idea in her head that when she's older, I need to buy her a Grizzly 90 that she saw at the dealership recently. Her plans are to use the racks to haul hay to her horse. I'm not sure where she's getting the horse from either, but something tells me that little girl has plans.
Which One?
That is a question for you to decide. If you're a Polaris fan, and ride a Sportsman, you're going to be drawn to the Sportsman 110. It has an MSRP of $3,299 and comes with a whip flag and a youth-sized helmet. The helmet is a nice touch, as it is the most important piece of safety gear you need to make your child wear. Just make sure it fits right.
The Yamaha Grizzly 90 doesn't include the helmet, but comes in with an MSRP of just $2,999. If you ride a Yamaha, your child is going to want a Yamaha of his/her own. The little Grizzly is a great machine, too.
Published November 30th, 2018 11:31 AM
Top Brands
Popular Articles