12 Views
2018 Can-Am Maverick DPS vs. 2018 Textron Wildcat X LTD: By the Numbers
February 12th, 2019 12:43 PM
Share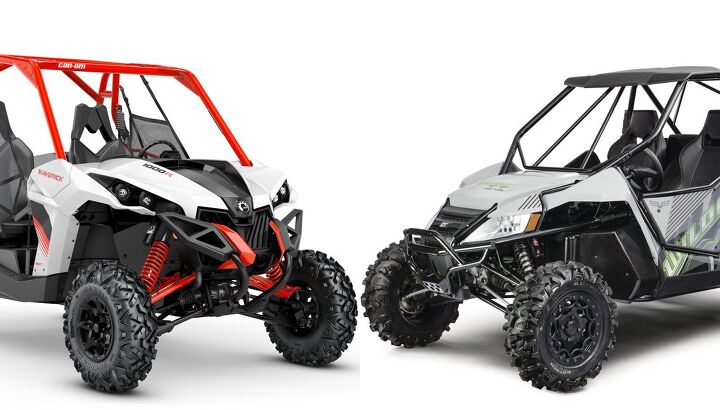 Though neither the 2018 Can-Am Maverick DPS or Textron Wildcat X LTD are flagship models, they still have plenty to offer Sport UTV enthusiasts. Let's see how they compare…by the numbers.
With all the latest advancements in machines, we often like to focus attention on the "sexy" picks – the newest machines with the amazing suspension and horsepower to spare. It can be easy to forget that the manufacturers produce some other machines that are pretty sexy in their own right, and have been for some time. Let's see how the Can-Am Maverick DPS compares to the Textron Wildcat X LTD.
| | | |
| --- | --- | --- |
| | 2018 Can-Am Maverick DPS | 2018 Textron Wildcat X LTD |
| Price | $17,599 | $18,499 |
| Engine | 976cc V-Twin | 951cc V-Twin |
| Horsepower | 101 | 90+ |
| Driveline/Differential | Selectable 2WD / 4WD with Visco-Lok QE auto-locking front differential | Electric 2/4WD with 4WD Lock |
| Transmission | CVT with Zylon-reinforced belt, L / H / N / R / P | Rapid Response Clutches (H,L,R,N,P) |
| Wheelbase | 84.3 in | 90 in |
| Overall Dimensions (LxWxH) | 118.8 x 64 x 74.2 in | 128 x 64 x 65.8 in |
| Dry Weight | 1,323.8 lbs | 1,335 lbs |
| Ground Clearance | 13.0 in | 13.0 in |
| Fuel Capacity | 10.0 gal | 8.8 gal |
| Bed/Rack Capacity | 200 lbs | N/A |
| Front Tires | 27 x 9-12 Maxxis Bighorn | 27 x 9-14 ITP Blackwater Evolution |
| Rear Tires | 27 x 11-12 Maxxis Bighorn | 27 x 11-14 ITP Blackwater Evolution |
| Front Suspension | Double A-arm with sway bar with 14 in. travel | Double A-Arm with 17 in. Travel |
| Rear Suspension | Torsional Trailing A-arms independent with sway bar with 14 in. travel | 5-Link with 18 in. Travel |
| Front/Rear Brakes | Dual 220 mm ventilated disc brakes with hydraulic twin-piston calipers / Dual 214 mm ventilated disc brakes with hydraulic single-piston calipers | 4-Wheel Hydraulic Disc with Dual Piston Front Calipers |
Motorin'
It seems lately that when we talk about anything Can-Am, we're talking about the awesome X3 machines. Of course, there's plenty of reason why that is – they're amazing. But we can't forget the Maverick, either. For quite a while the Mavericks gave the competition everything they could handle. The Maverick DPS runs on a 101-horsepower DOHC Rotax V-Twin engine with electronic fuel injection and a digital throttle control system. These motors are legendary for their power and the healthy tone to the V-Twin.
When it comes to the Textron Off-Road Wildcats, some folks might forget that there are any available other than the new XX. The original Wildcats, however, are still popular machines carried over from the days of Arctic Cat, with a few enhancements. It runs on a 90+ horsepower, SOHC 951cc V-Twin motor. Textron uses a TEAM Rapid-Response clutching system for the CVT transmission. Those who run these machines, love them.
Suspendin'
Can-Am runs some nice suspension on the Maverick DPS. Fox Podium 2.0 QS3 shocks grace the corners with 14 inches of travel. The fronts ride in dual A-arms while the rear rides on Can-Am's torsional trailing arm setup. They run sway bars to help keep you rolling right, too. The combination of shocks and setup lets you really attack the terrain with the Maverick.
If there's one thing Wildcats have always been known for, it's suspension. The Wildcat X LTD runs dual front A-arms and five-link setup in the back. Amazing Elka Stage 5 shocks with 17 inches of travel in the front and 18 inches out back provide the action. Even back in the AC days, Textron worked with leading off-road racers and suspension experts to provide the best suspension geometry and setups it could. Add in premium shocks and you've really got something in the X LTD.
Dimensions
Both machines are at the 64-inch wide threshold, which makes them very stable but may not work for some trail systems. They do, however, work very well for wide-open running and technical dune and desert work. The Can-Am Maverick DPS is 118.8 inches long and the Wildcat is 128 inches, meaning both machines are pretty stable at speed. Ground clearance is identical at 13 inches.
Weight wise, the Can-Am comes in at 1,328.3 pounds dry. The Wildcat is really close at 1,335 pounds dry. This is pretty interesting in that the Textron is around 10 inches longer and has full aluminum doors compared to the Can-Am's cargo net-style doors.
The Textron Wildcat X LTD has an MSRP of $18,499 for the LTD package and for that you also get ITP Blackwater Evolution tires mounted on full beadlock wheels and a sleek gray/green color combo. The Can-Am Maveirck DPS carries an MSRP of $17,599. Both of these machines also come in a four-seat model, but that's a comparison for another day. Derrek Sigler
Derrek's love for all things ATV started when he was a mere 11 years old, growing up on his family farm. His mom gave him and his sister a choice - get a horse, or a three-wheeler. The sister wanted the horse, and Derrek wanted the ATV. Luckily he won out, and was soon burning up the trails on a Yamaha Tri-Moto 200. By the time he was 14, he had saved enough of his own money by working on the farm and in his folks restaurant to buy a new 4-wheeler. That happened the day he and his mom were driving past the dealership and saw 1987 Banshee. His mom had no idea what he was buying, and he never looked back. He's been riding ever since, and been writing professionally for many years. He has ridden all over North America and been behind the controls of just about every machine out there. And yes, he still has his 1987 Yamaha Banshee.
More by Derrek Sigler
Published March 18th, 2018 6:10 PM
Top Brands
Popular Articles