2 Views
2018 Polaris Big Boss 6×6 570 vs. Textron Off Road Alterra TBX 700: By the Numbers
February 12th, 2019 12:44 PM
Share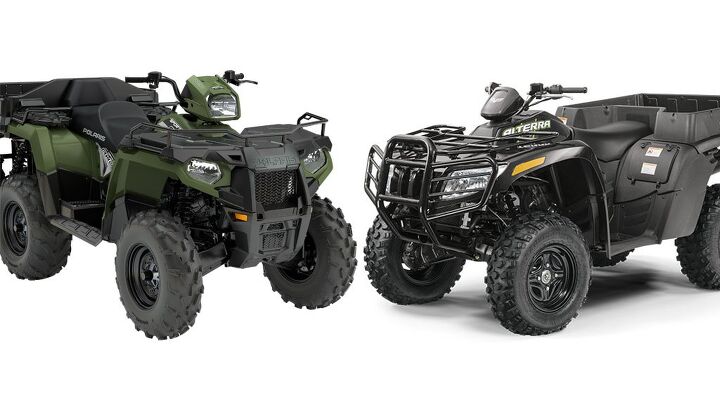 So you want the compact convenience of an ATV, but like the idea of the expanded cargo capacity of a UTV with its dumping cargo box. Fear not, there are a couple of options that offer a bit of both – the Polaris Big Boss 6×6 and Textron Off Road Alterra TBX 700.
The Textron Off Road Alterra TBX 700 ($9,799) offers a dumping cargo box on a utility-minded ATV frame with four-wheel drive. The Polaris Big Boss 6×6 570 ($10,999) goes a slightly different route, with a bigger cargo box and full six-wheel drive fun. How do these machines compare? The best way to see is to go to your local dealership and check them out in person. To give you a little more info, here's a look at each machine by the numbers.
| | | |
| --- | --- | --- |
| | 2018 Polaris Sportsman Big Boss 6×6 570 | 2018 Textron Off Road Alterra TBX 700 |
| Price | $10,999 | $9,799 |
| Engine | ProStar 567cc, 4-Stroke DOHC Single Cylinder | 695, SOHC, 4-Stroke, 4 Valve w/EFI |
| Horsepower | 44 | 42.4 (unofficial) |
| Driveline/Differential | On-Demand AWD/2WD | 2/4 WD + Electronic Front Differential Lock |
| Transmission | Automatic PVT P/R/N/L/H; Shaft | Automatic CVT with EBS Hi/Lo Range, Neutral, Reverse and Park |
| Wheelbase | 84 in | 58 in |
| Length x Width x Height | 116 x 49 x 49 in | 98 x 47.5 x 48 in |
| Weight | 1,075 lbs | 823 lbs |
| Front Tires | 26×8-12 PXT tires | 25×8-12 Carlisle Trail Pro |
| Rear Tires | 26×10-12 PXT | 25×10-12 Carlisle Trail Pro |
| Ground Clearance | 11.5 in | 11 in |
| Fuel Capacity | 6.75 gal | 5.8 gal |
| Front Suspension | McPherson Strut / 8.2 in | Double A-Arm / 10 in |
| Rear Suspension | Dual A-arm / 9.5 in | Double A-Arm / 10 in |
| Front /Rear Brakes | 6-wheel hydraulic disc | Hydraulic Disc |
| Bed/Rack Capacity | 800 lbs bed / 100 lbs front rack | 300 lbs bed / 100 lbs front rack |
| Towing Capacity | 1,500 lbs | 1,050 lbs |
Power to Move You
Everyone always wants to know the horsepower and these machines have more than enough to get the job done. Horsepower numbers are always a little misleading, though, as it really comes down to how much of the power is actually usable and how you want to use it. The Altera's 695cc H1 single-cylinder engine pumps out around 42-43 horsepower. These big singles generally pack a lot of oomph, with some big meaty torque that comes in handy when you're doing some work. This engine design has been around for a while now and sold pretty well for Arctic Cat. That's why Textron kept it around. It sells because people find it reliable and usable.
The Polaris 570 platform, with its 567cc ProStar single-cylinder engine, is one of the company's most popular and can be found in several models, including ATVs and UTVs. The Big Boss is unique with the six-wheel drive platform. You might think that adding a whole set of drive wheels to the back would rob a ton of power from the machine, but it doesn't. Yes, there is some additional drag if you compared it to a regular Sportsman 570, but it isn't bad. The Polaris claims 44 horses and it seems to have plenty of power for most tasks.
Boxing Match
The TBX model has been around for a little while. Basically it takes a standard ATV frame and replaces the entire rear section with a cargo box and integrated fender system. The box holds up to 300 lbs and is essentially an expanded rear rack, so know that going in. Overloading the box will affect the machine the same way as overloading the rear rack on a standard ATV.
The Polaris box is big and has tie-down points in the top rails and in the bottom of the textured bed. The whole bed tilts with a gas-assist system and holds up to 800 lbs of cargo. There is a drop-down tailgate, too. With the added rear wheels, the Big Boss has room for the passenger, as it is a two-up machine.
Other factors
The best reason to go this route is to take full advantage of ATV handling. The Altera, being a standard wheelbase machine, is going to be a great option for getting into tight spots. If you're looking for added capacity in an ATV, check out the Textron Off Road Alterra TBX 700. Go to the Textron website for some more information, but you're better served by going to your local dealer and trying one out.
The Polaris Big Boss 6×6 570 is a big machine. It is quite a bit longer than a standard ATV, so the turning radius is not as sharp. However, the additional rear drive wheels make the Big Boss float over terrain. We drove across sand dunes with one and it never spun. Being a two-up, you can haul a passenger too. Go over to the Polaris website for some additional info, but your local Polaris dealer is the place to go. Check one out and see if it's the right fit for you.
Published August 25th, 2017 3:31 PM
Top Brands
Popular Articles