13 Views
Textron Off Road Havoc X vs. Polaris General 1000 EPS Deluxe: By the Number
February 12th, 2019 12:44 PM
Share
We're committed to finding, researching, and recommending the best products. We earn commissions from purchases you make using links in our articles. Learn more here
We've been hearing rumblings about a Sport-Utility UTV from Textron for a while now. Now it's time to see how the Textron Off Road Havoc X compares to the Polaris General.
When Textron Off Road first brought several of us out to drive the Stampede when it was under its Bad Boy banner, it hinted at the technical briefing that some new stuff was already in the works. Later that evening, we were able to pry some more information from one of the technicians after pouring more than few drinks down him. What he described sounded like a great machine and one we would be really interested to see. Of course, that machine he was referring to has now been unveiled as the new Textron Off Road Havoc X.
Since that time back in Moab a while ago, Textron underwent a rebrand and then a merger, buying out Arctic Cat and blending those two companies. Some may think that the Havoc X is something that came from AC, but in fact it's all Textron. The only thing that can obviously be seen as coming from Cat is the suspension. The Havoc uses King shocks, much the same as the premium Wildcat lineup. This is a good thing, as AC is well known for having some of the best suspension systems on the market. So where does the Textron Off Road Havoc X fit in the marketplace? One only has to look squarely at the Polaris General to see who Textron feels is the competition. Let's take a look by the numbers.
| | | |
| --- | --- | --- |
| | 2018 Textron Off Road Havoc X | 2018 Polaris General Deluxe EPS |
| Price | $17,299 | $20,999 |
| Engine | 975cc, Liquid-Cooled 4-Stroke, Twin Cylinder | 999cc ProStar twin cylinder |
| Horsepower | 100 | 100 |
| Driveline/Differential | On-Demand AWD | On-Demand True AWD/2WD/VersaTrac Turf Mode |
| Transmission | CVT with Dash-Mounted Cable Shifter (H,L,N,R,P) | Automatic PVT P/R/N/L/H; Shaft |
| Wheelbase | 85.2 in | 81.0 in |
| Overall Dimensions (LxWxH) | 126 x 64 x 77 in | 118.2 x 62.5 x 75 in |
| Weight | 1,755 lbs (dry) | 1,544 lbs |
| Front Tires | 28 x 10-14, ITP Ultracross Tires | 27 x 9-14; Maxxis Coronado |
| Rear Tires | 28 x 10-14, ITP Ultracross Tires | 27 x 11-14; Maxxis Coronado |
| Ground Clearance | 13.0 in | 12.0 in |
| Fuel Capacity | 9.5 gal | 9.5 gal |
| Front Suspension | Double A-arm with 12.8 in. travel | Dual A-arm with 12.25 in. travel |
| Rear Suspension | Double A-Arm with 12.9 in. travel | Dual A-arm with 13.2 in. travel |
| Brakes | 4-Wheel Hydraulic Disc Brakes with 9-inch (22.9cm) Rotors, Dual Piston Calipers | 4-Wheel Hydraulic Disc with Dual-Bore Front Calipers |
| Bed Capacity | 600 lbs | 600 lbs |
| Towing Capacity | 2,000 lbs | 1,500 lbs |
Horsepower, Baby!
The Havoc X runs Textron's German-engineered, American made 957cc Twin that pumps out an impressive 100 ponies. The engine platform is similar to that used in the Stampede, with a noticeable bump in size. These motors, and the Havoc for that matter, are now being built in the Thief River Falls, Minn. The Stampede motor is the best part of that machine, so having a shared DNA is a great thing.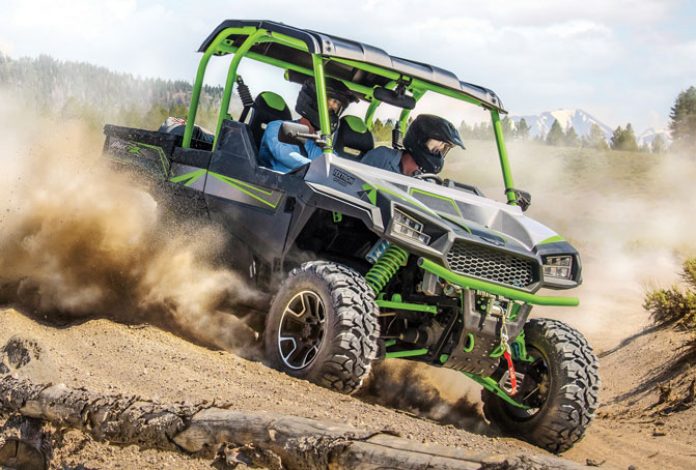 The General runs on Polaris' 999cc NorthStar Twin cylinder engine that also pumps out a fun-to-drive 100 horsepower. The General's motor is one of the highlights of the machine as well. It makes a great amount of power that falls on the sportier side of the spectrum between the Ranger and RZR.
Suspension
The Textron Off Road Havoc X runs on 2.5-inch King shocks. It has dual A-arms front and rear with 12.8 inches of travel up front and 12.9 in the rear. These are pretty much the same shocks used on the top tier Wildcat Sport UTVs, so having them on the X, in the recreational class is a suspension equivalent to a mic drop.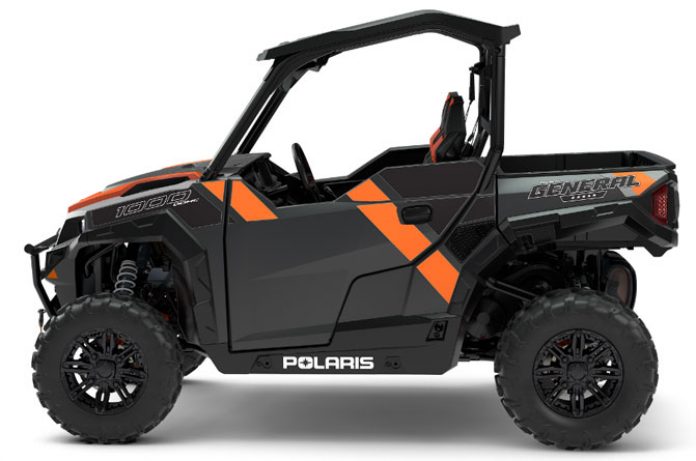 For the Deluxe edition of the General, Polaris runs Fox 2.0 Podium QS3 shocks. These are some truly great suspenders with 12.25 inches up front and 13.2 in the rear. The best thing with the QS3 shocks is the ability to quickly adjust the shocks on the trail.
Bedded Down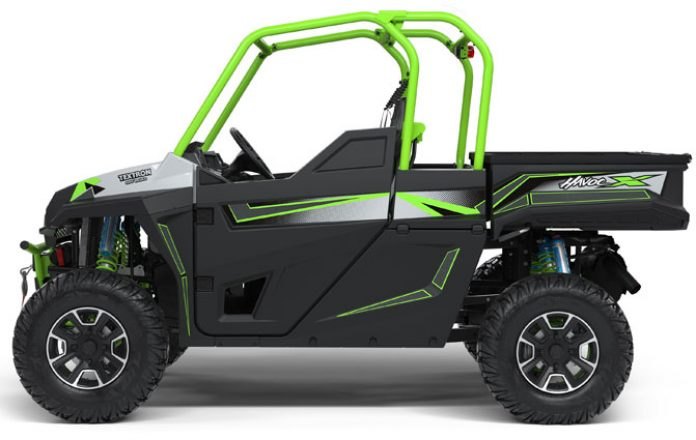 The Textron Off Road Havoc X has the same basic bed design as the Stampede and has a 600-pound capacity with the full dumping cargo box. The Polaris General has a smaller-sized cargo bed that also dumps and holds 600 pounds of cargo as well. The Havoc X will tow up to 2,000 pounds, while the General can town 1,500 pounds. You do get additional storage with the Havoc with Textron's signature extended cab feature.
Odds and Ends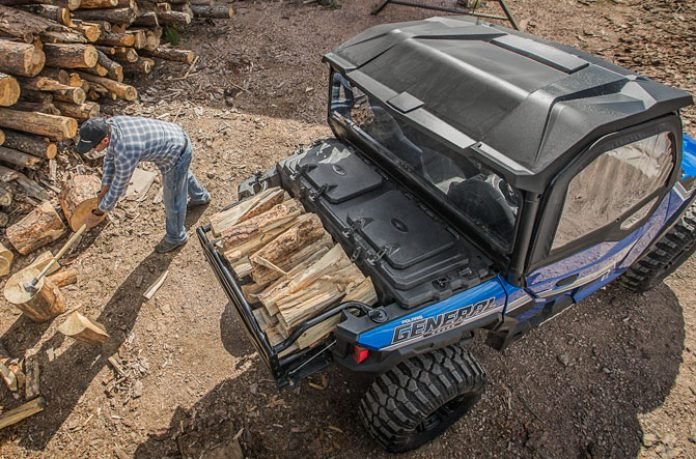 The Havoc leads in ground clearance with 13 inches. The General is just an inch lower at 12. The General has a 4,500-pound winch standard and the Havoc comes with a 4,000-pound Warn winch. One thing you have with the General platform that is not yet available with the Havoc is options. The Textron Off Road Havoc X only comes in the Dynamic Grey color. The General comes in multiple platforms and color options, including the Titanium Metallic color of the Deluxe ed.
The Havoc X will be at dealerships in December. You can learn more here.
The General is already at your local Polaris dealership. You can also find more here. Derrek Sigler
Derrek's love for all things ATV started when he was a mere 11 years old, growing up on his family farm. His mom gave him and his sister a choice - get a horse, or a three-wheeler. The sister wanted the horse, and Derrek wanted the ATV. Luckily he won out, and was soon burning up the trails on a Yamaha Tri-Moto 200. By the time he was 14, he had saved enough of his own money by working on the farm and in his folks restaurant to buy a new 4-wheeler. That happened the day he and his mom were driving past the dealership and saw 1987 Banshee. His mom had no idea what he was buying, and he never looked back. He's been riding ever since, and been writing professionally for many years. He has ridden all over North America and been behind the controls of just about every machine out there. And yes, he still has his 1987 Yamaha Banshee.
More by Derrek Sigler
Published November 10th, 2017 1:44 PM
Top Brands
Popular Articles