1 View
New Products Abound at Dealer Expo
February 21st, 2008 10:59 AM
Share
We're committed to finding, researching, and recommending the best products. We earn commissions from purchases you make using links in our articles. Learn more here
ATV accessories and modifications highlight the show
If ever there was any doubt about just how popular the ATV, UTV and accessories markets are becoming, it should have been erased at a recent industry trade show in Indianapolis earlier this week.
Just about anything an ATV rider could ever hope for was on display at the 2008 Dealer Expo at the Indianapolis Convention Center and RCA Dome.
A massive melting pot of ideas and information exchange among powersports retailers, distributors and suppliers about, Dealer Expo displayed all the latest vehicles, products and accessories making their way to your local dealer in the near future, and ATV.com was there.
One of the major trends in the market is the increase in accessories and modifications for ATVs and side-by-sides. Indeed, many of the 'Kickstart Winners,' top 10 new products as chosen by show organizers to have the biggest impact on the 2008 selling season, related to this category.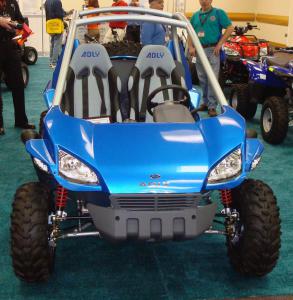 One example is Akuma's new V2 Stealth helmet. Though a motorcycle helmet at heart, the V2 Stealth can also be worn while riding an ATV. It has strong shelf appeal because of its cool look, and practically speaking because it features a fully rechargeable integrated power system.
"We have a map light in the front for utility purposes and LEDs in the back for high visibility at night," says Akuma's Rachel Rainwater told ATV.com.
Beyond functionality, the V2 Stealth has an aggressive graphics package, removable and washable liner and a UV resistant clear coat.
McCuff Industries cracked the top 10 list with its No Spill Motorcycle Fill. We know it says Motorcycle in the title, but this device can be used on any vehicle with a gas tank. It eliminates splashing or spilling of gas while fueling up and comes with its own carrying case.
OGIO won Kickstart acclaim for its ATV front bag, which folds down for easy storage when not in use. T-Bags was also recognized for its magnetic tank bag, which is a tail bag and backpack all in one.
Though the top 10 were deserving, plenty of other products beyond the Kickstart Winners caught our eye.
TJD Fabrications, makers of the XGen ATV track system, had a Yamaha Raptor on display that was tricked out with a track system on the back wheels and skis on the front.
"When you're driving in deep powder snow you'll obviously be able to go a lot deeper—four, five, six feet no problem," says TJD's Mike Fontaine.
Fontaine says the track system, which retails for $4,166, is meant to be used in all four seasons and on just about any terrain, including deep mud.
"Places you wouldn't normally be able to get to, you will be able to get to because of the footprint."
What really stood out to us at Dealer Show was the enormous selection of new side-by-side accessories. Kawasaki's Teryx, which was just recently released, already has a healthy list of aftermarket modifications available.
DG Performance Specialties Inc. was one of the first companies to step up with Teryx mods. The company has produced skid plates, bumpers, a spare tire rack and a new light bar.
Seizmik Utility Systems was offering side-by-side storage systems for just about every model. A rear rack for the Polaris RZR was on display, which allows the owner to keep a spare tire underneath it in the cargo bed. A lockable center console for the Polaris Ranger can be added using existing holes and bolts so you don't have to drill through the body of the vehicle.
Tippmann Design LLC. caught us by surprise with its body kit for the Yamaha Rhino. When installed, this kit will make your Rhino resemble the famous old Willy's army jeep, complete with green, boxy exterior and canvas top.
On the performance end, DMC has developed a twin exhaust system for the Polaris RZR. DMC says the exhaust system, paired with a fuel injection module, will provide a 17.8% increase in horsepower and a 21.2% increase in torque.
"We were really impressed with the (Polaris RZR) stock performance, but we knew that there was some more power to be unleashed," says DMC's Marty Miller.
If you're going to add more power, improving the suspension is something to consider as well. Houser Racing introduced a new suspension kit for the Polaris RZR. The kit is four inches wider than stock per side, for a total of eight extra inches of width. Retailing for $2,499, the kit includes front and rear A-arms, tie-rod extension and axle shafts.
"It will definitely help out with absorbing the impact of landing on the front wheels," says Houser's Mark Wert.
Though the major ATV manufacturers were not really showing any new vehicles, plenty of smaller, import ATVs were on display.
Adly Moto LLC, a Taiwanese OEM, was showcasing a prototype of its new Mini Car. It's a two-seat, side-by-side vehicle that is all about sport and very little about utility.
"This machine is built to play," says Adly Moto's Paul Burnett. "It's meant to be played with hard and used hard."
Equipped with a 300cc engine, Burnett expects the Mini Car to reach top speeds in excess of 40mph. It also has standard racing-type seats with four-point harnesses, a digital display and a spare tire. Slated for a release in May or June, the Mini Car is expected to retail for a little less than US$7,000.
Adly Moto was also displaying its new 500cc sport quad, though Burnett says it will be reconfigured to 450cc for racing. We're told the vehicle is powered by the same Fuji engine as the Polaris Outlaw. It's expected to retail for about $6,000 and should be available in April or May.
Club Car, best known perhaps as a golf cart brand, had a wild looking prototype with a burnt orange paint job, dressed up further by displaying a large flat-screen TV in the bed, but it won't be ready for the showrooms until late this year. The company did, however, bring along a limited edition model of its XRT 1550.
Like the standard model, the limited edition boasts the only aluminum frame in the industry. Club Car says it's not only lighter and stronger than steel, but it will last longer as well. Consumers can choose between a 675cc gas engine and a three-cylinder diesel. Performance wise, not much has changed on this model, but it does come with different paint schemes, chrome rims, chrome front bumper and an available gas lift for the bed.
As further proof of the growing ATV and UTV market, Club Car says this category now accounts for 20% to 25% of its business—and growing—while golf cart manufacturing has hit a bit of a plateau.
In its bid to keep up with the larger OEMs, QLINK was showing off a pair of powerful new vehicles, both powered by an all-new 4-stroke, water-cooled, 700cc engine.
QLINK says its Rodeo 700 utility quad is a significant improvement in displacement from last year's Rodeo 400 and has plenty of power and torque with the ability to reach 60-65mph on the flats.
The FrontRunner 700 is the company's answer to the burgeoning side-by-side market. It shares the same engine as the Rodeo 700 and features locking front differential, digital gauges and dump bed with gas shocks. A CD player, speakers and front winch are available as options.
To help get your vehicle to remote, isolated locations, a company called Float Trailer may have a solution.
"We have an amphibious trailer—a trailer with no boundaries and a boat with no boundaries," says spokesman Bryan Stennett. "The trailer drops right down on its belly, that way you can drive your ATVs or any other vehicles you have to transport across to a hunting camp or an island or wherever you need to go."
Not only can a user tow the trailer with an ATV, but the ATV can then be driven onto the trailer when it's transformed into a boat. Stennett says all the mechanisms underneath the trailer are galvanized steel, so they won't rust in salt water. Published February 21st, 2008 10:59 AM
Top Brands
Popular Articles