1 View
2008 QLINK Rodeo 700 Preview
March 18th, 2008 12:14 PM
Share
New big-bore utility quad out to compete with big boys
Trying to keep up with the powerful machines from the major manufacturers, QLINK Motor of Grapevine, Tex. has beefed up its ATV line with the Rodeo 700.
Before the release of the Rodeo 700, QLINK's biggest quad was the mid-size 387cc Rodeo 400. With so many big-bore machines available on the market from the likes of Polaris, Honda, Yamaha and the other major players, the folks at QLINK decided it was time to up the ante.
"We're trying to get out there and compete with the bigger guys," QLINK service manager Brian Luce told ATV.com.
That's a fairly lofty goal, and though QLINK may be challenged to put itself on even footing with those manufacturers, the Rodeo 700 is a significant step ahead of what the vast majority of other Chinese and Taiwanese companies have released. For the most part, Chinese manufacturers are producing lower-powered machines with a ceiling between 300cc and 500cc.
Besides the size of the engine, another advantage QLINK may have over a lot of the smaller imports is product support. Some consumers have reservations about buying an ATV built in China, but the company is doing its best to quell those worries.
With warehouses in Dallas and Edwardsville, Pa., QLINK says it has 98% parts availability. If a Rodeo 700 owner has a problem and needs a part replaced, the company says once the part is ordered it will be shipped out that same day or the next day. Depending on where in the US the consumer lives, the part should arrive within two to five days.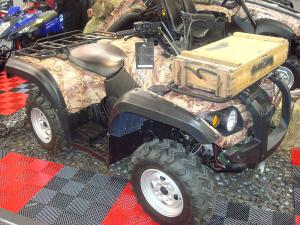 As for the two per cent of parts not in the US warehouses, QLINK says it will have the parts shipped from China, which usually takes between one and two weeks.
QLINK also covers the Rodeo 700 with a one-year limited warranty with unlimited miles, which compares very favorably with the major manufacturers. The motor, mechanical components, electrical system, suspension and exhaust are all covered under warranty for one year, regardless of how many miles put on it.
Comparing the Rodeo 700 to other ATVs on the market is difficult, as there is nothing quite like it. In some areas it has advantages, and others it seems a bit challenged.
Price is the most obvious advantage of the Rodeo 700. With a suggested retail price of US$5,950, it is far less expensive than anything offered by the majors in this size. Kawasaki's Brute Force 650 4X4 is the closest in price, but it still costs an additional $650. Nothing else comes within $1,500.
QLINK also includes a winch, which is controlled by a power switch right on the handlebars. A winch is generally not a standard item, even on ATVs from the larger manufacturers.
The Rodeo 700, despite its lower price, comes standard with many key features normally found on ATVs with a higher price tag. Chief among them is the 686cc, 4-stroke, liquid-cooled engine—a rarity in similarly priced machines.
Additionally, features such as digital gauges, differential lock, independent rear suspension and disc brakes up front and in the rear are generally associated with the major North American and Japanese manufacturers.
When it comes to the Rodeo 700's disadvantages, a good place to start is vehicle weight. Tipping the scales at a fairly hefty 702 pounds dry, it is a full 100 pounds heavier than the Brute Force 650 and 54 pounds more than the listed curb weight (including fluids and full tank of gas) of the Honda FourTrax Rincon. To be fair, though, the Arctic Cat 700 EFI 4X4 Auto weighs just five pounds more than QLINK's offering.
Lack of electronic fuel injection is another area where the Rodeo 700 falls behind the major players. However, to get an ATV this size with fuel injection, you will need to dig a lot deeper into your wallet.
Although the Rodeo 700 does come with front and rear storage racks, each has a carrying capacity of just 66 pounds. Many available ATVs can hold much more on the racks—as much as 100 pounds on the front rack and 200 pounds on the rear. Depending on how much gear you normally bring with you, that might not be a concern, but if you don't travel lightly it could be a problem.
All told, if you are looking for a big-bore ATV and don't want to spend any more than you have to, the Rodeo 700 is worth a look. Besides California, QLINK has the bulk of the United States covered with hundreds of dealers, so it shouldn't be too difficult to track one down and give it a closer inspection.
QLINK Rodeo 700 Specs
Engine
Engine Type:
One Cylinder, Four Stroke, Water-Cooled
Bore x Stroke:
102mm x 84mm
Displacement:
686 cc
Horsepower:
33.5 HP
Carburetion:
PD42J
Compression Ratio:
9.2:1
Driveline:
Shaft Drive 2WD/4WD with pushbutton
Starter:
Electronic Ignition
Transmission:
Automatic CVT with L-H-N-R-P
Chassis
Suspension/Front:
Independent Double A-Arm
Suspension/Rear:
Independent Double A-Arm
Brakes/Front:
Disc
Brakes/Rear:
Disc
Tires/Front:
25×8-12
Tires/Rear:
25×10-12
Dimensions
Length:
87.8″
Width:
44.1″
Height:
47.8″
Seat Height:
33.9″
Wheelbase:
53.2″
Dry Weight:
702 lbs
Fuel Capacity:
4.4 gallons
Ground Clearance:
10.1″
Other
Warranty:
1 Year Limited
C.A.R.B. Certified:
Yes
MSRP:
$5950.00
Published March 18th, 2008 12:14 PM
Top Brands
Popular Articles