3 Views
June 16th, 2015 4:45 PM
Share
We're committed to finding, researching, and recommending the best products. We earn commissions from purchases you make using links in our articles. Learn more here
What to look for in the UTV category from the various OEMs
The UTV category continues to be one of the hottest areas of the ATV business, with technology, innovation and utility driving innovation. Here's a rundown of what to expect from the major manufacturers for 2008.
Arctic Cat
Arctic Cat's Prowler UTVs have been turning a lot of heads, and the 2008 models should be the best yet, with the Prowler XTX 700 H1 LE leading the lineup. An Arctic-designed 695cc liquid-cooled single-cylinder 4-stroke powers this Prowler. The company has invested millions of dollars in advanced design and assembly technologies, and this package shows it. The transmission is a rubber-belt high-low-reverse cvt with engine-braking built in. The Prowler is equipped to be a serious terrain conqueror, with push-button four-wheel-drive and a locking front differential.
The 26-inch tires, stunning 12.5-inches of ground clearance and independent double-wishbone suspension at all four-corners (with a swaybar on the back) will inspire confidence for almost any riding conditions. Another feature that the Prowler boasts of is an 8.2-gallon fuel tank. The big Cat has a towing capacity of 1,500 lbs. To top it all off, Arctic has some of the most advanced noise-reduction technology in the industry, and it's used here to help the Prowler deliver all of this power and performance quietly. Other Prowler models in Arctic Cat's lineup include the model that started it all—the 650 4×4 Automatic, the 650 XT 4×4 Auto, and the 650 XT 4×4 Auto M4 in wetlands camouflage.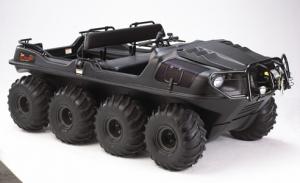 ARGO
ARGO has carved out a niche worldwide with its rugged amphibious UTV machines. The Avenger, Jim Shockey Model Limited Edition, is ARGO's latest model for serious off-roaders. This model is powered by a 31 hp 748 cc electronic fuel-injected Kohler LH 775 engine for great performance in challenging terrain. It has a load capacity of 1,150 lbs and can tow up to 1,800 lbs. All this power is matched by a commitment to respecting the environment with low emission rates that meet both EPA and CARB standards. A winch assembly featuring a heavy- duty X-3 (4,000 lb) winch with wireless hand held remote is standard, along with a front brush guard and two integrated 55W Fog Lights, Jim Shockey Signature Series Badges, and a Garmin GPS MAP 60Cx handlebar mounted GPS plus US and Canadian topographical map CDs. The 25-inch Rawhide III Tires can get through extreme terrain with their aggressive tread pattern and lug size, and their excellent approach and departure angles allow for easy travel over obstacles. The fuel injection system operates reliably in all types of weather and at all altitudes. Other standard features on this Special Edition include a 12 Volt Electric Bilge Pump featuring a 500 GPH capacity, rear handrails for passengers, a bracket for installing up to a 9.9 hp outboard motor, front and rear receiver winch mounts, utility rack providing a convenient place to carry a rifle or shotgun.
Topping it all off, a special Jim Shockey signature embroidered jacket, plus numerous Jim Shockey hunting DVDs and books are included as a bonus package. This ARGO was designed with Jim Shockey's personal input. There is also a standard (if such a term applies) Avenger with a 750cc fuel-injected engine and an Avenger with a 700cc carb.
The Frontier series of ARGOs ranges from an 8-wheel drive with a 650cc engine to a six-wheel drive with a 480cc mill.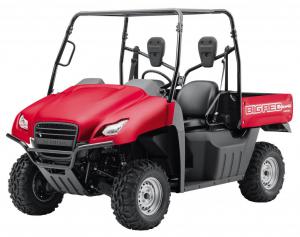 Honda
ATV sales leader Honda has taken a long time to enter the fast-growing UTV market. But the 2008 Big Red MUV (multi-use vehicle) should be worth the wait. Honda's UTV entry is laden with some of Honda's best technology. For example, the Big Red is powered by a PGM fuel-injected 675cc 4-stroke, liquid-cooled engine. PGM is a fuel injection design exclusive to Honda's powersports products and monitors a host of variables. As operating conditions change, the fuel-delivery is being recalculated many times per second to ensure optimal performance and remarkably crisp throttle response over a wide operating range. Among the conditions monitored are engine RPM, throttle position, intake-port pressure, engine-coolant temperature, intake-air temperature and atmospheric pressure.
What it all boils down to is that the Big Red should have plenty of get-up-and-go. The engine power is delivered through an automatic transmission that is electronically programmable to operate in three user-selected drive modes including a utility mode that should be perfect for pulling small implements or other chores. An independent double-wishbone suspension at all four corners will help deliver a smooth ride.
Honda put a lot of design effort into ergonomics with the Big Red. The bucket seat backs are adjustable to help hunters of all sizes to sit comfortably, and the seats have a patented rubber mounting system to isolate riders from shock and vibration. The cargo box can be tilted to offload feed or other materials. Currently, the Big Red is slated for a summer 2008 release, with details such as price still pending. Interestingly, Honda often refers to many patented technologies being applied to its 'MUV,' so even more surprising features may eventually become known.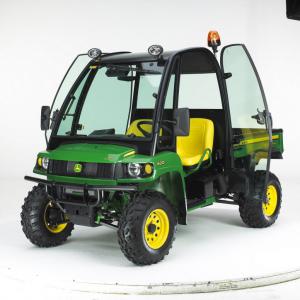 John Deere
John Deere was one of the pioneers in the UTV market with its Gator models. Deere now faces tough competition in this class and it is firing back with higher-performance UTVs than ever before. For 2008, Deere rolls out the Gator XUV 620i. The 620i gets its legs from a Kawasaki-made twin-cylinder 617cc 4-stroke power plant. The Gator has a top speed of about 30 mph, and Deere says the package is tuned for optimal acceleration to get to that speed. The rubber-belt cvt is designed to prolong belt life. The cvt spools a low/high/reverse transmission that connects to the axles via drive shafts.
Both the rated payload and towing capacity are very respectable with the payload at about 1,400 lbs (including passengers) and a towing rating of 1,298 lbs. A nifty design bonus is the ability to add a two-inch receiver hitch to the front end in addition to the stock two-inch hitch on the back end.
Another unusual feature on the Gator XUVs is the capability to lock and unlock both the front and rear differentials. Unlocking the rear differential greatly minimizes turf damage when turning. Buyers can choose between mud-capable Carlisle AT 489 or turf-friendly Carlisle All Trail tires.
Most top-notch UTVs now offer independent rear suspension and the XUV lineup is no exception. John Deere also offers a Great Outdoors version of the XUV 620i that includes a 3,000-lb winch with 10 foot of cable for remote operation, a roof, rear screen and half windshield, front and rear receiver hitches and extra lighting on top. There is also an XUV 850D that is powered by an 854cc Yanmar diesel engine.
The Gator HPXs have rugged construction, sharp looks and cargo boxes that are rated for carrying 1,000 Lbs. The HPX 4×4 has a 617cc engine and the HPX 4×4 Diesel has an 854cc Yanmar diesel. Also in the Deere stable is its 'traditional' Gators, offering value-priced options for UTV shoppers.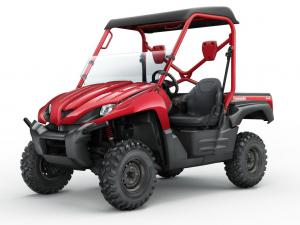 Kawasaki
The Kawasaki Mule was one of the original UTVs and is still a best seller. But Kawasaki needed an entry into the recreational UTV segment that is now the fastest growing portion of the entire ATV/UTV industry.
Enter the Teryx, with the same high-powered 749cc V-Twin four-stroke engine found on Kawasaki's Brute Force ATV. A rubber-belt cvt and low-high transmission puts the power to the ground. The Teryx was designed with a narrower body width than the Mule to enable trail riding and for easier off-road maneuvering. The towing capacity is 1,200 pounds, and the cargo bed is rated to safely carry 500 pounds.
Kawasaki's 'RUV' has a locking front differential and aggressive-tread 26-inch Maxxis tires providing sure-footed four-wheel-drive traction. One feature that makes the Teryx a standout is its true ROPS (Roll-Over Protection Standard)-certified cab. This is a government safety standard that many UTVs do not meet. Adjustable-pressure shock absorbers can be quickly adapted for extra-rough terrain or extra-heavy loads. Kawasaki equips this machine with its innovative fluid-shear rear brake, disk brakes are in the front, and there is full-body skid protection underneath. One special edition of the Teryx—the NRA Outdoors Edition—has bodywork, rims and a hardtop that are all thoroughly coated with Realtree APG HD camouflage.
Kawasaki's Mule 600 is a less expensive solution that still offers side-by-side seating and a cargo bed with a 400-lb capacity. Powered by a 401cc engine, the Mule 600 has a McPherson strut front suspension and a solid-axle rear end. The Mule lineup also includes a couple of models with double-bench seating including the versatile Mule 3010 Trans4x4 which has a rear bench seat that can be folded down to expand the volume of the cargo bed. A couple of diesel-engine models are offered for fleet use. All of the 4×4 models have locking differential capability.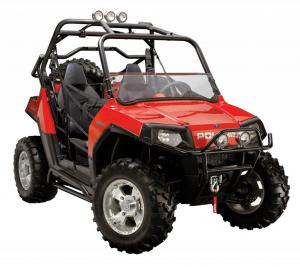 Polaris
Polaris' Ranger Rzr, better known as the Razor, has shaken the UTV market to its foundations. The undeniable market impact of the Razor is comparable to the revolution that Yamaha started with the Rhino a couple of years ago. The Razor's great acceleration, very low center of gravity, and edgy styling have created an entirely new UTV niche.
The Razor is powered by a Polaris-designed 760cc fuel-injected twin. Polaris harnesses the power of this engine with the cvt-style transmission that the company introduced to the ATV industry in the 1980s. The Razor sports 10 inches of ground clearance and switchable all-wheel-drive for getting through nasty terrain. There is independent suspension in the front, and an independent suspension with a sway bar soaks up trail chatter in the back. The Razor also has some very good utility features including a cargo box with a number of tie-down points and a 300 pound payload. Towing capacity is 1,500 lbs. With a top speed of 55 miles per hour, bucket seats and three-point restraints, the fun capacity is almost unlimited.
Other highlights in Polaris' extensive Ranger platform include the Ranger XP that is powered by a 683cc fuel-injected two-cylinder mill. The XP has a 2,000-lb towing capacity and a top speed of 50 mph. There is bench seating with room for three and the rear differential can be unlocked for easy, low-impact turning on grass. Polaris' Ranger Crew has two bench seats, and Ranger 500s are lower in price but still have a long list of standard features.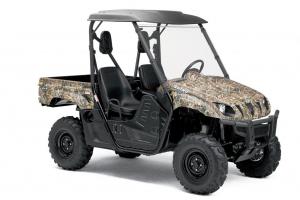 Yamaha
Yamaha ignited the UTV market with the release of the Rhino, and these models have quickly grown to be among the industry leaders in sales. For 2008, Yamaha has released a Rhino 700 FI Auto, Ducks Unlimited Edition for hunters. The fuel-injected 700 twin with a compression ratio of 9.2:1 has already proven itself as a strong workhorse on both their Grizzly ATVs and their Rhino UTVs.
The Rhino has an easy to use cvt transmission with low and high gear. Double-wishbone independent suspension at all four corners provides a smooth ride. Hydraulic disk brakes put stopping power to the 25-inch tires. A 7.9-gallon gas tank should allow any hunter to drive all day. Towing capacity rating is related to braking performance more than to pulling performance, but the towing capacity is a very good 1,212 lbs. The Ducks Unlimited Edition Rhino's bodywork is coated with Advantage Max-4 High Definition camouflage and there is also a windshield and sun top installed as standard equipment. Camouflage-coated bodywork typically shows scratches far less easily than monochrome-colored plastic does, which helps with resell value.
Yamaha also has other Rhinos powered with the potent 686cc 'fuely' (fuel injected engine). For example, the Rhino 700 FI Sport Edition features piggyback shocks, cast aluminum rims and a suntop. Two Rhino models come with carbureted 421cc single-cylinder power plants but still have an outstanding 12.1 inches of ground clearance and a respectable 1,100-lb towing capacity. Last but not least, the marketing buzz that Yamaha has generated with the Rhino has resulted in a plethora of aftermarket add-ons for added bling or utility.
Related Reading Published December 20th, 2007 12:40 PM
Top Brands
Popular Articles