1 View
Future Choices for Powersports Drive Systems
June 16th, 2015 4:43 PM
Share
We're committed to finding, researching, and recommending the best products. We earn commissions from purchases you make using links in our articles. Learn more here
What alternatives do powersports fans have?
At a recent powersports product launch, we sat down to dinner with some engineering and marketing types who gave some interesting perspective on future powersport drivetrains.
Our conversation started out by us asking about the possibility of electric or hybrid drivetrains and was that realistic for powersport vehicles like ATVs. We fully expected the question to get blown off. To our surprise, not only was our question taken — and answered — seriously, but the engineers and marketing/sales types at the dinner table seemed much more than casually informed on the subject.
Our engineer dinner companion seemed versed as to the efficiencies of a hybrid (gas motor combined with electric motor) versus direct electric motor drive system. It was his contention that a hybrid system seemed most likely. He also discussed the use of internal combustion engines that might use fuels other than gasoline.
JP-8 Fuels
US military specifications require vehicles such as Polaris' Ranger MVRS800 to run on JP-8 military fuel (JP for "jet propellant"), which is a kerosene-based fuel specified by the US military in 1990 and also used by NATO allies. A similar fuel is used in commercial aviation under the name Jet-A. Because the fuel doesn't gel at low temperatures, JP-8 fuel can be used at science stations at the South Pole.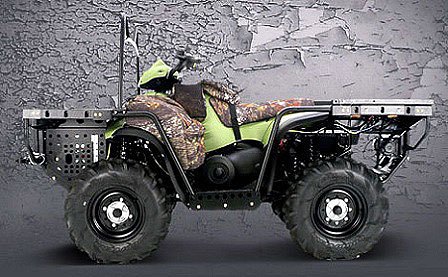 Is there a commercial future for Polaris' multi-fuel Patriot engine used to power military ATVs?
Polaris announced its multi-fuel burning 760cc Patriot engine this past September when it unveiled its MV800 4×4 military-spec ATV. According to Polaris, the 760cc, 40hp spark ignition engine features Electronic Direct Fuel Injection to flow the U.S. military's JP-8 standard fuel. The engine was developed in partnership with Australian-based Orbital Corporation and utilizes a patented technology that significantly surpasses traditional, diesel compression engines in this size with almost twice the horsepower. In addition to JP-8, the Patriot motor can operate on emergency fuels including gasoline and highway diesel.
Arctic Cat uses a Lombardini/Kohler diesel engine in its ATV.
Not to be outdone by its northwestern Minnesota neighbor and competitor, Arctic Cat unveiled an ATV powered by a single overhead cam, inline-two-cylinder diesel. Built in cooperation with Italian manufacturer Lombardini, the Lombardini LDW 702 diesel engine features a Bosch indirect-injection mechanical fuel system. Power is rated at 18-hp with 30 lb-ft of torque. With a glow plug pre-heater assist for starting on biodiesel fuels, the engine will run on various forms of diesel fuel including military-spec JP-8 as wells as biodiesel. A longtime builder of diesel motors for the European market; Lombardini has been part of the Wisconsin-based Kohler engine group since last year.
Electric & Hybrid Power
In addition to the possibility of diesel engines powering our future ATVs, look to renewed interest in electric powerplants or hybrids being introduced either as real or 'show' vehicles. ATV.com is at work developing more insights into this alternative power choice, but be aware that such vehicles have currently been showcased by college students participating in "clean air" snowmobile competitions and by inventive entrepreneurial sorts.
One fellow fixed up a very old, but boxy snowmobile chassis to house components borrowed from Bombardier's battery-powered neighborhood electric vehicle.
Is it possible that Bombardier's neighborhood electric vehicle was ahead of its time?
Introduced at an international electric vehicle symposium in Orlando, Fla., back in 1998, the Bombardier NV was highly touted by Pierre Beaudoin, then President of the Motorized Consumer Products Division of Bombardier, Inc. He noted how his company felt the Bombardier NV would "…be a star among consumers looking for a fun, economical, and environmentally friendly means of transportation."
Of course, the NV never made extended production and the vehicle disappeared. Pierre Beaudoin is now chief executive at Bombardier Inc. As excess NV parts ended up being available, at least one enterprising snowmobiler developed a working snowmobile prototype.
But, of course, with its background in electric-powered vehicles and with the continuing development of more and more efficient batteries, is Bombardier or its offspring, Can-Am, a candidate to explore electric or hybrid power for ATVs?
Outside Sources
Might the push for such alternative power systems come from outside the powersports business itself? It has been reported by the website Autobloggreen.com that Andrew Grove, former chairman and CEO of Intel Corp., thinks that "… the confluence of oil prices, environmental concerns and economic conditions now demand a rapid move from internal combustion to electrically driven vehicles."
Some alternatives to gas-power like Arctic Cat's diesel-powered ATV exist already.
Grove reportedly is encouraging the creation of tax incentives to help fund battery and conversion kit development. Teaching a business school class at Stanford, Grove plans to devote a semester to finding ways to make electric vehicles possible.
Keep in mind that major auto makers like Mercedes-Benz and Japanese car maker Toyota have long been developing very small automobiles with under 1000cc engines to meet the demands of consumers in Europe and Asia. With partners familiar in producing lightweight, low-powered vehicles, perhaps, some bonds will be developed to produce new ways of powering ATVs.
Pricey Future
As we look into the future and see reports of $7-$10 per gallon gasoline prices in North America, can alternative drivetrain sources really be that inconceivable? As our dinner companion noted, electric engines offer a great deal of torque and the right combination of gas-electric power could make ATVs quicker and as powerful as what we have now.
If such things come to pass, there are many of us who will truly miss the grunting pull of a Can-Am 800cc twin. Maybe we'll get used to the quiet ways of alternative powertrains. Or, maybe, just maybe, we can record engine sounds on our iPod and play them back through speakers on board our new powersports off-road vehicle of the future!
Related Reading:
UW wins Clean Snowmobile Challenge
Polaris beefs up for US military
Polaris' military unit off the line Published July 10th, 2008 11:32 AM
Top Brands
Popular Articles