6 Views
Hunting With An ATV: Getting Certified
June 16th, 2015 4:39 PM
Share
Securing a hunter safety certificate is the first step
Your ATV or UTV can be used for a lot more than just enjoying the trails or doing some work around your property. These machines can also be very useful on a hunting excursion. However, before you clean your gun and gas up your off-road hunting rig you've got to get certified.
It's hardly the first thing that comes to mind before you go on that first hunt, but it's required that every hunter complete a safety course. This course keeps the hunting nation full of safe, knowledgeable hunters. As a teen in school I remember the course being offered and made plans several times to attend the two day/night classroom study. As luck would have it I never attended the course and when I got invited to go on my first turkey hunt a little while back I knew it was time to hit the books. The only drawback was that the turkey hunt was only a month away and all the classes in my area had already been filled up! Fortunately, this is the age in the Internet so I was able to take an online course at http://www.hunter-ed.com/.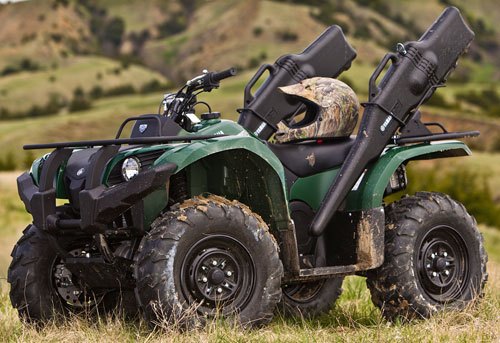 Before you hit the trails and go hunting, you need to get certified.
This hunter safety course allows users to choose their state, so I clicked on 'Georgia' and got to work. Don't expect to zip right through the course as it's quite an involved process, but I think it's a great asset to make the land you hunt on safe for everyone using it. The course may vary from state to state, but in Georgia there are nine units of study and several subsections inside the units. Here is a list of the units I was required to study.
* Unit 1: Introduction to hunter education
* Unit 2:
Know your firearm equipment
* Unit 3:
Basic shooting skills
* Unit 4:
Basic hunting skills
* Unit 5
: Primitive hunting equipment and techniques
* Unit 6:
Be a safe hunter
* Unit 7:
Be a responsible and ethical hunter
* Unit 8:
Preparation and survival skills
* Unit 9
: Understanding wildlife
A little extracurricular reading will help you come exam time.
It took me a couple of nights of on-line study to complete the course, but the beauty of studying online is that you get to go at your own pace. As you finish each unit, you will be tested. Even if you don't get a passing score in each individual section (which I did), the course allows you to try again until you get it right. The score is saved in your personal profile that you create so if you have to run out and shine the ATV it will be waiting for you when you get back.
After about 12 hours (I told you this wasn't a quick process) I was officially ready to take the final exam. I printed out my online certificate proving that I had successfully taken the course and began the search for a place to write the exam, which costs $19.50. To speed up the process some classes are only one night and last just a few hours for those who have already completed the online course. Of course, since I had waited too long to register for the classes close to me, I was looking at a two-hour drive to get my certification. Don't make this same mistake. Make sure to check for the course enrollment deadlines or you could be driving all over your state looking for a classroom!
The pot of gold at the end of the rainbow – my hunter safety certificate.
Unshaken by the drive and pushed forward by my own will to attend this once-in-a-lifetime first Turkey hunt, I made the trek to south Georgia to finish what I had started. I presented my online certificate and sat through a couple of safety videos. The Conservation Officer for the region (aka game warden), Chip Cox, showed up for a brief speech and it was on to the final. As a first time hunter I was as nervous as a long-tailed cat in a room full of rocking chairs, but the test wasn't that hard – most of this is common sense stuff.
Walking out of that room with my hunter safety card and knowing I was a prepared, safer hunter and one step closer to the hunt was a very satisfying feeling – not unlike the way it felt when I learned to ride an ATV for the first time!
* Editor's Note – This is the first in a series of hunting-related articles. Next week we'll look at some of the best hunting products buy for your ATV or UTV.
Related Reading
Top 10 Hunting Accessories For Your ATV
Turkey Hunting in Nebraska Onboard Yamaha ATVs
PowerLoader UTV accessory
10 Things To Check Before Riding Your ATV
Camping With An ATV: Advice on Gear and Trip Planning
How To Tow ATVs Safely and Securely
Published May 15th, 2012 10:14 AM
Top Brands
Popular Articles