8 Views
Is Polaris Building a Single-Seat RZR?
June 16th, 2015 4:33 PM
Share
We're committed to finding, researching, and recommending the best products. We earn commissions from purchases you make using links in our articles. Learn more here
Patent documents reveal plans for a one-passenger UTV
Anybody who's been following the ATV and UTV industry over the last six years or so can see that Polaris is unafraid to take big risks. Is the company that brought us the first ever Sport UTV working on a single-seat version? If documents filed with the United States Patent and Trademark Office are any indication, then the answer is a resounding yes. Time for some rampant speculation about a new Polaris RZR!
Before we dig in, we should point out that just because a company has issued a patent doesn't mean anything will ever reach production. However, we will assume it's a project that is being (or has been) seriously considered.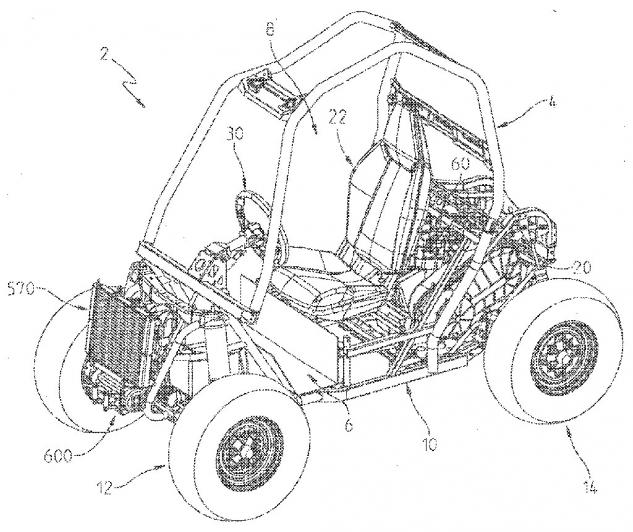 Any off-road fan should be giddy at the thought of a new single-seat UTV that we are hereby calling the RZR 1.
Polaris submitted 59 images with the patent, showing the vehicle from virtually every angle. You can see Polaris' entire submission here.
Discuss the Polaris Sportsman Ace at our Polaris Ace Forum
This looks like a very compact machine. In the description, Polaris says it will have dimensions similar to a Sportsman XP with a wheelbase between 60 and 65 inches – at least a foot shorter than the Polaris RZR 800! No vehicle width is given, but Polaris does note the roll cage is 36.8 inches wide. We'd guess total vehicle width is between 45-50 inches. The front view of the machine makes it look very narrow.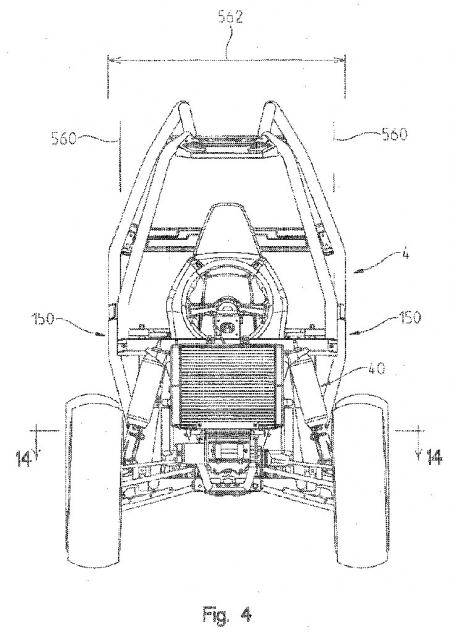 The front angle view makes this look like a shockingly narrow vehicle – maybe as little as 45 inches wide.
Keeping in mind the compact dimensions, we can't imagine Polaris would squeeze in its big ProStar 900 engine that powers the RZR 900 and RZR XP 1000. However, the ProStar 570 mill seems like it might fit and would offer plenty of power for this lightweight machine to make it a blast to drive. Another possibility is that Polaris turns this into a Youth platform powered by the same engine found in the RZR 170. Again, this is all speculation at this point.
What engine do you think Polaris will put into the RZR 1?
The engine is housed in the very back of the machine and the rider is right in the middle, which should make the front end fairly light. We imagine steering on a machine laid out like this would feel incredibly light, but we do wonder how much traction the front end will have. That being said, Polaris has proven itself more than capable of building great-handling UTVs.
Suspension looks to be independent at all four corners. We don't see anything that indicates the three-link trailing arm suspension found on the RZR 900 and RZR XP 1000, but this doesn't look like a machine that will be asked to perform like those open desert killers.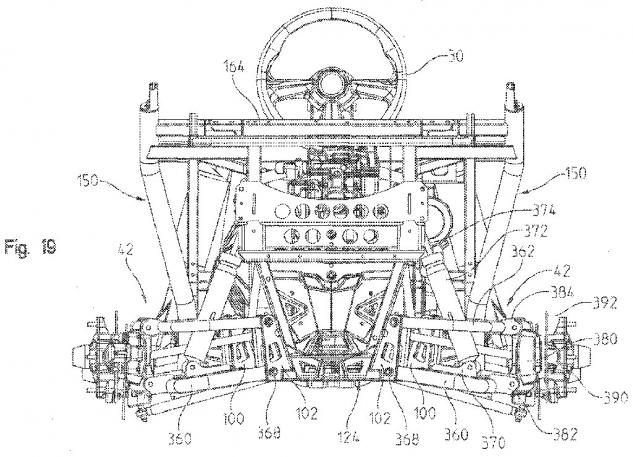 The rear suspension looks more like a RZR 800 than a RZR XP.
If Polaris does decide to build this one-seat machine you can bet it will have a specific buyer in mind. Due to its narrow width and overall small package, we can see this being a great vehicle for tight trails. While the original RZR 800 is a fine trail machine, a smaller package like this one-seater can go more places and would no doubt be fun to throw around the trails.
The biggest hurdle we can see is that it seems like the majority of UTV buyers like the idea of a two-seat machine so they can share the off-road experience with friends and family. Is there a market for a one-seat UTV or would solo riders simply rather ride a normal ATV?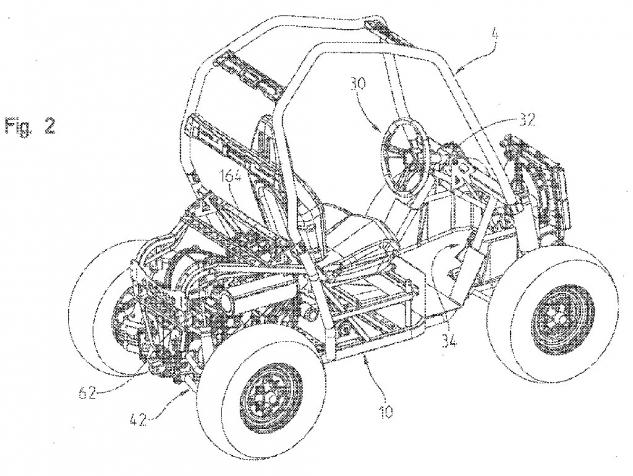 Is there a viable market for single-seat Sport UTVs?
Another question is how much would a one-seat UTV hurt sales of Polaris' own ATV line? We think the answer lands in Polaris' favor. While one-seat UTV sales would no doubt impact Polaris ATV sales, it would also impact sales of other ATV manufacturers, giving Polaris a net gain.
Polaris RZR XP 900 EPS LE Review
It should be noted that Polaris wouldn't be the first manufacturer to try something like this. In recent years, we saw the Redline Revolt and Revolt XL. Redline was a Minnesota-based manufacturer that built high-performance one- and two-seat UTVs. We never got behind the wheel of a Revolt, but reports we heard were very good. However, we can no longer see any sign of Redline on-line. It's tough to compete against the big boys.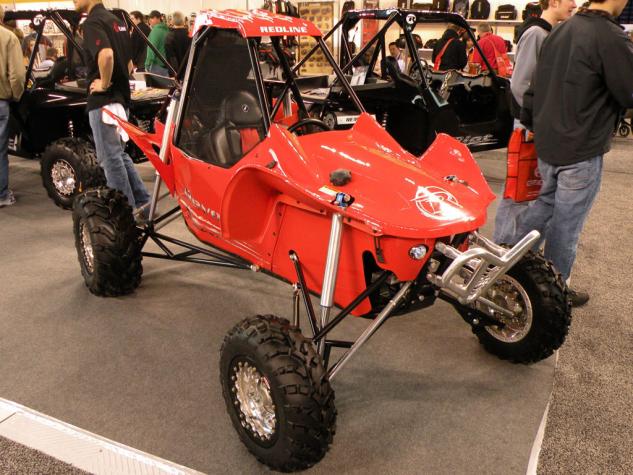 Redline tried its hand at single-seat performance machines with the Revolt and Revolt XL. We hear it was a blast to drive, but we don't know anybody who bought one.
Honda also came to market with a single-seat machine – more than 30 years ago! Powered by a 248cc two-stroke engine, the Honda Odyssey FL250 was made from 1977-1984. At first glance, it shares some similarities with the Polaris patents, but it featured no rear suspension – just old-school balloon tires to cushion the ride. It also didn't get a full roll cage until the 1981 model year. A 342cc FL350R followed in 1985, which did come with independent rear suspension. You can still find these models for sale on the used market and if anybody wants to loan us one for a test ride, just let us know.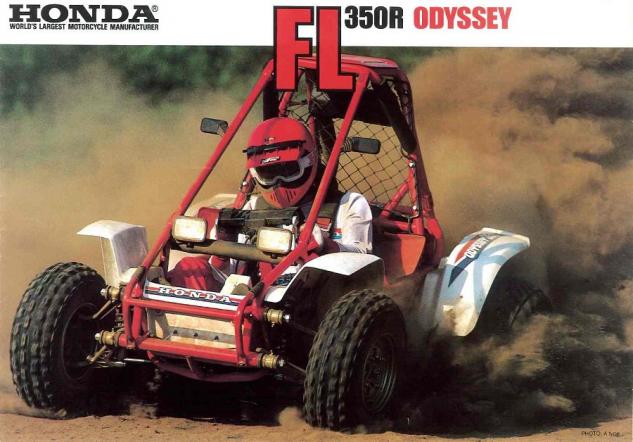 The Honda FL350R still looks like it would be a killer on the trails almost 30 years later. Will Polaris take over the single-seat UTV mantle?
We have no idea if a one-seat RZR would be a big seller or not today. Assuming Polaris prices it competitively with comparable ATVs, it certainly could be. Regardless, we love outside-the-box thinking and would be absolutely thrilled to see this machine come to market. Lucas Cooney
I have been working exclusively in digital media since 1997. I started out with TSN.ca, spending nearly nine years creating and editing content on Canada's leading sports website. I left to join VerticalScope, Inc., one of the world's largest online publishers, to start a number of powersports publications. While at VerticalScope, I've helped create and oversee content for a wide variety of different publications, including ATV.com, Off-Road.com, ArcheryTalk.com, Tractor.com, RVGuide.com, and many more.
More by Lucas Cooney
Published October 11th, 2013 7:50 AM
Top Brands
Popular Articles