4 Views
2014 Polaris Sportsman ACE Preview
June 17th, 2015 4:00 PM
Share
One-seat unit is part ATV and part UTV
In October ATV.com broke the news that Polaris was building a one-seat UTV. Polaris proved us correct by unveiling the new Sportsman ACE.
While the patent drawings we based our story off of looked a little more like a one-seat RZR, the Sportsman ACE looks very much like a lengthened Sportsman 570 ATV with a roll cage. A review of the official Polaris specifications for the ACE shows several dimensions that exactly match that ATV.
Discuss the Polaris Sportsman Ace at our Polaris Ace Forum
The Sportsman ACE is 48 inches wide with 10.25 inches of ground clearance – numbers shared by the Sportsman 570. The Sportsman ACE also boasts Macpherson Strut front suspension with 8.2 inches of travel and dual A-arm rear suspension with 9.5 inches of travel – the same numbers found on the Sportsman 570. Polaris says the rear suspension is outfitted with twin tube shocks featuring adjustable preload.
Get the Flash Player to see this player.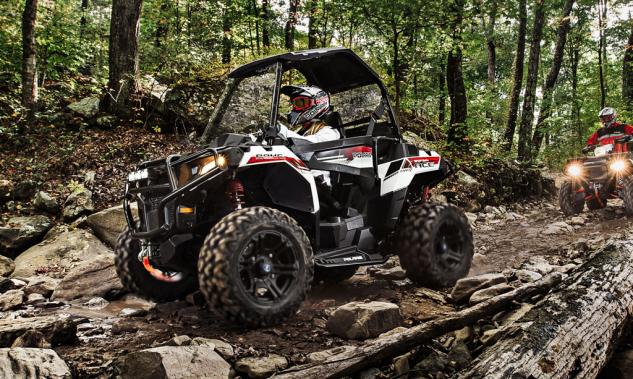 Polaris is creating a new segment with the introduction of the Sportsman ACE.
Powering the Sportsman ACE is an all-new 32 horsepower ProStar Electronic Fuel Injected (EFI) Engine featuring an internal counter-balance shaft. Polaris did not reveal the engine's displacement – even after we requested it. We were told that horsepower is a "way better indicator" than displacement. We suppose this is true, but enquiring minds want to know. We did a little digging and discovered the new ProStar engine produces just slightly more power than a Sportsman 400, which has a 455cc mill. We'd imagine the new ProStar would come in around the same displacement (maybe slightly smaller and more efficient), but it's hard to know exactly. Polaris did note that the Sportsman ACE "matches the output" of now retired Sportsman 500.
Related Reading: Is Polaris Building a Single-Seat RZR?
According to Polaris, the dual overhead camshafts and a 4-valve cylinder head work with the advanced engine management system to deliver the fuel charge for impressive power and instant, predictable throttle response. The engine is designed to reduce internal friction which reduces noise and increases efficiency. Polaris says it is the most fuel-efficient engine it has ever offered. With 5.25 gallons of fuel capacity, the Sportsman ACE should have excellent range.
If you can imagine the Sportsman ACE without a roll cage, it would look very similar to a regular ATV.
Protecting the rider like a regular ATV can't, the Sportsman ACE is outfitted with a ROPS cab frame. Also setting this model apart from an ATV is the high-backed, adjustable bucket seat, which comes paired with an adjustable steering wheel. It is also equipped with a three-point seat belt and has side bolsters designed to keep the operator properly positioned in the center of the machine. The steering wheel offers 3.5 inches of tilt adjustment and the driver's seat slides back and forth by four inches to customize the fit for the operator. You can enter the Sportsman ACE through either side. Side nets feature a metal rod to secure them both for clipping and positioning the nets to the back of the vehicle while exiting. The vehicle also is equipped with halogen lighting.
Related Reading: 2011 Polaris Sportsman 500 H.O. Review
Polaris' familiar On-Demand True All-Wheel Drive (AWD) system is found on the Sportsman ACE, which is designed to eliminate the guesswork by automatically engaging when the driver needs more forward traction and then reverts back to two-wheel drive automatically when the AWD is no longer needed. Stopping power comes from linked, four-wheel disc brakes with braided stainless steel brake lines. For added protection on the trail, accessories such as doors, front and rear brushguards, rock sliders, and a variety of custom wheel and tire packages are available. To protect the driver from the elements, optional Lock & Ride roof, windshield and rear panel install in seconds.
The front storage rack/compartment is borrowed from the Sportsman ATV line.
Despite its diminutive size, the Sportsman ACE is designed to be a capable work companion. With an integrated 2.8-gallon front storage compartment and a high-capacity Lock & Ride cargo box with rack extenders and rear tie-down rails that also accepts the accessory Lock & Ride cargo box for additional dry storage, the vehicle can carry up to 575 pounds of gear – including up to 120 pounds on the front end. The Sportsman ACE is pre-wired for the installation of a winch with up to 3,500 pounds of capacity and can tow up to 1,500 pounds.
The rear cargo box is similar to the one found in the Polaris RZR.
"The introduction of the Sportsman ACE is part of our strategy to remain the leader in the powersports marketplace by introducing innovative products that define their categories," says David Longren, vice president of Polaris' Off-Road Division. "In creating the Sportsman ACE, we wanted to not only appeal to current off-road enthusiasts, but develop a vehicle that brings new customers to off-road recreation. We accomplished this by coupling an easy-to-use, nimble platform with a confident and secure ride that, together, provides drivers of all experience levels a new way to experience the outdoors."
Related Reading: 2010 Polaris Ranger RZR Review
So who is the target consumer of the Polaris Sportsman ACE? We'd imagine anybody interested in off-road riding but leery of falling would be at the front of the line. With an attractive price tag ($7,499), it could have reasonably broad appeal.
We wouldn't be at all surprised to see Polaris come out with more powerful versions of the Sportsman ACE to match the other one-up ATVs in its lineup if this model proves to be a seller. A sportier version would also be welcome, which is what we were expecting this time around. Something like a modern day Honda FL350R Odyssey. We'll keep our fingers crossed.
You can expect to find the Sportsman ACE in Polaris dealerships in February.
It will be interesting to see who is in the market for this unique machine. With a surprisingly attractive price tag you may see a good number of these on the trails.
2014 Polaris Sportsman ACE Specs
MSRP:
$7,499
Engine:
32 horsepower, 4-Stroke DOHC Single Cylinder
Induction:
Electronic fuel injection
Cooling:
Liquid
Transmission/Final Drive:
Automatic PVT P/R/N/L/H; Shaft
Drive System:
On-Demand True AWD/2WD
Engine Braking/Active Descent Control:
N/A
Front Suspension:
MacPherson Strut With 8.2″ (20.8 cm) Travel
Rear Suspension:
Dual A-Arm, Anti-Sway Bar 9.5″ (24 cm) Travel
Front/Rear Brakes:
4-Wheel Hydraulic Disc with Dual-Bore Front Calipers
Parking Brake:
Park in Transmission
Front Tires:
25 x 8-12; 489
Rear Tires:
25 x 10-12; 489
Wheels:
Stamped Steel
Length/Width/Height:
90 in x 48 in x 68 in
Dry Weight:
835 lbs
Wheelbase:
61.5 in
Ground Clearance:
10.25 in
Seat Height:
N/A
Fuel Capacity:
5.25 gal
Front/Rear Rack or Cargo Box Capacity:
120 lb/240 lb
Payload Capacity:
575 lbs
Towing Capacity:
1,500 lbs
Hitch Type:
Standard 1.25 in Receiver
Cargo System:
Lock & Ride
Lighting:
Halogen, 55W low/ 60W high
Instrumentation:
Digital Gauge, Analog Speedometer, Odometer, Tachometer, Tripmeter, Gear Indicator, Fuel Gauge, AWD Indicator, Hi-Temp/Low-Batt Lights, DC Outlet
Published January 22nd, 2014 8:34 AM
Top Brands
Popular Articles