1 View
From Planet Volcon: Next-Gen UTVs Powered by Electric Guts From GM
August 25th, 2022 12:35 PM
Share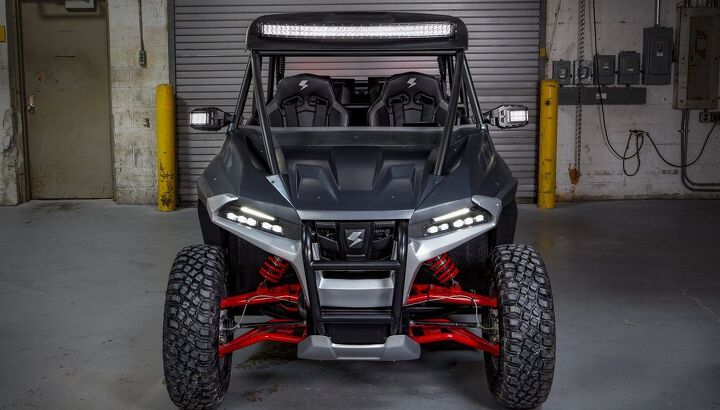 Billing themselves as the "first all-electric, off-road powersports company", Texas-based Volcon Inc has announced their upcoming UTV will be powered by electrified guts developed by General Motors. The brand's flagship rig, called the Stag, was unveiled earlier this summer.
Travis Hester, GM Vice President of EV Growth Operations, served up a bowl of marketing word salad, saying "General Motors has transformed from an automaker to a platform innovator, with scalable architectures designed to accelerate EV adoption across different industries and product types." In other words, they sound eager to get their technology into a bunch of markets – including powersports.
Volcon says their Stag UTV should make around 140 horsepower in certain configurations, with a base power output of 125 horses. Torque is pegged at a healthy 256 lb-ft, and range is estimated to be "above 100 miles". For comparison, the Polaris Ranger XP Kinetic tops out at 80 miles of all-electric range when spec'd in top trim with a near-30 kWh battery. Volcon lists a 42 kWh unit for the Stag, fully chargeable in about 6 hours when hoovering power from a Level 2 charging outlet. This machine is a four-person rig playing in the 64-inch category, to offer you some perspective.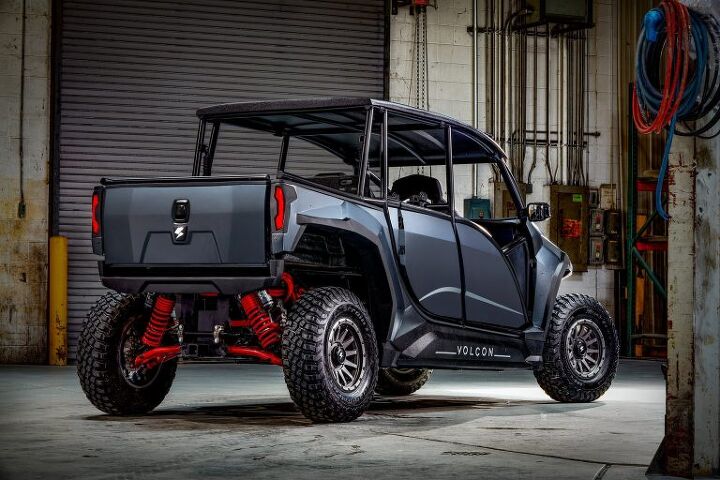 Photo: Volcon
Cynics will say this collab is simply part of The General's master plan to eliminate tailpipe emissions from its light-duty vehicles by 2035 on the way to carbon neutrality in its global products and operations by 2040. By teaming up with companies like Volcon, they can spread around development costs and lessen the pressure from nervous investors who like to scrutinize balance sheets.
Still, competition is a good thing in this – or any – industry. If the Volcon crew can assemble and market viable alternatives to other all-electrics like the Polaris Ranger XP Kinetic, it will likely make for better products overall in this segment. Think the engineering might of Polaris will let some Texas upstart beat them on measures like range and battery capacity? Not likely.
The all-wheel drive Volcon Stag is expected to appear in 2023.
Published August 24th, 2022 3:16 PM
Top Brands
Popular Articles