1 View
ATV AnswerMan - July 2016
August 5th, 2016 1:57 PM
Share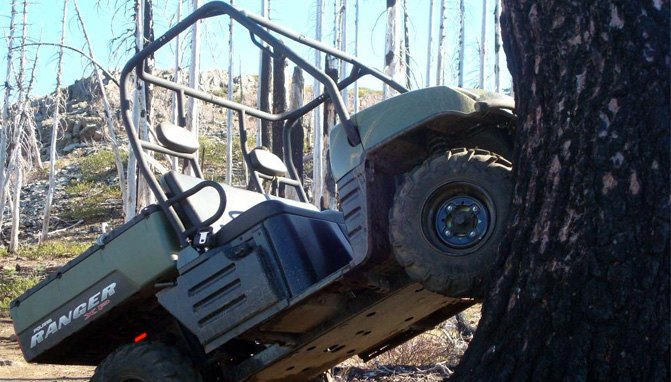 Squashed shocks and a loud explosion
Have an ATV or Side-by-Side tech question for the ATV AnswerMan? Send an e-mail with your name, vehicle year, model and a detailed description of the problem to answers@atv.com: ATV AnswerMan. Just be sure to watch your spelling and write clearly, because it will be out there for the world to see.
Rocked Ranger
My buddies and me took my dads Polaris Ranger out camping and accidentally hit a ditch. The front end made a loud clank and now the Ranger has a very squishy front end. The tires are scrubbing where they never have before. The tires are the same tires that came on the Ranger when we bought it new back in 2005 so I don't understand why they are scrubbing now. It still steers right but its a lot harder to turn sometimes. Also there is oil coming from my front end somewhere but it is very hard to wash off. It is all over the shock and frame near the steering on one side. I want to ride this summer and my dad says I have to pay for the broken parts so please help me!
So let's get this straight: you and a couple of friends decide to play jump the ditch in a massive vehicle like the Polaris Ranger? This is not the intended use, but I do get where that might be a "Hey ya'll watch this" moment for YouTube. However, it sounds to me like you have busted the shocks on your Polaris Ranger and you will need to save up some dollars to replace them. The shocks are not rebuildable and you will simply buy new ones. As for the oil, well this could be coming from the shock itself if you have an oil dampened shock setup on the Ranger.
Whole Lot Of Shaking Going On
My name is Chris Spalding. I have a 98 Polaris sportsman 500 H.O. It is having some problems with the rear end. When riding it makes a clanking sound, bounces, and wobbles. I put the rear on a jack and when given low throttle you can see the left rear tire has a catch whereas the right rear spins freely. At slightly higher throttle the quad shakes violently with a fair amount of noise. Any input would be greatly appreciated
Hi Chris,
From what you have described it sounds like you have an issue with either the carrier bearing in the outer hub or possible a CV joint that is coming apart. It is not uncommon for an ATV this old to have bearings (as well as CV joints) that are worn out completely. The bearings in the outer hub are held in by a large snap ring and can be a little tricky to remove should you try this repair yourself. It's not impossible, but you will need a large set of snap-ring pliers to get a good grip on the snap ring. The bearing will then simply need to be pressed out of the hub or bearing carrier as Polaris describes it. Get yourself a good service manual from the dealer before attempting this repair so you have a great guide to get the job finished correctly.
If you remove the wheel and find that the CV axle is the issue, then there is a little different path to take. The CV Joint can be a little tricky and rebuilding a CV joint this old may just be a waste of time. If you plan on keeping the quad a while, I'd suggest simply replacing the CV axle and joint with a new factory part. This will give you many more years of service than just adding new parts to the worn out parts. Just know that this is not a particularly difficult task for someone with good mechanical skills and the right tools. Good luck, my friend.
Brakes Won't Let Up
My name is Paul. I have a 2003 Yamaha Grizzly 660. My right hand break for the front breaks will not pull back and both front tires will not move as they are locked up. Any suggestions on what is causing the problem. Thanks
Well Paul, that can be a problem. The braking system is not meant to "lock and hold" the brakes unless you have engaged a parking brake. The brake lever simply forces fluid through the lines and into the caliper, pushing the piston against the pad and thus causing friction on the disc to slow the Grizzly. If it were mine, I would get this machine to a safe and flat place where you can jack the front wheels off of the ground. Once the wheels are at least and inch or two off of the ground, try spinning either wheel. If you cannot get the wheels to spin, then remove the driver side wheel and inspect the brake caliper. When the brake is not applied the pads should have just a tiny bit of clearance between the rotor disc and pad. If this is not the case then you may need to overhaul the calipers and hydraulic braking system.
My next suggestion is to remove the caliper from both sides and simply let them hang down by the brake lines. Then try to spin the wheel again. If the wheel will still not rotate your problem is most likely in the front differential and that is something you will probably want a dealer to dig into.
Fire In The Hole!
Hello Sir. My name is Billy De Santo. Last winter I went in garage and tried to start the ATV. There was a loud explosion. I really couldn't tell where it came from. I tried start button nothing happened. I pulled rope start it had no resistance. I thought the engine blew. Later that day I tried to start and got that clicking sound. Now the rope start had resistance but would not start. A mechanic looked and said it was the starter. I replaced starter and still no luck. I stuck my finger in hole where starter gear goes and I could turn the flywheel. A friend said I shouldn't be able to do this. I then changed starter solenoid still no luck. All I get is a very faint wheezing noise from starter. If you can help me out with this I would appreciate it very much.
Wow brother, it sounds like your machine might have gas. No really. Do yourself and your fingers a solid and do not poke around in the holes of the crankcase too much as you might lose that finger accidentally. I really wish I knew what kind of ATV you are working on because that makes it so much easier to get to the root of the problem. If you can pull the engine over with the pull start rope, this tells me the engine is free to rotate but just for my own peace of mind I would pull the spark plug and rotate the engine with the pull rope. This allows the engine to rotate easily and this can give you an idea of any broken parts in the bottom of the engine.
Could this have just been a massive backfire? You describe it as an explosion, but I think of that being something you hear about in war not ATV start-up. What condition is the battery in? The clicking or wheezing as you describe it could be coming from a battery that is not alive and well. Give the battery a good couple of days on the charger and try it again to see if you might have mistaken a backfire for the explosion and get back to me.
Bearing Bad News
I just replaced left rear wheel bearing got it back together now I give it gas and only right side pulls I take a look and inner Cv boot is twisted what could have possibly went wrong
Gary lee
Dude, how am I supposed to know what you are working on? The only possible answer I have due to the lack of information is that when you pulled the axle to replace the bearings you might have pulled it out of the inner CV joint completely. I would pull the left side apart again and inspect that axle to be sure it is indeed in the CV joint inside the boot. You can find the issue without removing the boot, but it is something even a trained mechanic could misjudge. If you need to remove the boot, just undo the large clamp on the cup so you have a good view of the inside. Good luck with that one.
Published July 12th, 2016 2:49 PM
Top Brands
Popular Articles