52 Views
5 Ways To Improve Your Polaris RZR Suspension
October 10th, 2017 11:00 AM
Share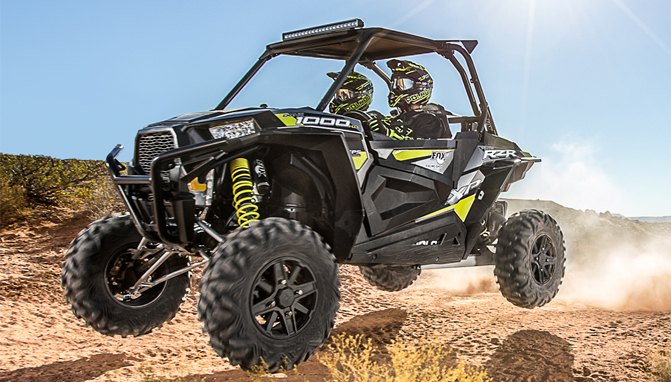 If you own a Polaris RZR and want to take it to the next level, look to the suspension. Here are 5 ways to improve your Polaris RZR suspension.
There are an awful lot of Polaris RZRs out there bombing down the trails, slamming over the dunes, blasting across the deserts and screaming along just about anywhere a Side-by-Side can go. These are some great machines and ones that definitely have made a major impact on the sport as we know it. They're fast, fun and extremely good. But are they perfect? While they may be perfect for some, others may find areas that could stand some improvement.
One area that gets some attention from the aftermarket is the suspension. While stock Polaris RZR suspension is extremely good for all-around use, more adept drivers may find they need more. Luckily there is a wide range of ways to improve the suspension on your RZR.
Spring and Valve Kit
One way to improve suspension performance without sacrificing any of the OEM fit and finish is to opt for a spring and valve swap. This reworks the internals of the shocks and loads them with stiffer, more tuned springs. If you want to completely customize your ride, but don't want to spend the bucks for a complete new shock set up, this will get you there. It's not a cheap solution, mind you. And if you don't know much about suspension systems, you need to have the work done by someone who does.
Fox QS3 Shocks
You can always opt for a set of FOX QS3 shocks. These shocks have a three-position adjustment on the top that has a soft, medium and still setting. These shocks will make an immediate improvement on your ride quality for serious trail riding. They have a two-inch aluminum body and are completely rebuildable and revalveable for years of service. For the money, this is a great option for those who want optimal trail performance.
Elka Stage 4 Shocks
Elka really came into its own as a custom shock builder. The Elka Stage 4 shocks are serious stuff with individual compression adjustments for the high and low speed compression settings. They also have spring preload and rebound damping adjustments, letting you set them up for specific conditions from the trail to the track.
Holz New Industry Shocks
Holz takes the Walker Evans Racing shocks up a notch with these 2.5-inch needle shocks for the front of your RZR. They give you race-machine performance, while bringing in a whole new level of softness and soft-setting performance. This lets the shock take soft subtle hits with ease without the worry of bottoming out. These are extremely cool shocks that will make a huge improvement to your RZR's handling.
SuperATV Phantom Shocks
One of the things that causes concern for those really looking for customization is going with a lift system. SuperATV jumped into the game with its own line of shocks to compliment its six-inch lift kits. These shocks have fully adjustable rebound, compression, and preload settings. And have a remote reservoir for custom applications and builds. Plus they look cool, too. Derrek Sigler
Derrek's love for all things ATV started when he was a mere 11 years old, growing up on his family farm. His mom gave him and his sister a choice - get a horse, or a three-wheeler. The sister wanted the horse, and Derrek wanted the ATV. Luckily he won out, and was soon burning up the trails on a Yamaha Tri-Moto 200. By the time he was 14, he had saved enough of his own money by working on the farm and in his folks restaurant to buy a new 4-wheeler. That happened the day he and his mom were driving past the dealership and saw 1987 Banshee. His mom had no idea what he was buying, and he never looked back. He's been riding ever since, and been writing professionally for many years. He has ridden all over North America and been behind the controls of just about every machine out there. And yes, he still has his 1987 Yamaha Banshee.
More by Derrek Sigler
Published September 27th, 2017 9:03 PM
Top Brands
Popular Articles