2 Views
Polaris Invades "RZR Town" For 5th Annual Camp RZR West
December 2nd, 2016 3:10 PM
Share
We're committed to finding, researching, and recommending the best products. We earn commissions from purchases you make using links in our articles. Learn more here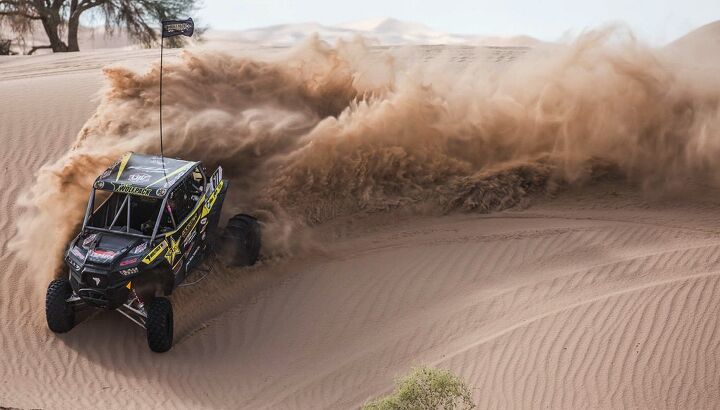 Thousands invade Glamis for massive customer appreciation party
Every year when October rolls around, you'll usually see parents flocking to stores in search of discounted candy and costumes for kids to wear for Halloween. If you live in the Southwest United States and own a Polaris RZR, you're likely getting your Side-by-Side prepped and trailer loaded so you can make the trek to the Imperial Sand Dune Recreation Area, AKA Glamis, for Polaris' Camp RZR West. For the last five years, Polaris has been putting on what some would consider the largest customer appreciation party in the country.
This isn't your average customer appreciation event.
This isn't your average customer appreciation event where you show up to a free meal of hamburgers and hot dogs. This is the place where you show up and have not one, but four chances to win a brand new Polaris RZR Turbo, thousands of dollars in prizes from numerous event sponsors and get to ride some of the greatest dunes in the country. Every year this event seems to draw larger and larger numbers of attendees and since it's held on the unofficial kickoff weekend for the duning season, it's not showing any signs of slowing down.
I had the opportunity to make the trek out from San Diego to attend this year's event and take in all that is Camp RZR. After two solid days of riding and checking out everything Polaris lined up, I can honestly say it was a blast. The gates opened Friday morning and hundreds of RZR owners ran through the gates to be first in line to spin the wheel of prizes. I witnessed people win some great prizes from sponsors like FOX Shocks, MB Quart Audio, PCI Race Radios, Pro Armor, Rigid Industries, Rockford Fosgate and so many more It's hard to list them all. In addition to scoring great prizes, you could walk around the perimeter of the event to many of the sponsors and get parts at special Camp RZR prices that were so good it was almost as good as winning them.
No sooner than the gates opened, the crowds rushed into the Camp RZR compound to take in everything that Polaris had in store for the weekend.
One of the "features" I really thought was great about Camp RZR was the service department that was set up to A) get customers warranty recalls done or B) fix customer units that might have been experiencing issues over the weekend. When I say service area, I don't mean they had a few local techs on hand to help for the weekend. Polaris literally took over the hotels in the nearby town of Brawley and beyond to house factory engineers and technicians that would keep 19 total service bays busy over the weekend.
From warranty recalls to replacement belts and anything else you can imagine, Polaris was ready for whatever misfortune a RZR owner encountered. Polaris had a fully stocked semi trailer with thousands of dollars of inventory and even had a small fleet of units to dissect in the event that a repair was needed and the parts weren't in the trailer. Anything that was needed to keep RZR customers out riding the dunes was done, with zero cost to the consumer for any repair.
Polaris went above and beyond for its customers by creating a 19-bay service center to ensure that customers could get their warranty work taken care of and no-cost repairs to keep them riding through the weekend.
There is one unique thing about Camp RZR West that I want to make clear. This is held in Glamis, which has been known as the Sand Dune Capital of the world and truly has some of the best dunes to ride and truly where the Polaris RZR XP Turbo and other Sport UTVs shine. This is where people could take the Polaris Experience Tour and test drive in a terrain where the capabilities of these machines could really be taken full advantage of. It was here that current owners may be persuaded into upgrading to the latest and greatest model or an enthusiast might be convinced to bite the bullet and jump on the Polaris bandwagon and become a new fan. When you see what Polaris does for its customers and how much it appreciates them, it's easy to see how one can be convinced.
There were plenty of machines on hand for people to take the Polaris Experience Tour demo rides through the dunes.
On Saturday I took some time to really focus on what was going on inside the Camp RZR compound since this would be a day that would see the most traffic. Even before the prize wheel started spinning for the day, I counted over 150 people anxiously waiting for their chance to win under the sweltering sun. Luckily for them if it got too hot and they were thirsty, it was a short walk over to the Rockstar Energy booth where they could grab a can of the latest flavors and see some of the trick machines driven by Polaris RZR sponsored driver RJ Anderson.
Rigid Industries had a great display where you could experience the benefits of its illumination systems compared to the competition. If you were in the mood to purchase some performance parts, take a few extra steps to the 4 Wheel Parts booth where employees were slinging everything from bolt-on items for show to more complex items to help you go. Always a huge hit were the booths of Rockford Fosgate and SSV Audio where they would demo the capabilities of their insane sound systems to keep the party going out in the dunes when you decide to take a break.
Got tunes? If not, a quick stop by this booth would have your mouth watering and your ears longing for a sweet sound system to be installed in your RZR.
If you had a vehicle that came from the factory with either Walker Evans or FOX Racing Shox, you had access to techs from both companies to help dial in your ride over the course of the weekend, and if you've been considering the upgrade, both companies offered exclusive Camp RZR deals just like many of the other vendors over the weekend. Two of the more populated booths belonged to the American Sand Association (ASA) and Veterans group Warfighter Made that were there to raise awareness for their respective causes. To raise funds they had a dunk tank where celebrities were perched at designated times over the course of the event and gave people the opportunity to sink a star for $1. RJ Anderson and FMX legend Ronnie Renner took their turns in the tank, and I'm sure they didn't mind getting wet with temps hovering in the low 90's for the weekend.
Early in the afternoon the registration opened for the Show N Shine where over 20 cars took their place to be voted on by the public. It was unbelievable to see how much some people could do with a RZR. Some were simple builds with a custom wrap and basic bolt-on accessories that really stood out from the rest, but the machine that really caught the eye of everyone was a complete one-off custom build that had a complete tube chassis covered in a fiberglass body molded to look like the popular Ford Raptor pickup truck. It was even great to see kids get into the action with some highly customized RZR 170s that made a late appearance to the competition.
If you're a fan of custom builds, then the Show N Shine is where you wanted to be. From mild to wild, there were some amazing works of art that you'll be able to see in an upcoming feature soon.
The highlight of the event would be later on Saturday night after everyone had a chance to get back to camp for dinner and maybe a shower so they could make their way back to the Camp RZR compound for the Grand Finale festivities. This was when 10 lucky people who registered earlier in the day would be called out for their chance to win 1 of 4 2017 Polaris RZR XP Turbo units on behalf of Polaris and Warfighter Made. As names were called out and potential winners made their way to the stage it was announced that regardless of whether or not you won a new machine, you would go home with some amazing prizes with the lowest valued at around $2,000. One by one, each person opened their chest to find out which prize they got and it was easy to see who won the new unit by the reaction they gave on stage.
Who wants a new Polaris RZR XP Turbo? Four lucky people were able to go home with new machines just before the grand finale concert of the weekend.
With all of the prizes distributed, it was time for the big show. Country music superstar Jake Owen was on hand to give a concert and what a treat it was. I'm not necessarily one that listens to country music, but I can appreciate a live show and this performer definitely delivered. The crowd seemed to know every word of every song and truly appreciated the fact that this opportunity presented itself here in the middle of the desert. From what I was told, Jake Owen already had plans elsewhere, but because he's such a huge fan of the Polaris RZR line, he rescheduled his plans so he could be a part of this amazing event.
It was a packed house when Jake Owen came onstage to play an amazing show to wrap up an amazing event. When your entertainment is a fan of your product and event, it makes his performance that much more special.
After I packed up early Sunday morning to beat the rush of traffic heading back to San Diego, it gave me a chance to reflect on my experience over the weekend. What I saw was a community of enthusiasts come together at one of the greatest celebrations of vehicle ownership that I've ever seen. Polaris knows its customer base and wants to show how much it appreciates their support to make the RZR brand what it has become today. From the entertainment and giveaways to the services offered for repairs, Polaris went above and beyond to provide a great customer experience for this annual event. And according to Polaris Chief Marketing Officer Craig Scanlon, Polaris is just getting started.
Can one of the most anticipated Side-by-Side gatherings of the year truly get bigger and better? Sure, but when it seems like a company has already gone over the top to impress, It's hard to imagine what they have in store for the future but rest assured I'll be looking forward to finding out.
The sky is the limit when it comes to what the future holds for Camp RZR West 2017. Every year Polaris knocks it out of the park and 2016 was no exception, so we're looking forward to seeing what is in store. Published November 8th, 2016 10:29 AM
Top Brands
Popular Articles