1 View
Top 10 Reasons You Need to Experience Camp RZR West
December 12th, 2016 1:09 PM
Share
We're committed to finding, researching, and recommending the best products. We earn commissions from purchases you make using links in our articles. Learn more here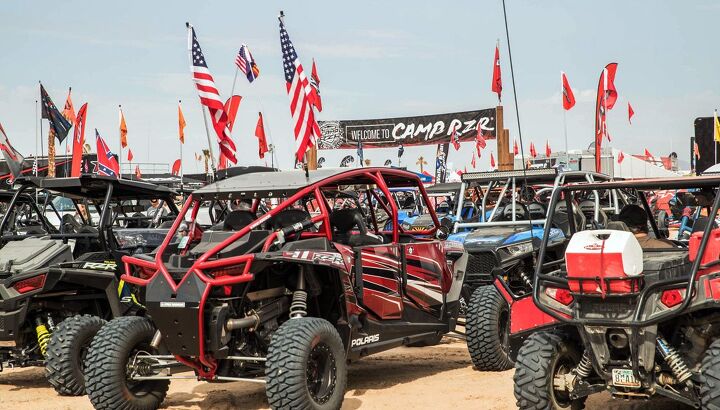 There's no good reason not to come!
Did you miss out on Camp RZR West this year? If you did….why? This is the largest gathering of RZR owners and even non-owners west of the Mississippi and it's not looking like it'll be getting smaller anytime soon. If you're looking for good reasons why you should make the trek to the Sand Dune Capitol of The World, look no further because we're going to give you 10 of them to justify whatever excuse you need to make to your boss, wife or husband on why you need to be there.
1. Because You Own a RZR
You didn't buy it just to sit in the garage and so you can show your friends how pretty it is, right? These machines are meant for fun and there is no better place out in the west than the Glamis sand dunes. With over 40 miles of dunes you're never going to run out of room to ride. If you're not familiar with the area and are skeptical because of it, there are plenty of places for you to navigate fairly easily to see some of the larger hotspots and gatherings day or night.
2. Owner Community
"But I don't know anyone" Ok…. We're grownups and this isn't the first day of elementary school. Going to a new destination is something you want to do, explore your options on how to find people to ride with. I'm sure you don't always ride alone, right? One of the best things you can do is hit up some forums to make new friends before the event. The good people from RZRForums.net were on hand with a booth at this year's Camp RZR West and it served as a great opportunity for their online community to come together.
Whether it was an opportunity to meet for a drink, camp with a good group of friends or get in on their many group rides, members from all over had a great place to meet each other for the first time or maybe it's an annual opportunity for them to meet if they live that far apart. Being a RZR owner instantly makes you a part of a huge community. What you choose to do with that opportunity is up to you.
3. Prizes-A-Plenty
Who doesn't like free stuff? I'm not saying that you're guaranteed to win something, but really you're pretty much guaranteed to win something. Every day, hundreds of people gathered en mass before the gates of the event area opened up to rush in and claim their spot in line to spin the Wheel-O-Prizes. Depending on where you landed with your spin, we saw some amazing gifts from 4-Wheel Parts, MB Quart, PRP seats, Rockford Fosgate and many more of the numerous event sponsors. Aside from prizes that you can use to outfit your RZR if you own one, you also have various opportunities to win brand new RZR units! Yeah, we said new units. Both the American Sand Association and Warfighter Made were selling tickets for the opportunity to win two new Polaris RZRs to raise money for their causes. New parts and potentially a new SxS? Count us in!
4. Get Serviced
Nobody ever plans on going to the dunes to get a service done on their RZR, but this event is the exception to the rule. Polaris unfortunately had to issue some recalls on many units earlier this year that caused some congestion and delays at dealerships. To ensure that RZR owners were able to safely ride for the weekend, they built a 19-bay service center where owners could have made an appointment ahead of time or waited in line to get their recall work done. To kick up their customer service up a notch, if you were an owner that had some kind of a mechanical issue over the weekend, you were able to bring your RZR over for a repair at NO COST to you. Where else do you get this kind of treatment?
5. Deals For Days
If you didn't want to wait in a line of hundreds of people to win some free schwag and had your heart set on a particular item to upgrade your RZR, I can pretty much guarantee that you'd be able to get a good deal on it at Camp RZR. Vendors like 4-Wheel Parts were on hand with products from some of the most popular brands in the industry like Assault Industries, Rigid Industries and many more where you could get special pricing. Other sponsors like PCI Race Radios, PRP, and S&B Particle Separators also had special event pricing on their products to help deck out your RZR without draining your wallet.
6. The Dunes!
Glamis is the unofficial Sand Dune Capitol of The World and has also been dubbed RZR Town. Whether you want to hang out and watch people race up Oldsmobile Hill all day long and take in the Sand Drags in the afternoon or avoid the craziness altogether and ride the endless bowls in the heart of the dunes, you won't be disappointed with the riding that is available. If you're a new RZR owner and still aren't comfortable enough with going into the bigger dunes, "Sand Highway" is the easy way to get from point A to point B all off-road and runs along the base of the smaller dunes where you can get your feet wet in learning how to drive the dunes. If you don't have a group to ride with, you can almost always find someone to follow that you can learn from by watching their lines and speed to accurately judge how fast or slow you need to go.
7. Unique Whips
Almost every large gathering has a Show 'n Shine where builders can display their hours of long nights in the garage and spectators can walk around to appreciate all of the hard work that builders put into them. Camp RZR is no different and featured over 20 custom built beauties. From a mini-trophy truck to a RZR that was inspired by a classic muscle car, there was a ton of eye candy to drool over. Check out our Show 'n Shine coverage by clicking here.
8. Take The Polaris Experience
Even if you don't own a RZR or might have been considering purchasing one, this was your opportunity to test drive the unit of your choice to see if you're ready to bite the bullet and buy one. Polaris arrived with a fleet of demo units that gave anyone that wanted to experience the power and comfort of their machines. What better place to demo these machines than the exact terrain that they were made to shine in.
9. Win A RZR!
Sure we discussed how you could buy raffle tickets from Warfighter Made and the American Sand Association for your chance to win a RZR via their drawings, but if you attended Camp RZR and registered (for free) at the event you had the chance to win one of four brand new Polaris RZRs. That's right! Even if you already own a RZR, would you pass up on the opportunity to upgrade with a brand new unit? Maybe this is the chance to have his and hers models for you and the wife. Either way, you'll be hard pressed to find another event that gives four units away to wrap up an already amazing weekend of fun and prizes.
10. Party In The Dunes
Camp RZR West is a HUGE customer appreciation party and they definitely do it in style. To signify the end of the event, they had Country Singer Jake Owen come out and put on an amazing concert for thousands of people on Saturday night. This FREE event was awesome and really was a great way to bring the house down. There were thousands of people around the front of the stage and those that didn't want to be up front and center of the crowd were allowed to park their RZR in the back and take in the concert from the comfort of their own ride. Did I mention that Jake Owen is a huge fan of the Polaris RZR himself? Before the big night, he even took some time to get out in the dunes and do what everyone else came for. Have some fun in a great machine at an awesome location.
There you have it. If you need more reasons to attend Camp RZR next year, you really don't want to go. This is by far the largest display of customer appreciation I've seen by any manufacturer and from what was said on Saturday night, the momentum of this event isn't going to slow down anytime soon. From making new connections, reconnecting with friends, experiencing a great ride location and getting the chance to win some amazing prizes, Camp RZR is a must attend event every season. Hopefully we'll see you there next year. Published November 18th, 2016 5:07 PM
Top Brands
Popular Articles