1 View
Yamaha R1DT Dirt Racing Concept: First Drive
November 29th, 2017 11:52 PM
Share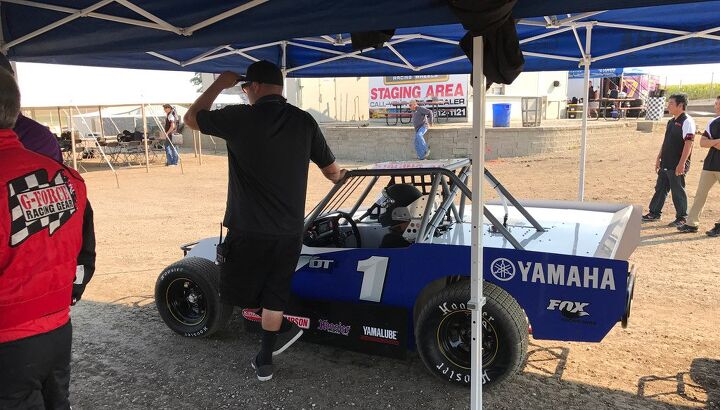 We were one of the lucky ones to get a chance to drive the new Yamaha R1DT dirt racing concept car and it was a truly awesome experience.
One thing that always stays the same is that in the world of powersports nothing stays the same. The engineers and most off-road manufacturers are always trying to adjust to consumer demands. With the increasing growth of incredible fabrication skills through hard work and simply amazing minds, we find ourselves looking into the future of some companies. Here is just one example of how digging into a segment of recreational fun and developing a new innovative product is playing out as you read this editorial.
Yamaha started off with a simple piano. It wasn't grand (no pun intended…maybe) in the beginning, but with hard work and determination it began to get much better. Fast forward to the 2017-2018 Yamaha Off-Road we know today and you will see many off-road products that were developed by the same company – from pianos to off-road rigs like the new 2018 Wolverine X4? How does that happen? Well, if you study history in this industry you will find that if you settle with one product you will soon run out of customers and out of business. Staying on your toes and bringing new things to the table is key and it is also why Yamaha has built such a loyal customer base.
The Yamaha R1DT is still a concept, but we were lucky enough to get some seat time on a dirt track.
When we asked why Yamaha would consider such an out of the box project and something that goes in such a different direction, Yamaha responded by saying "Yamaha not only has a rich history of racing, but of innovation and diversification. Because Dirt Track racers and fans already use other Yamaha products like power equipment, motorcycles and ATVs, dirt track racing is a natural next step for Yamaha." We do agree that anyone who loves the sport of dirt track racing probably owns their own ATV or SXS and also loves to be competitive. It was not just Yamaha building this machine though as they gathered the best fabricators and drivers to help develop the basis of what we now know as the Yamaha R1DT race car. Yamaha Hopes to get enough feedback from not only the enthusiasts but from real Saturday night race drivers, promoters and fans to be sure that if and when they launch this beast into production, it will be the best it can be.
We had read about this car coming for a few months and finally, just a few weeks ago, had the opportunity to drive the latest prototype from the "secret room" in Yamaha's product development program, the 2018 Yamaha R1DT. It's a full blown, ready to race dirt track car. This machine is built to give the racer in all of us a chance to realize their dreams of racing in a very competitive piece of equipment. A vehicle that is easy to maintain and requires much less money to get rolling onto the track. The 2018 Yamaha R1DT uses the Yamaha R1S street bike engine, with the same six-speed gear box, and is very powerful while increasingly exhilarating to drive. Having an opportunity to get behind the wheel of this new concept was an honor and all of the driving took place at Eagle Raceway just outside of Lincoln, Neb. It was also an honor to have legendary Sprint car driver and multi-time champion Cory Krusman and his team of instructors on hand to help us get the cars to perform the way they should. Mostly by helping us drivers understand how the Yamaha R1DT likes to be driven.
Cory Krusman and his team showed us how to get the most out of our Yamaha R1DT experience.
Learning about the car was our first goal, but the ultimate goal was to sit in the driver's seat, start the incredible sounding R1S motor and then engage the gearbox. The key switch, as well as start buttons from the Yamaha R1, are all located in the cab so if you have an R1 street bike then starting this machine is simple. Getting the compact race car out on the track was easy and only required a little bit of learning the clutch's particular release zone to get us rolling. Once out on the track these cars had been geared for Eagle Raceway and once into third gear you simply roll in and out of the throttle while only downshifting to come off the track's high banked corner; very similar to a late model dirt race car. The rumble of the powerplant was incredibly exciting for this driver and as the RPMs began to grow it became even more exhilarating. Watching from the fence was cool, but when you get into the seated position and fire this car it becomes something unexplainable.
Most everything on the Yamaha R1DT looks cool, but that pales in comparison to the feeling you get when you actually get sit down and strap in for a ride.
As luck would have it, we were driving the first car on the track. The track had just been prepped so it was a little slick, to say the least. We didn't let this worry us too much, but it did make controlling the car, the way we thought we should, just a bit tough.
Kruseman had decided to allow us to get our first few laps under our belts and get to know the Yamaha R1DT a little before working on picking the faster lines around the track. As the Hoosier tires began to heat up a little and the track dried out, the grip increased and so did the speeds. After everyone had a chance to drive the car we gathered under the tent to go over picking the fastest line around Eagle raceway, or any track for that matter. Cory had sat out orange cones for us to visually see where to engage and let off of the throttle when entering and exiting the corners. And then it was time to try the track again.
We were once again selected to go out first and on a wet track we started to understand what to expect. That session was a little slower than we liked and it wasn't until the second session after lunch that we began to understand even more of how the track changes as well as how the car adapts to that ever-changing track. Trusting the car to do what it is set up for is difficult because sliding sideways in a SXS or on an ATV at that speed can lead to trouble, but the R1DT was born to do it this way!
With an opportunity to hit the track after the initial prep and one cycle of Yamaha R1DT cars had dried the surface just a little, the speed began to pick up and man the excitement of driving that rig was setting its sights on our desire to do this every Saturday night! The cockpit is a bit snug for a larger driver (we measure in at 6'1″/260 lbs), but very confidence inspiring. It feels so natural and we can just imagine when four or more of these cars are zipping around together that it has to be pure music inside that car. We just have to say it has to be experienced to get a grip on what it's like.
The cockpit, though a bit snug for our larger test rider, still offered up a feeling of confidence.
Yamaha has produced this R1DT concept with so many things that make repairing or servicing for that matter so easy for the home garage mechanic. The front control arms fit either side, so keeping one set of spares is sufficient and the reliable R1S Yamaha engine, if cared for properly, will run many races before needing any major service. The side panels are made of a polymer type of plastic that can be easily made in the garage and tires are also moderately priced with some saying depending on the track or driver that a few sets of rears and maybe only two sets of fronts would last you all season. Affordability is Yamaha's focus and it seems that it has really hit a home run. We cannot wait to get even more seat time in this machine. We might even have to clear space in our shop for our very own….
As you are reading this Yamaha has already celebrated the first ever "R1DT Invitational" race and you can read all about that here. CJ Greaves took home first place, but it was an incredible battle between many great stars from all walks of racing. If you want to check out more about the car or Invitational race look here.
Published November 29th, 2017 11:52 PM