1 View
2019 Yamaha Grizzly EPS SE Review: First Impressions
November 16th, 2018 4:48 PM
Share
Fast Facts
MSRP: $10,499
Towing Capacity: 1,322 LBS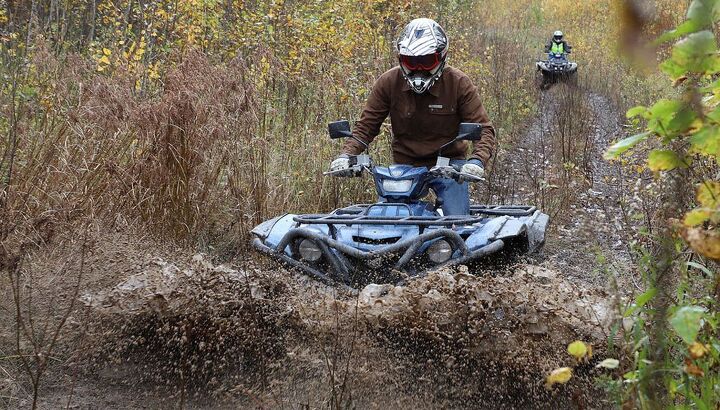 The 2019 Yamaha Grizzly EPS SE is more mud-focused than the rest of the Grizzly family, but does so without hurting its appeal as a trail machine.
At a recent event we had a chance to set some seat time on the 2019 Yamaha Grizzly EPS SE. It was only a brief ride, so a full review will have to wait until we spend some more time with it, but here are our early impressions of Yamaha's flagship ATV.
What sets the SE apart from the rest of the Grizzly family are a factory installed WARN Pro Vantage 2500 winch and 27-inch Maxxis Zilla tires. While not exactly a hardcore mud machine, the 2019 Yamaha Grizzly EPS SE is better equipped for the slop than all but a select few stock ATVs.
Return of the Big Bear?
This isn't Yamaha's first ATV with a mud-focus. It's been a while, but back in 2009 we reviewed the Yamaha Big Bear 400. It's a smaller machine and it didn't have a winch, but it came stock from the factory with 25-inch ITP Mud Lite tires. The Big Bear 400 was a trail machine that encouraged you to take on the mud now and again without worrying about getting stuck. The same can be said about the 2019 Yamaha Grizzly EPS SE – only bigger and better.
The new Grizzly EPS SE strikes a more aggressive pose than its siblings.
The Maxxis Zilla tires on the SE are two-inches taller than the Mud Lites on the Big Bear and they offer much improved traction in the mud compared to the tires on the non-SE Grizzlies. At the same time, you don't get punished by riding them on smoother and firmer trails like you would with ultra-aggressive mud tires. Despite the taller 27-inch size, the Zilla tires are relatively lightweight, which helps reduce power-robbing rotating mass.
Conditions were pretty slick and sloppy during our test ride, but the 2019 Yamaha Grizzly EPS SE had no trouble finding traction wherever we went, while remaining playful enough to slide out the rear end around corners. The only muddy areas we tackled were fairly moderate, but getting the Zillas to hook up was never an issue – wheel spin was pretty much non-existent.
It's Still a Grizzly
While the new tires and winch are nice additions, the rest of the SE is all Grizzly. Power comes from a 686cc single-cylinder engine that has been tweaked for 2019 with redesigned engine mounts and improved overall performance. We're not sure we spent enough time on the SE to notice those changes compared to 2018, but it's still a great performer that is built to last.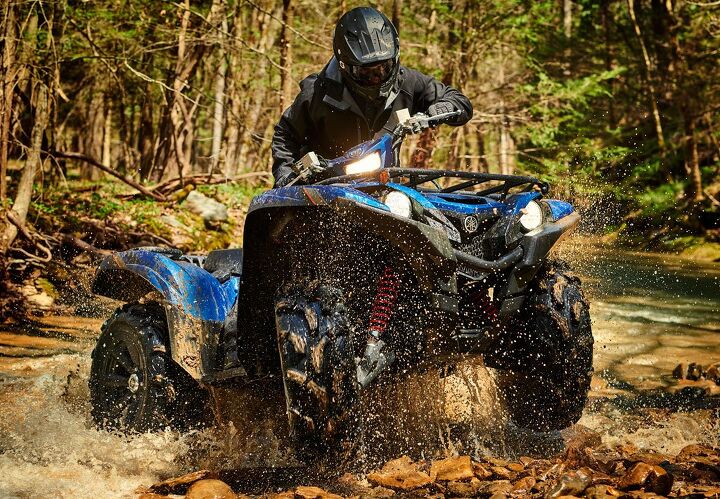 Another Yamaha feature we've come to expect is the Ultramatic Transmission. Featuring a gated shifter, the Ultramatic transmission has High and Low ranges, along with a Reverse gear. Hiding within is a centrifugal clutch that maintains constant belt tension. It's the definition of a bulletproof design and Yamaha backs up the belt with a 10-year warranty.
Yamaha's On-Command 4WD drive that lets you switch between 2WD, 4WD, limited slip 4WD and fully locked differential 4WD.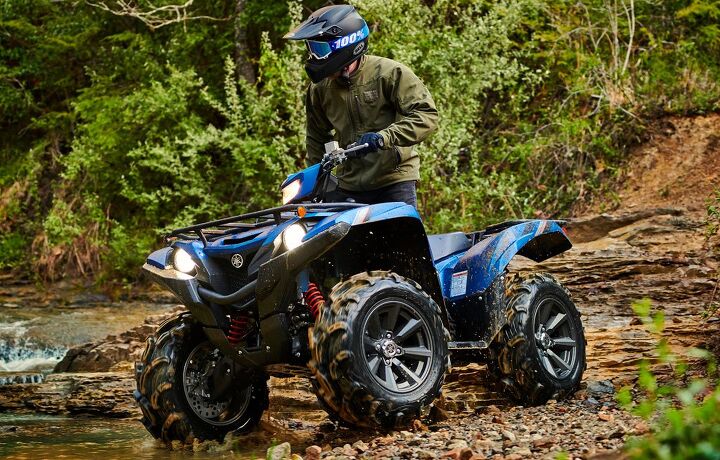 Other features on the 2019 Yamaha Grizzly EPS SE include a high-mounted air intake, stainless steel exhaust, four-wheel hydraulic disc brakes, 11.3 inches of ground clearance, independent double wishbone front and rear suspension, electronic power steering, new LCD instrument package, 308 pounds of front and rear cargo capacity, and 1,300 pounds of towing capacity.
Published November 16th, 2018 4:48 PM
Top Brands
Popular Articles