1 View
2016 Kawasaki Mule Pro-DX and Pro-DXT Preview
July 31st, 2015 11:59 AM
Share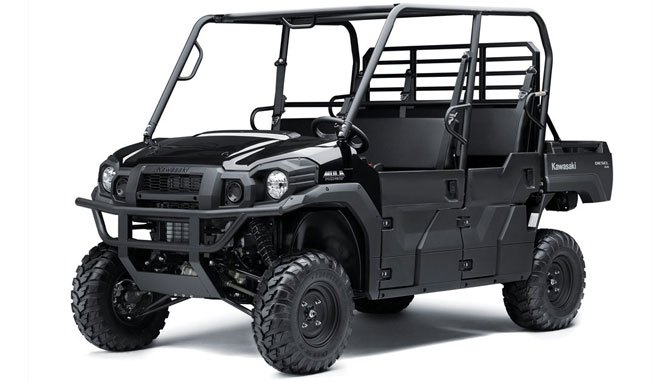 Diesel power in a full-size chassis with seating for three or six
Kawasaki has taken the covers off its new diesel-powered Mule Pro-DX and Pro-DXT for the 2016 model year. These models are based off the successful Mule Pro-FXT, which was released last year. The Mule Pro-DX has one row of seating for a driver and up to two passengers, while the Pro-DXT has two rows of seating for a driver and up to five passengers.
Engine and Transmission
Both the Mule Pro-DX and Pro-DXT are powered by a 993cc three-cylinder diesel engine. According to Kawasaki, this mill is ideal for pulling heavy loads, acceleration and hill climbing.
"In fact, these are the most capable Kawasaki MULE diesel models ever produced, meaning jobs can be tackled efficiently, with less time lost when covering distances and more work done quicker," Kawasaki says in a release.
Kawasaki says the new diesel engine meets Tier 4 Final emissions regulations, using an air pressure sensor to help prevent excess fuel delivery when operating at high altitude. It also features an electromagnetic fuel pump, which means manual priming is unnecessary if the operator should happen to run out of fuel. Furthermore, the vehicle has dual external filters, in addition to the main filter. The second filter separates oil and water, acting as a pre-filter and helps to contribute to overall engine reliability.
As Mules are designed for working, both the Pro-DX and Pro-DXT are equipped with a l 55-amp alternator, allowing numerous accessories to be powered at the same time. Occupants can also power their personal electronic devices during the work week or on all-day adventures thanks to a pair of built-in 12-volt outlets. These can power everything from phones and tablets to GPS devices.
Transferring the engine's performance to the ground is a CVT transmission, which was designed to deliver usable power to the tires for maximum traction. The CVT also provides natural engine braking to help when descending slopes. Kawasaki says its consistent engine hold-back increases driver confidence, especially when the vehicle is loaded.
The CVT is combined with an electrically selectable 2WD/4WD system that has a dual-mode rear differential. Dash-mounted switches allow the driver to instantly engage the systems, giving full control over the 4WD and locking rear differential.
The dual mode on the rear differential allows it to be fully locked for maximum traction, but it can minimize the vehicle's impact on the terrain when unlocked.
Cargo Capacity and Towing
The Mule Pro-DX can carry an impressive 1000 pounds in the cargo bed, which is large enough to hold a standard-size wooden pallet. The Pro-DXT offers the same capabilities only when the rear row of seating is folded down. When the second row of seating is being utilized, the cargo capacity is reduced to 350 pounds.
Features of the cargo bed include a diamond-plate steel floor, gas-assisted tilt, integrated steel cargo rails, tailgate secured by two sturdy levers, built-in cupholders in the tailgate, and slots in the cargo bed walls designed to accommodate cargo bed dividers.
A two-seat Mule Pro-DX offers up 1000 pounds of cargo capacity.
Beyond the 1000 pounds of cargo bed capacity, Kawasaki equipped the Mule Pro-DX and Pro-DXT with a two-inch receiver hitch. When equipped with a with an optional hitch, the vehicles can tow up to 2000 pounds.
Interior
Kawasaki boasts the cabin of the new Mules is particularly spacious, with ample leg- and headroom, as well as thick-cushioned bench seating. All passengers are secured by conventional three-point seatbelts and automotive-style doors.
A thick-grip steering wheel is mounted to a tilt-adjustable steering column, which provides up to 34-degrees of adjustment. It can also be tilted out of the way to facilitate access to the cabin. All passengers have secure handholds.
EPS and LE models benefit from Kawasaki's advanced speed-sensitive Electric Power Steering system. The EPS helps to reduce steering kickback on rough terrain, helping to reduce driver fatigue.
The top-end Mule Pro-DXT EPS LE model boasts electronic power steering, LED headlights, and composite sun top.
The interior features multi-function LCD instrumentation. It provides a large display that includes an array of information such as digital speedometer, odometer and hour meter, fuel gauge, dual trip meters, water temp, 2WD/4WD operation, clock and parking brake indicator. There is a light on the diff lock switch to indicate when it is selected. A new feature for the diesel models is a glowplug indicator to let the driver know when the engine is ready to start.
Storage space is located under the front seat, allowing users to securely store their equipment and gear in the optional Kawasaki Genuine Accessories bin.
In addition, there is a glovebox as well as three dashboard pockets – with the center pocket large enough to accommodate the Kawasaki Genuine Accessories audio system. Two cupholders are built into the bodywork in front of the dashboard.
Suspension
Front and rear independent suspension offers up 8.7 inches of travel (8.5 inches in left rear). The suspension utilizes twin-tube, preload-adjustable shocks, with large diameter tubing for the A-arm design.
The suspension uses rubber bushings at the attachment points to enhance durability and reduce service intervals. The engine is also rubber-mounted to reduce vibration.
Durability
The Mule Pro-DX and Pro-DXT feature a solid welded frame that emphasizes lateral and torsional rigidity. By eliminating flex, Kawasaki says its the ladder-type frame is able to provide good chassis response and traction.
A Roll Over Protective Structure further increases stiffness of the entire chassis, helping to ensure long-lasting durability and occupant security.
Integrated inner wheel wells are designed to keep mud and debris out of the engine compartment, protecting its vital components. The electrical equipment is also mounted high in the vehicle to keep it away from water, and the fuel tank is centrally mounted, away from the wheels to reduce the risk of damage from debris thrown up by the tires. Additionally, steel side guards add protection from side impacts.
Engine and hood maintenance covers provide quick access to the key service areas on the vehicle. They allow the user to check the oil level, service the air cleaner, check fuses as well as access the battery.
A steel front bumper and the high-tensile steel cargo bed provide greater durability and strength.
Each Mule Pro-DX and Pro-DXT is backed by a 36-month limited factory warranty.
Models
Together, the Mule Pro-DX and Pro-DXT are available in six models – each is offered in base, EPS and EPS LE.
Non-EPS models come standard with steel wheels, tilt steering wheel, and two DC outlets in the cab. These models are available in Super Black.
EPS models come standard with the same amenities as the non-EPS models but benefit from electronic power steering. These models are available in Timberline Green and Super Black, with a contrasting graphic along the doors and cargo bed.
Finally, EPS LE models are equipped with everything mentioned above, along with LED auxiliary headlights and a composite sun top. The Pro-DXT EPS LE also receives two additional DX power outlets for the rear passengers. These models are available in Timberline Green and Dark Royal Red with contrasting graphics along the doors and cargo bed.
Availability
The 2016 Kawasaki Mule Pro-DX and Pro-DXT will be available from Kawasaki dealers in December of 2015.
Pricing
Mule Pro-DX – $13,199
Mule Pro-DX EPS – $13,999
Mule Pro-DX EPS LE – $14,899
Mule Pro-DXT – $14,199
Mule Pro-DXT EPS – $14,999
Mule Pro-DXT EPS LE – $15,899
Published June 2nd, 2015 1:46 PM
Top Brands
Popular Articles