1 View
Blais Racing Services race report
June 24th, 2010 9:34 AM
Share
Team earns pair of second place finishes
District 37's Summer Night Race Series hosted by Prairie Dogs MC, Sponsored by Baja Designs

It was another great night out in the Southern California Desert! The weather has been much cooler this year with temps dropping down into the 50's on this night.

Forty six teams mounted up lights and geared up for the fourth Annual Prairie Dogs MC night race! They marked a 25-mile loop with reflective tape and arrows up and around the North Anderson dry lake area in Johnson Valley OHV. The race teams had the option of racing for a total of 5 hours or 3 hours, depending on their skill level.

The Expert ATV team of Patty Blais and Garrett Severen would take to the start line at 8:00pm with Patty running the first lap. There were four ATV teams participating in this night race and as the banner dropped at approx 8:15 for the ATVs, off they raced into the dusk. Patty had a flawless first lap and came into the pits in third overall, in just about 55 minutes. After some minor clutch adjustments in the pits, teammate Garrett Severen would hop on the quad for his first ever ATV race.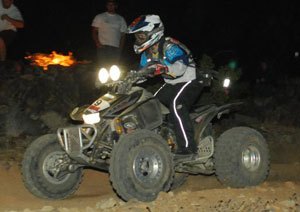 "I was worried for my teammate as this course was more technical than expected and this would be his first ever race on a quad," says Blais.
Garrett came into the pits in just around the 60-minute mark, surprising Patty with his wonderful lap time.
"I high centered on a rock and the quad rolled over but I got going again pretty quickly with no other issues," says Severen. "We had to make another clutch adjustment in the pits; it was slipping a little and the course was so technical that we really needed our clutch to be working wel."
Patty hopped on the quad for her 2nd lap, the team's third lap.
"I had a minor issue and got wedged between a tree and a huge 10-foot high boulder," says Blais. "It happens!"
Patty spent only a few minutes trying to get dislodged. She headed into the pits at approximately 11:45 pm and handed off once again to Garrett, which would possibly be there final lap – it would be cutting it close for the 1:00am cut off time. Garrett's second lap was going great until just after Checkpoint 2 where he would find a hidden rock behind a bush with the front end, which would send him up and over the handlebars and having the quad land on top of him. The course workers saw this and ran over to help him. He got up, straightened up the lights as the light bar was luckily the only thing that was bent, and off he went. As Patty and her crew were awaiting Garrett's arrival, the clock was ticking closer and closer to 1:00am. Patty was geared up to do another lap but at around 12:55, she decided that this would be there final lap. Garrett pulled into the finish chute at 1:02am in second overall.
"I had a great time on Patty's quad," says Severen. "Her Honda TRX450R is one mean desert racing machine and I now have new found respect for quad racers. We had no flat tires all night long as all of the other ATV teams did. Thanks Patty! I would team up with her again for any team race."
"We finished and that's all that mattered to me tonight," says Blais. "When you have a new person racing with you, you only care about two things – their safety and finishing; and finishing in second overall was pretty dang sweet too! We had a great time. Thank you to the Prairie Dogs MC, Baja Designs, and to my friend Garrett for racing with me. It was so much fun and I can't wait to do it again!"
Blais Racing Services / KTM/ Kenda riders Morgan Crawford/ Kevin Dejongh finished fourth overall at Round 3 of the District 37 Night Race Series on Kevin's Blais Racing Services, KTM 250XC.
"We had a great ride but I am still working on getting my speed and fitness back after breaking my knee cap earlier this year," says Dejongh.
Thanks to all of our awesome team Sponsors that help us go racing: Blais Racing Services, KTM, Kenda, FMF, Bullet Proof Designs, KTM Powerparts, Cycra, Fluidyne Powersports, ESR Suspension, Race Tech, DirtTricks, Alpinestars, IMS, Troy Lee Designs, No Toil, RTT Stabilizers, BRP, Scott, & Asterisk.
Justin ImHof's Race Report – Prairie Dogs Night Team Race
As we sat on the start line I knew I would have an extremely long night. I was iron manning this team race which meant I would have to ride the entire five hours by myself, while all of the other top riders had teammates.
To my left on the line were the JCRHonda teams of Kendall Norman, who was riding with Quinn Cody, and Colton Udall, who was riding with Johnny Campbell. I knew those 450s would be hard to beat off the line on my KTM 250 XC, and they would be even harder to beat the entire race. The flag waved and I was able to get into second behind Norman. I followed him through the rocky first part of the loop, after that he would began to pull away from sight. I just kept riding hard and put my head down. I came into the pits at the end of the first lap almost four minutes behind Kendall, but with a three-minute lead on third place. On the second lap I knew Quinn would be on his first lap so I tried to use my familiarity with the course to my advantage to catch him, but I still came into the pits after that lap a minute behind. Luckily for me I was able to open up a gap on the now third place team of Colton and Johnny.
After seven laps and a total of 182 miles that is the way we finished. I didn't have any issues on the course or in the pits. It was a long night, but I had a great time and was happy with my finish.
I'd like to thank all my sponsors:
KTM, Malcolm Smith Motorsports, Paul Krause Racing, ESR/Racetech, Stompgrip, FMF, IMS, BRP, Zip-ty, DT1, TGT, Scott Performance, Renthal, RK/Excel, ZLT, Maxima, Shoei.
Published June 24th, 2010 9:34 AM
Top Brands
Popular Articles