1 View
Yoshimura Releases Exhaust Systems for Suzuki ATVs
February 2nd, 2009 1:47 PM
Share
Slip-on and full systems available for R450 and Z400
Yoshimura R&D of America has released a number of new products for 2009 Suzuki ATVs.
The RS-5 muffler for the Suzuki QuadRacer R-450 has proven race performance – just ask Dustin Wimmer. According to Yoshimura, its attractive shape accentuates the sleek lines of this powerful LTR while inside a straight-through baffle system ensures maximum performance.
For the newly re-designed LT-Z400, Yoshimura has an RS-2 that captures the exciting power of the QuadRacer's fuel-injected little brother. The RS-2 is a versatile and very potent pipe that increases power delivery.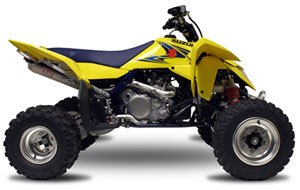 Yoshimura RS-2 and RS-5 Exhaust Systems come with a 96dB spark arrestor. Optional inserts available are motocross 99dB non-spark arrested insert, and 94dB motocross non-spark arrested or off-road spark arrested inserts.
Features:
• Stainless/Aluminum construction
• Stainless Comp Full Systems with Aluminum Sleeve
• Titanium Pro Full Systems available with Aluminum Sleeve (RS-5) or Ti Sleeve (RS-2)
Product Information:
06-09 LT-R450
RS-5 Stainless Aluminum Slip-on
PN # 2115703 Retail $435.00
RS-5 Stainless Aluminum Full System
PN # 2115503 Retail $595.00
RS-5 Titanium Aluminum Full System
PN # 2115163 Retail $845.00
03-09 LT-Z400
RS-2 Stainless Aluminum Slip-on
PN # 2176703 Retail $395.00
RS-2 Stainless Aluminum Full System
PN # 2176503 Retail $ 595.00
Related Reading
2009 Suzuki QuadSport Z400 Review



2007 Suzuki Quadracer R450 Review
Published February 2nd, 2009 1:47 PM
Top Brands
Popular Articles