100 Views
Best ATV Horn Kit Options
April 19th, 2021 10:28 AM
Share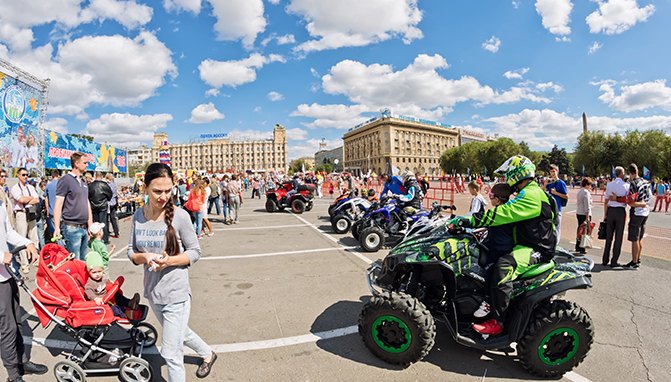 Make yourself heard with horn kit for your ATV
If you live in a state that allows street legal operation of your ATV or UTV, an ATV horn kit is an absolute requirement. Horns are the best way to make your presence known to distracted drivers and pedestrians as well as wildlife that may stray onto the highway in front of you. A good ATV horn kit also gives you the ability to get peoples attention to see how much you're having cruising around town as you wave hi, so why wouldn't you want to have one installed?
Mind you, simply slapping a horn on your ride isn't enough to guarantee that you can legally operate it on public roads just anywhere. Laws governing where ATVs and UTVs can be driven vary state-to-state, and even to county-to-county, but wherever such vehicles can be lawfully operated on the street, an ATV horn kit is a must-have – both because it's a legal requirement in many areas of the country, and because it provides some much-needed visibility to you and your ride.
To help you get the best beep for your buck when it comes time to buy your next ATV horn kit, we've scoured the internet for the best ATV horn kit options out there, compiling this handy list chock full of reliable, well-reviewed kits from a variety of different manufacturers. No matter what you ride or where, you'll surely be able to find an ATV horn kit here that works for you.
Lead photo courtesy shinobi/Shutterstock
1. Editors Choice - MCS Adventures Universal ATV Horn Kit
If you want a solid, plug-and-play ATV horn kit at a great price, this kit from MCS Adventures is definitely worth a look. It includes everything you'll need to install a working horn on your ride, shipping with a 12V horn, 4-foot wiring harness, weatherproof fuse holder, snap-in horn button, and crimp-on wiring connectors and terminals. Just as important, installation is a simple, straightforward procedure; beside crimping on wire connections, just about the hardest part of the process is finding somewhere to put the button and drilling a 5/8" hole for mounting it. If you can manage that, you can get this well-reviewed horn kit up and running in no time.
2. Best Attention Getter - Farbin Air Horn
Already have a horn switch installed? If you're looking for everything but the button, this Farbin horn kit is a great value. Compatible with all 12V vehicle electrical systems, including ATVs and UTVs, this kit includes an air horn with an integrated air pump that boasts some serious volume, plus an air filter to keep dust out of the pump, a horn relay, and a wiring harness with a fuse holder. To be honest, this horn is a lot louder than most riders probably need; air horns rightfully have a reputation for being far louder than their pure-electric counterparts. But if you plan on taking your ATV out on the road and you're especially concerned about being adequately heard by other traffic, it might just be the horn for you.
3. Best UTV Specific Horn Kit - Kemimoto Universal UTV Horn Kit
Aimed more at UTVs than ATVs with its dash-mountable rocker switch, this UTV horn kit from Kemimoto leaves no box unchecked, encompassing a 12V horn, a weatherproof wiring harness with an integrated fuse holder, a relay, and an illuminated horn switch that's easy to spot in the dark, all for a price that's sure to keep your wallet happy. The rocker switch is the right size and shape to fit many side-by-side dashes natively, without requiring that you cut or drill any holes to mount it, and the wiring harness is every bit as solid and well put-together as anything else on the market.
4. Best Street Legal Conversion Kit - SuperATV Universal ATV/UTV Turn Signal Kit with Horn
If you're looking to get everything necessary to make your ATV road legal in your state, why shop around for myriad different kits? Add a horn and turn indicators in one fell swoop with this universal kit from SuperATV. This ATV horn kit lends itself to a clean, OE-looking install with a column-mounted turn signal and horn switch, four LED turn signal lights, and a pre-made wiring harness that makes installation a snap. The included horn is rated for up to 105 dB of sound output, making it plenty easy to hear whether on the trail or on the road, and because it's made by SuperATV, you know you're getting a durable, high-quality product that's been put through some of the most thorough testing in the industry.
5. Tusk ATV Horn and Signal Kit
You can get your ATV even closer to street-legal with a single purchase when you buy this Tusk ATV horn kit with turn signals, mirror, and license plate mount. Depending on where you ride, that might be everything you need to take your ATV onto the street legally, making this one attractive package. The kit includes four LED turn indicator lights – two front, and two rear – along with a handlebar-mounted right-side mirror, a license plate mounting plate, wiring harnesses, and a handlebar-mounted indicator switch with a horn button. That's a more natural fit than your average ATV horn kit, which includes a button that has to be mounted somewhere on the plastic bodywork. All things considered, it's a well-designed, comprehensive ATV horn kit from a respected brand.
With Polaris's solid reputation for quality and reliability behind it, this Polaris ATV horn kit is an excellent choice for ATVs and UTVs of all makes – not just those from Polaris. It's a bit on the pricey side, but you know the adage: you get what you pay for. Here, you're getting an OEM-quality kit with a 12V horn, a threaded dash-mounted horn button, and a shielded wiring harness with all the necessary connectors pre-installed. Granted, this product isn't quite "universal": the wiring harness, which was designed and crafted for the Polaris Ranger, will prove too short on some UTV models. But it should work on just about any ATV around, and if you're at all handy with a crimping tool, you can make it work on larger UTVs, too.
FAQ: How Do I Install an ATV Horn Kit?
The installation procedure for any ATV horn kit will vary depending on the specific kit, but the basic parts in any installation are always more or less the same: the horn itself, which typically draws power directly from the battery through a fuse, and the button or switch, which momentarily completes the circuit to power the horn. Some horn kits also make use of a relay, which can be thought of as sort of a "remote switch." We'll go into a bit more detail about that shortly.
First thing's first: find a location to mount your horn switch or button. In the case of a handlebar-mounted switch, it's a simple task; just be sure to position the switch close to the column for easier cable management. In the case of a snap-in or threaded button, you may have to drill or cut into your vehicle's plastic bodywork or dashboard. Where you have the option, we recommend keeping the button as close as possible to one handlebar, minimizing the distance your hand has to travel to activate the horn.
Next, find somewhere suitable to mount the horn itself. Most horn kits will ship with a metal bracket that you can simply fasten to the chassis underneath the bodywork, wherever there's room. Ideally, the horn should be positioned at the front of the vehicle, relatively high up on the chassis to minimize the amount of mud and water it has to contend with, but depending on your model, your options may be limited. Don't be afraid to bend the mounting bracket in a vice if you have to in order to achieve proper clearance with other mechanicals, and above all, if your kit came with a pre-made wiring harness, never let the length of the wiring dictate where you place your horn. You can always extend the harness leads if you have to.
Now, onto the wiring. If your ATV horn kit came with a pre-made wiring harness, your job is as simple as can be by simply following the included installation instructions, being mindful not to mix up your positive and negative terminals on the horn. If you need more length than what's provided, be sure to purchase extra wire of the same gauge as what's in the kit, and for the strongest possible connection, strip, twist together, and solder all wire connections before applying a section of heat-shrink tubing to keep moisture out. Generally, kits will be configured so that the horn is supplied power straight from the battery, with a fuse between the battery hot lead and the positive terminal of the horn. The horn's negative terminal will then connect to one terminal of the horn switch, while the other terminal is fastened to "ground" – the metal chassis of the vehicle.
If your horn circuit includes a relay, things get a little bit more complicated. Here, the positive "hot" lead of the battery connects to the power in pin on the relay (usually pin #30) through a fuse, and the power out pin (typically #87) connects to the positive horn terminal. The negative horn terminal is again grounded to the chassis. One of the remaining relay pins (usually #86) is then connected to one side of the horn switch, and the other (#85) is grounded to the chassis. The remaining terminal of the horn switch is then tapped into another, existing 12V current source. The idea behind this circuit is that the current that actually drives the horn isn't all being routed through the horn button. Instead, when depressed, the horn button simply provides a low-current signal to the relay telling it to switch closed, allowing your horn to pull current directly from the battery through the relay.
Above all, remember electricity can injure and kill. If you have any doubts about your ability to complete your ATV horn kit installation yourself, it's better to leave it to a professional.
I see a bunch of ATVs and UTVs driving on the highway in my state. Do they all have horn kits?
We can't vouch for what everyone does or doesn't have installed on their machines. Our best suggestion is to check your local vehicle code to see if it's a requirement to have a horn kit for on-road use. Truthfully, the installation of these kits is fairly simple and adds a little more safety to your riding experience, so why not have one.
We are committed to finding, researching, and recommending the best products. We earn commissions from purchases you make using the retail links in our product reviews. Learn more about how this works.
Published April 16th, 2021 3:47 PM
Top Brands
Popular Articles