18 Views
Best ATV and UTV Windshield Cleaner
June 8th, 2021 3:11 PM
Share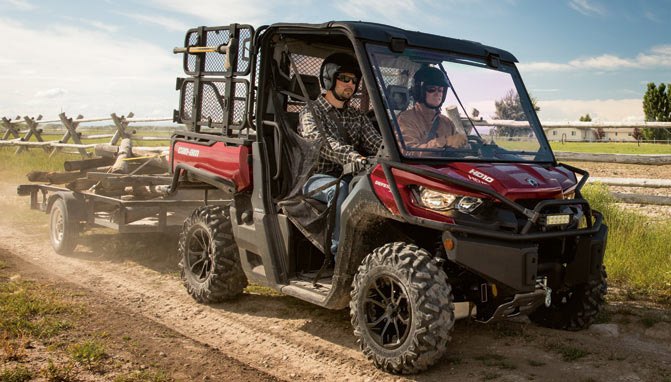 Keeping your ATV or UTVs windshield clean has never been easier with these great options
Any ATV or UTV owner worth their salt (or mud, as the case may be) will have some windshield cleaner on hand when they hit the trail. If your rig has a plane of plastic in front of the driver, it's going to get dirty – full stop. Short of splashing out the big bucks for a wiper/washer from the factory, keeping some UTV windshield cleaner aboard is a remarkably good idea.
But what to choose? There are a number of products that work perfect for cleaning that dirty windshield, but they can also be used on the body of your ATV or UTV to help make cleaning that much easier. Through personal experience of cleaning our own machines, various recommendations and product reviews we've found some of the best windshield cleaner options for you to check out. Just note that while these cleaners are great for getting the mud and dirt off of your ATV and UTV, you're on your own to get those clay stained clothes clean.
Table of Contents
1. Pro Honda Spray Cleaner & Polish
Just because it came from Honda doesn't mean that you can't use it on whichever ATV/UTV you might have in your garage. Just like their powersports vehicles, their spray cleaner is one of the best in the industry. Honda claims that the formula in their spray cleaner cleans road grime, grease and bugs without water, and from personal experience they're spot on. One editor has used this product as a windshield cleaner, visor cleaner, and polish on ATVs, UTVs and motorcycles and made it his go-to cleaner. One of the best things he liked about it was that it not only made cleaning every part of his machines easier, but that when he was riding in wet conditions water/mud beaded up and slid off his visors and windshields, leaving a clear view when needed. With plenty of other similar positive reviews on Amazon, it easily won as our staff favorite.
The sellers of this product know their audience, making sure to put 'ATV' right there in the title. This is a spray-on cleaner, showing up for duty in a can about the size of those used for spray paint. At about 9 inches long, it'll fit neatly into a cargo bin of your ATV. The beauty of this type of cleaner is that it can be used on surfaces other than the rig's windshield, including fenders and wheels. It'll remove fingerprints and water splatter from surfaces through which you're trying to see, then so to work shining up the ATV's plastic body panels and shiny bumper guards. Real-world customers say it can be sprayed on a dry surface and doesn't' leave a slippery feel.
3. Rain-X Plastic Treatment
No list of windshield cleaner options would be complete without an entry from the Rain-X brand. It is a hydrophobic treatment for plastics, meaning water is less likely to stick to the surface and more apt to simply roll right off - especially at speed. The unique water repelling properties permit a superior water beading coating on various plastics. Watch as the H2O (or watery mud) beads up and rolls away from the plastic windshield. The seller goes on to promote it as suitable for goggles and visors. Note it's best to apply this stuff to a clean surface, so go ahead and crack out one of the cleaners on this list before spraying this product around.
4. Plexus Plastic Cleaner
The makers of this Plexus product claim it not only cleans the surface but also seals the pores in plastic surfaces with a micro-thin layer of shiny, protective wax. This makes it resistant to future assaults from typical ATV stuff like debris, oil, scratches, and eventual yellowing. Originally developed for use in the aviation industry - specifically, for cleaning and protecting aircraft windshields and painted surfaces - users quickly discovered it could be used on all kinds of plastic surfaces. They seem especially proud of its convenient aerosol applicator, claiming it prevents dripping and leaking compared with pumps and squeeze bottles. A great windshield cleaner and polish all in one can.
5. Plane Perfect 'Eyes Outside' Glass Windshield Cleaner
Hey - if it's good enough for aviation dorks, it's good enough for our ATVs. This product apparently contains a formula that makes a 3-in-1 plastic cleaner, polish, and protectant. It can be used on a wide range of windshields, including both glass and plastic. Note that's not something every other product on this list can claim. Smaller quantities are shipped in a spray bottle while the big gallon jug is intended for refills. It's also safe on tinted glass, pleasing the flat-brim crowd. Plane Perfect Glass Cleaner is also good for removing fingerprint smudges and reducing static cling on surfaces. Application is simple as generously spraying it on the surface to be cleaned, then wiping with a clean towel in a single motion. Turn over that same towel to once again use a single motion to dry the windshield to a high shine.
6. Pledge Multisurface Polish Spray
Yes, lemon Pledge makes an appearance on our list. Why? Ask one of your buddies who's been wheeling for decades and you'll quickly find out. What was once a product for bumping up the shine of your grandmother's wooden coffee table is now popular in the off-road community for a quick detail and clean. There are those who swear by this stuff, claiming it does the trick better than any other big brand cleaner and protectant. Users tend to say they hit their rig with Pledge after every ride, cleaning it up from that day's activities while also building up protection for the next jaunt.
How do you clean a UTV windshield?
Start with one of the products listed here today and have a microfiber cloth on hand. Sure, it's tempting to grab a fistful of paper towels from the gas station washroom, but an actual cleaning cloth will do a better job of buffing the product sprayed onto the windshield. Also, make sure the cleaning solution doesn't dry onto the plastic surface since it could damage the area - or at least become tough to remove.
Can you use Windex to clean a UTV windshield?
Perhaps surprisingly, the answer is no. Windex doesn't make a great cleaner on poly/acrylic windshields, thanks to its ingredients and chemical composition. The trouble lies in the alcohol- or ammonia-based solution, a liquid that will very likely interact with the plastic causing pits and small areas of fog to occur. Since plastic windshields aren't as scratch resistant as glass ones, they require a bit different type of care - including ditching the Windex for one of the products on this list.
We are committed to finding, researching, and recommending the best products. We earn commissions from purchases you make using the retail links in our product reviews. Learn more about how this works.
Published June 8th, 2021 3:07 PM
Top Brands
Popular Articles