38 Views
Get Reel: Winches from All Balls Racing
June 10th, 2022 12:30 PM
Share
We're committed to finding, researching, and recommending the best products. We earn commissions from purchases you make using links in our articles. Learn more here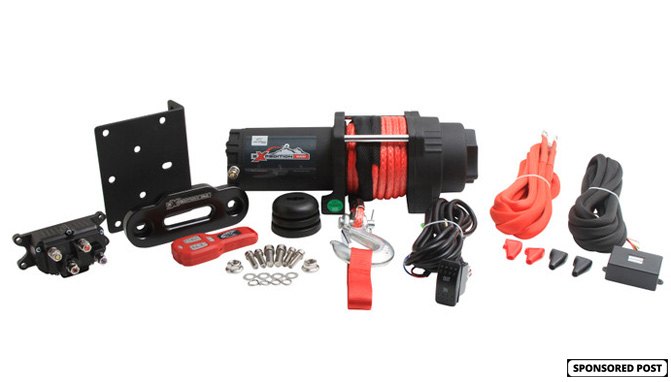 Around these parts, we are a big proponent of the notion that if you don't get stuck at least once on a day's ride, you weren't really pushing the limits of your machine. And while it's always a safe bet to hit the dirt with a buddy, a machine isn't always equipped to help extract yours from the mire – especially if you're also up to their seat in muck.
That's where a good quality winch comes into play. Having the right tool on the nose (or tail) of your rig can be a lifesaver when the going gets tough. The gearheads at All Balls Racing are the type of crew to cheer you on, get you what you need when you need it, and share a good story at the end of the trail. They have a new product line of tough winches in a wide range of styles, offering both steel and synthetic options. Most winches have a 4-bolt mounting plate designed to work well with aftermarket mounting solutions on your machine.
Engineered to pull hard when push comes to shove, this save-yer-bacon accessory is a must-have if you ever plan to turn a wheel on dirt.
3500lb Steel Cable Winch
Recognizing not everyone needs to pop for a winch with synthetic cable, All Balls Racing offers a choice of 3500-pound winches with two different lengths of steel recovery cable. Primarily designed for use on an ATV, these units come with a handlebar switch which can be easily located within thumb's reach of the operator, because who's got time to fiddle around and look for hidden switches? Not us.
Another advantage? One of these winches has a nifty 2-bolt pattern for its mounting plate, meaning you don't need to have an ATV the size of Texas to fit the thing on its nose. That particular unit has a 32-foot steel cable and is very affordably priced at $199.95. Its brother has a slightly longer steel cable checking in at 39 feet, a four-bolt mounting plate shared with other winches in the All Balls lineup, and a $75 higher price tag. Don't forget: you're better off using a roller fairlead in conjunction with a steel cable, leaving the Hawse fairlead for anyone packing a winch with synthetic rope.
3500lb Synthetic Cable Winch
And that's a great lead-in to the first synthetic offering from All Balls Racing. Also deploying a 39-foot length, this winch trades steel for a synthetic cable and is again intended for use on ATVs. Its handlebar-style switch is easily manageable even while wearing gloves, and comes with a wireless remote plus a rubber cable stopper for those times your buddies fail to heed your pleas to stop operating the winch. Its patented matching drum and gear assembly assures quiet operation instead of the ungodly screeching metal-on-metal agony produced by some units from other providers. Priced at $324.95, this winch has a limited one-year warranty.
4500lb Steel Cable Winch
There's something to be said for the notion that a bigger rig just gets you stuck further from home. While we leave you to contemplate that bit of off-road philosophy, consider that UTVs generally need a bit more pulling power than their ATV cousins thanks to extra weight and larger dimensions. This 4500lb winch with a 33-foot steel cable is a great option for someone who doesn't want or need a synthetic cable unit, coming equipped with a dash-mountable rocker switch and all the wiring you need for a slick-looking install. Best of all, it's just $20 more than the ATV synthetic winch described above.
4500lb Synthetic Cable Winch
Marching up the food chain we find this product which swaps the 33-foot steel cable for a synthetic version of equal length. This bumps the price by $40 but fans of the newer technology swear up and down it's worth the cash. Like the others, it is shipped with a stout 4-bolt mounting plate, rubber cable stopper, and wireless remote. Taking a second to appreciate the latter, it's always a good day when one can extricate themselves or a friend while standing safely to the side and keeping a watchful eye on the winching progress.
6000lb Synthetic Cable Winch
For those of us bent on over-equipping our rigs or simply one-upping the neighbors, be sure to check out this beast of a winch from All Balls Racing. Like others on our list, this 4-bolter has a 33-foot synthetic cable with a rating at a stout 6000 pounds, more than enough to pluck a stuck-fast UTV and might just be sufficient enough to haul the amount of food you plan to take up to the cabin next weekend. The dash-mounted switch awaits your commands, as does the wireless remote control. There's a year's warranty on tap and a price tag just north of $400. Published June 10th, 2022 12:30 PM
Top Brands
Popular Articles