1 View
Polaris Shows 2023 Models, Beefs Up RideCommand
August 10th, 2022 10:05 AM
Share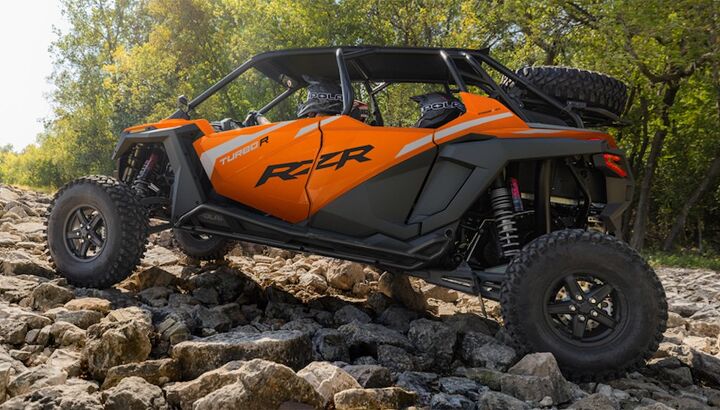 With ATVs and side-by-sides creeping ever closer to road-going vehicles in terms of features and performance (and price), another hallmark from the automotive segment has cropped up in powersports – annual updates for new model years. The crew working on Polaris machines have rolled out their 2023 catalog, punctuated by some fresh new looks and a huge update to the RideCommand system. We'll start with the machinery.
First, there is a new vehicle in the form of a Polaris General XP 1000 Sport which will be available in both two- and four-seat models. Serving as the entry-level model for General, this new Sport trim starts at $18,199 and maintains the 999cc Prostar which cranks out 100 horsepower. Its overall width is slightly less than the XP – 62.5 vs 64 inches – and ground clearance drops by 1.5 inches thanks in part to 27-inch tires instead of 30s. Weight is less, as you'd expect, which could make this the clear rig for those who venture into tight spots but still want the convenience of a General.
Elsewhere, changes are dominated by paint and trim differences for 2023. The Polaris RZR lineup has a new color mix, including a murdered out take on the dune-busting RZR Turbo R. Over on the ATV side, Sportsman models offer new paint options plus new CV guards on specific models for added durability. And for the kiddos, youth models get a raft of safety gear including helmet awareness and digital speed limiting.
The big news for this model year is RideCommand + which features vehicle-to-cellular connectivity permitting owners to check on current vehicle status. A new Vehicle Health feature can run diagnostic reports and monitor fuel or charge levels to confirm the rig's readiness. Another addition, called Vehicle Locator, could be beneficial feature for anyone enjoying the outdoors but have gotten turned around in the woods and aren't sure where their Polaris is parked. That sounds silly, but it's a real thing which happens to more than one person during hunting season.
Over the Air (OTA) updates are now part of the Polaris RideCommand experience, with something called Location and Bump Alerts coming later this year. This is a 24/7 monitoring feature which can send a notification any time the vehicle has been bumped or moved. If moved, the Vehicle Locator feature can provide its latest coordinates. Sounds good to us.
The 2023 Polaris lineup will begin shipping to dealers this fall.
Published August 5th, 2022 3:51 PM
Top Brands
Popular Articles