6 Views
June 24th, 2015 2:30 PM
Share
We're committed to finding, researching, and recommending the best products. We earn commissions from purchases you make using links in our articles. Learn more here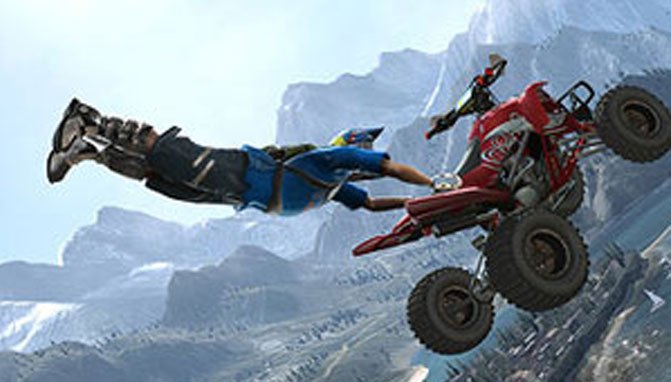 Fantastic graphics and vast customization make this ATV game a winner
Pure might just be worth the sticker price for the customization alone, but when you add in some of the best looking graphics anywhere and fun game play it's a no brainer for ATV and video game fans.
For my money, what sets Pure apart is the ability to build a stable of ATVs from scratch with name brand parts. The developers at Black Rock Studio hit a home run with this feature.
To build your first ATV, you are given an empty frame to start. From there you add everything from an engine/exhaust package, shocks, A-arms, handlebars, grab bar, tires, rims, plastics and much, much more. With brands like Yoshimura, FMF, Fox, Elka, Ohlins, PowerMadd, Maxxis, ITP and dozens of others available, it's a blast to put your quad together.
As you build up your ATV, you'll have to decide what purpose it's going to serve. Will it be a freestyle quad low on speed, but capable of pulling off more tricks? Will it be a racing quad with super acceleration for short tracks with lots of turns or with a higher top speed for wide-open courses?
Once you've got your ATV ready to go, you've got to choose what type of competition you're looking for. Pure breaks it down into three categories – Freestyle, Sprint and Race.
In Freestyle mode your main goal is to attempt and land as many tricks as possible to build up your score. The more tricks you land, the more points you accumulate. Just don't keep repeating the same trick because you won't get as many points and the trick will be labeled as 'lame'.
In addition to getting more points, as you land tricks you build up your 'boost'. As your boost gets higher, more tricks are made available to you to help add to your score. You can also use the boost for added speed when coming up to a big jump. When your boost is full, you can attempt 'special' tricks. These tricks are worth a lot of points, but they take a lot longer to pull off so you have to make sure you're on a big enough jump to pull them off
While most of the game's tricks are within the realm of the human imagination, the special tricks are both ridiculous and a lot of fun. For example, one of the tricks has you standing on your ATV as you fly through the air and playing air guitar. Despite the fact that it defies several laws of physics, the first time you land one is still a bit of a rush.
Sprint mode generally consists of a five-lap race around a very short track. The track is usually just a quick loop and the entire race only takes a couple of minutes. Each lap of the sprint has at least one spot to pull off a small trick and how you use the boost you get from that trick is often the difference between winning and losing. Because the race is so short, you can't afford to make a major mistake so if you careen into a wall or fall too far behind, you might as well just press reset.
In Race mode the races are much longer than the sprints and the types of ATV you should use varies from track to track. Like Sprint Mode, you won't get any bonus points for pulling off freestyle-type tricks, but you do get valuable boost with each successful trick. That boost comes in very handy when you're trying to hold off somebody in a straight.
Because this is a race and not a freestyle competition, you can't try to pull off big tricks at every opportunity. Sometimes you just want to boost right over a small jump instead of trying to do a trick. When you spring into the air for a trick it can slow you down, causing you to lose ground to other racers. It's a delicate balance between gaining boost and keeping your speed going. You really have to think your way around each track, which helps makes Pure a fun game to play.
The main mode in Pure is the World Tour. Like in other racing games, here you start off with D-class ATVs, which are not very powerful and don't handle particularly well. As you win races and freestyle events more parts become available to you that you can use to build up your stable of quads.
It's fairly easy to work your way through the classes until you get towards the end of the World Tour and the competition starts to get better. Once you hit A-class, the ATVs and the people riding them get much better and you have much less room for error.
If playing against the computer gets a little tedious, you can always switch to online play and take on other gamers from around the world. There are plenty of ways to compete on-line, including ranked matches for an online leaderboard or unranked matches if you just want to mess around and practice.
Choose a quick match and you get thrown into any available match with any race settings or track. Custom matches can be searched for if you want to race a particular track, a certain style or a specific number of people.
We found no slowdowns or hiccups from bad servers in our online experience. Pure was as fast as single player, but felt more exciting because you were facing real people. Each race was anybody's game because you were racing against real people who took chances. It was common to go from first to last and everything in between as other online players tried to take shortcuts and pull off big tricks.
Pure is a fun game for just about anybody, but for those of you who like to ride and wrench on your own quad, it's a must have. Published November 3rd, 2008 1:38 PM
Top Brands
Popular Articles