1 View
Exploring North Carolina's Brushy Mountain Motorsports Park
August 15th, 2017 10:24 AM
Share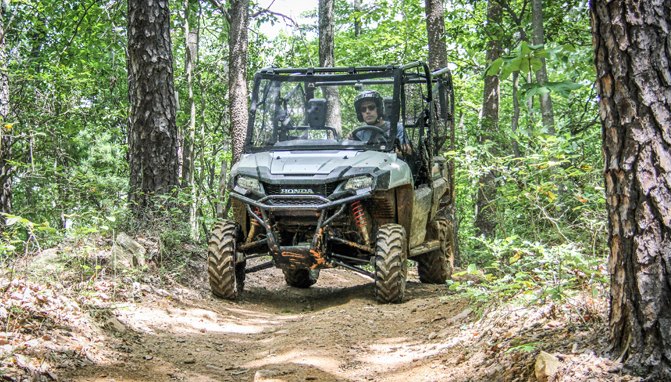 Bigger isn't always better
When it comes to privately owned off-road parks, a handful of the "big ones" tend to get most of the attention. Facilities like Durhamtown Plantation, Windrock Park and of course the Hatfield McCoy Trail system are three of the larger ones east of the Mississippi river. While these off-road destinations are awesome and we'd take nothing away from them, they tend to overshadow some of the other smaller areas that offer tons of great riding as well.
Case in point, Brushy Mountain Motorsports Park (BMMP). Aptly named, this privately owned facility is nestled within the Brushy Mountain range just outside of Taylorsville, North Carolina and caters to motorcycles, ATVs and Side-by-Sides. Founded in 2002, the park offers around 100 miles of trails with just under 50 open to ATVs and Side-by-Sides.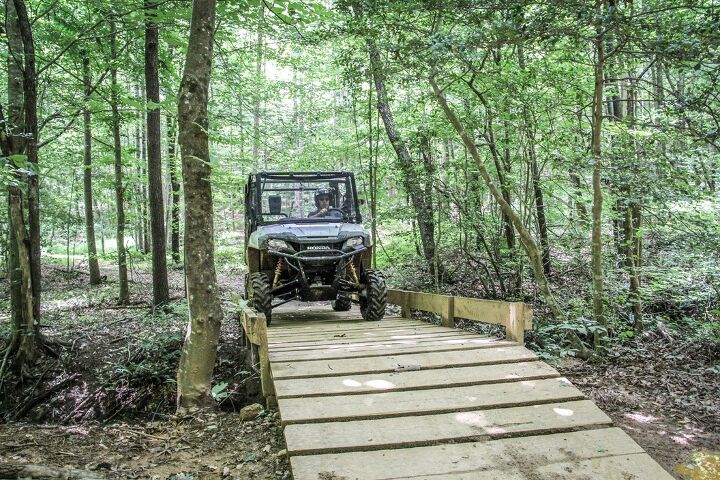 Side-by-Sides are welcome, but the facility does limit them to 60 inches or less to maintain the integrity of the trials.
The trail system is divided into three sections with a variety of trails ranging from easiest to most difficult throughout each section. Trails marked most difficult are single track and limited to motorcycles only, but don't fret; there are plenty of challenges throughout the park as well as a very technical enduro cross course littered with downed logs, tractor tires, boulders and a "firewood" section.
All of the trails are one way, which helps eliminate traffic jams and provides a safe environment for riders. There are a number of return trails that lead back to the main parking lot and parts of the trail that are particularly steep or rocky offer bypasses, but we had no trouble navigating them in our Honda Pioneer 700-4. Several parts of the trail merited engaging four-wheel differential lock and we're glad we had that option.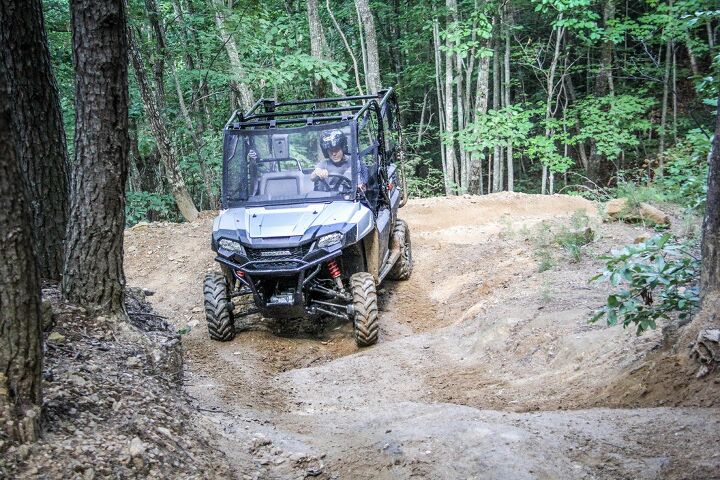 There's a great variety of mild as well as technical terrain to scratch the itch of everyone in your party.
The entire trail system zigzags back and forth across 1,700 acres; a relatively small parcel of land, but the park manages to squeeze it all in without feeling like you're riding over the same ground. To get our bearings we started with a perimeter loop that took us along the outermost trails and weaved its way through each of the three sections.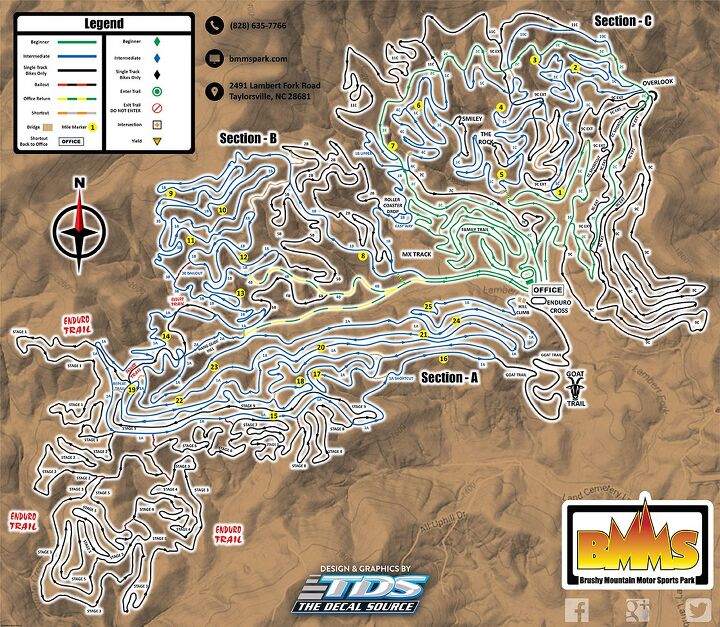 Section C is the roughest of the three sections, with rocky soil and what felt like a constant climb. There are lots of switchbacks, so longer Side-by-Sides may have issues or at least require a few multipoint turns. Section B provided mostly flat trails, as much of this section follows a ridge line between mountains before descending back down in Section A. Section A offers the fastest area of trails, as there are far fewer twists and turns than in Sections B or C.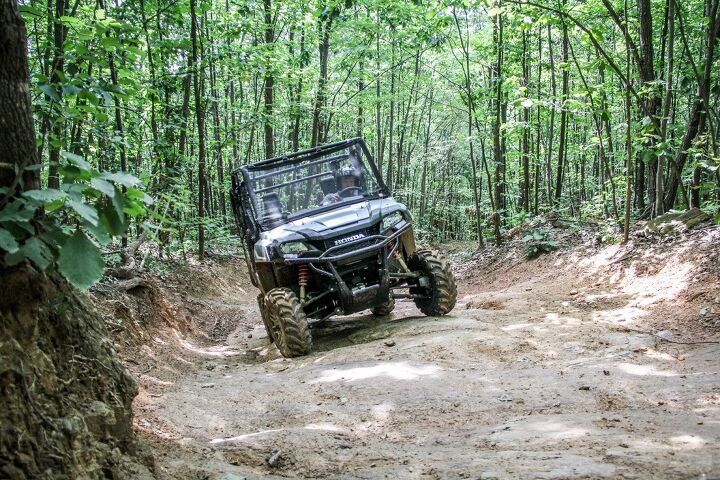 Areas of the park stretch from 1,300 feet to 2,500 feet above see level with lots of opportunities to climb.
We did find the map to be a little confusing at first when trying to figure out specifically where we were on the course, but mile markers, highlighted by large yellow dots and a mileage number on the map helped us pin point our location and figure out where we were. That also helped significantly in discerning which trails we had yet to cover. If you happen to get confused or lost, just keep following the trails, in the appropriate direction, and you'll run across a sign that leads you back to the office.
One area where Brushy Mountain Motorsports Park has a leg up on a lot of other off-road parks is elevation change. Areas of the park stretch from 1,300 feet all the way up to 2,500 feet above sea level, so if you like climbing, you'll be right at home here. With elevation, water runoff becomes a problem to keep the trails from eroding, but the park staff have built water bars to divert water off the trails and these also make for some pretty good jumps in places. You'll definitely find ruts on steeper climbs that are more difficult to maintain, but in our opinion that just makes for a more fun, challenging hill climb.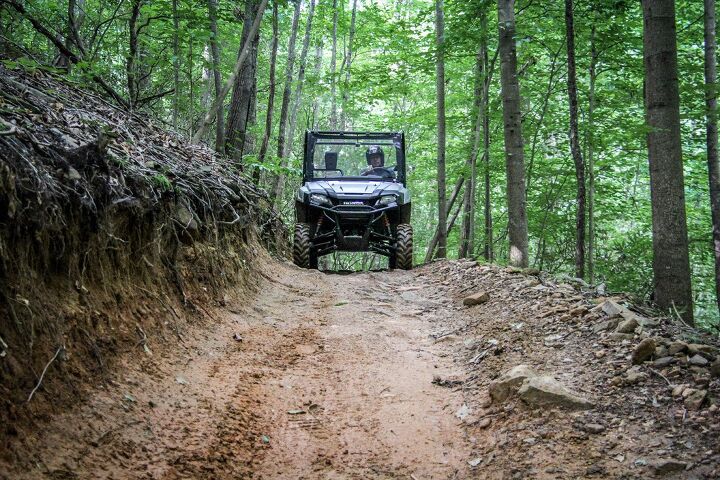 Our Honda Pioneer 700-4 was right at home on the trails, but Sport and Utility ATV riders will have a blast as well.
Sport and Utility ATVs will be quite at home on the trails, but wider Side-by-Sides will struggle and several bridges throughout the property restrict the width to 60 inches and under. We didn't have any issues with our Pioneer 700-4; however, we did glance a couple of trees with the roll cage and a few of the switchbacks required multi-point turns. Most of the trails snake through thick forest, which was nice to block the hot sun and we're confident a ride here in the fall amidst changing colors would be pretty spectacular.
The Family Trail immediately behind the office provides a tame two-three mile loop for kids that might serve as a good warm up before heading out to the "big" trails. As you can imagine, because the trails are carved mostly out of a mountain, there are some steep drop-offs in places. Nothing that made us uncomfortable, but it is worth mentioning that riders stay sharp and always keep their eyes on the trail in front of them.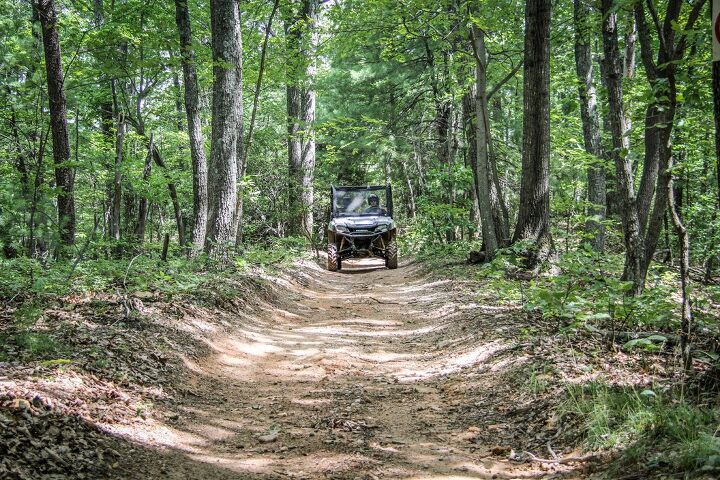 The ridge line trail in section B would provide some spectacular views in season when there are no leaves on the trees.
Alcohol is not permitted in the park and coolers are not allowed on the trials. That might be considered an inconvenience to some, but were were impressed with the complete absence of trash anywhere on the trails. There are lots of return trails throughout the park, so getting back to your rig for a snack or quick drink shouldn't be too inconvenient.
A daily riding pass at BMMP will run you $25 for ATVs and $30 for UTVs with annual memberships available for $250 and $350. Membership does come with its privileges as the park is only open Friday through Sunday, but members can enjoy riding on Wednesdays and Thursdays by appointment. Primitive camping is available at just $5/night for people eight and older and that includes access to showers and restrooms with flush toilets.
The endurocross course is located next to the parking area and is a great place to challenge your friends to see who can make it through the fastest.
A major perk for UTV drivers is that the entry fee includes one passenger and each additional passenger is just $5 extra per day. That's a big savings compared to other riding areas that charge the full gate fee for drivers as well as passengers.
If you plan to bring minors with you, be sure and read the Rules & Regulations section of their website very carefully. Signatures are required from both parents for anyone under 18 years of age, so if mom decides to stay home, you'll need to provide a notarized signature in order for them to be able to ride.
If you're looking for a new trail riding destination that will provide hours of fun, we'd encourage you to make plans to visit Brushy Mountain Motorsports Park. It offers a variety of terrain and plenty of challenges to test your skills while maintaining a family friendly atmosphere. The park staff is passionate about off-roading and eager to make sure you have an enjoyable experience. For more information or to plan your visit, visit www.BMMSPark.com.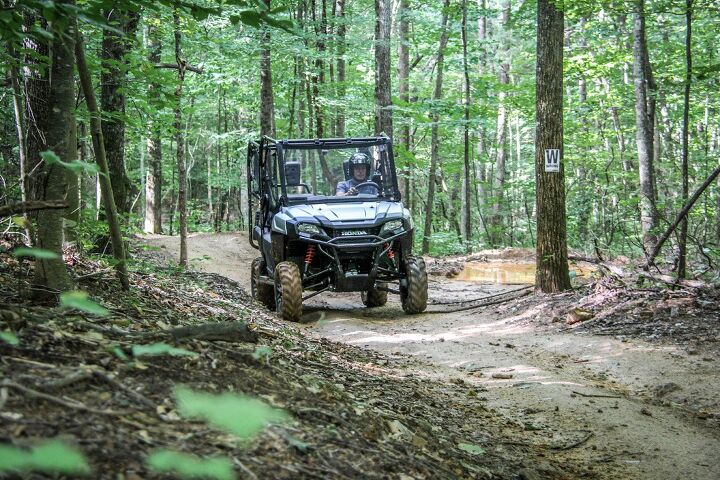 Published August 10th, 2017 12:44 PM
Top Brands
Popular Articles