1 View
Rubicon Trail Adventure Ride in a Yamaha Wolverine RMAX2 1000
July 16th, 2021 4:40 PM
Share
Fast Facts
Location: Rubicon Trail
Test unit: 2021 Yamaha Wolverine RMAX 1000 LE
Additional add-ons: rock sliders, umhw full skid, front aluminum with steel reinforced bash plate, synthetic rope for 4500-lb. WARN winch.
Catering: Rubicon Trail Adventures
Camping equipment: Klymit (tent, light, mat, pillow, sleeping bag)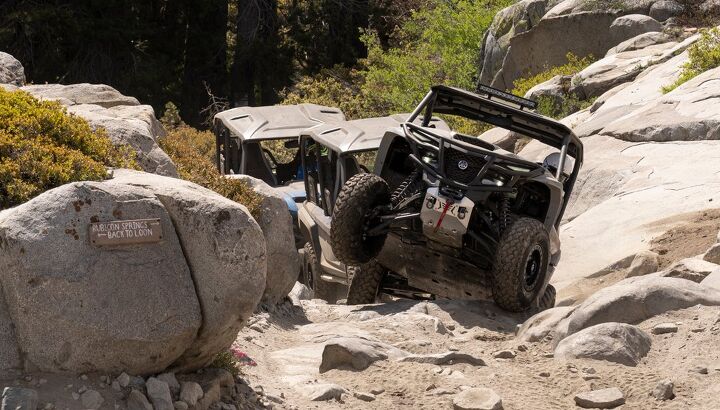 Two days of exploring the Rubicon Trail and getting some adventure back in our lives
We've all had a seemingly endless supply of the mundane over the past 16 months. The repetitive and ordinary day-to-day activities brought about by a worldwide pandemic has left many people with a low fuel light when it comes to their personal health and wellness. It's been proven by mindset experts that adventures have health benefits, especially when they push the mind and body. Getting outside, being one with nature and doing so with friends, family and others is also highly advisable and a boost for your mental health. My doctor also is a proponent of a concept called "grounding," where you're encouraged to lay in the grass or take off your shoes and socks and stroll through your yard or nearby grassy meadow to soak in the Earth, all its splendor and natural energy.
In fact, Yamaha's REALize Your ADVENTURE tagline speaks the very same message: "Real Adventure in an epic environment provides a challenging and inspirational experience that submerses you in nature." So, naturally, when I got the invite to attend a special outdoor adventure with Yamaha to drive the brand's Wolverine RMAX2 1000 LE SxS and to reconnect with some old friends, I couldn't pass it up. Heck, for starters, THE Rubicon Trail is a bucket-list ride and a legendary place for 4×4 enthusiasts. I first read about the Rubicon Trail way back in 1998, when I got my start in off-road. Ultimately, this trip to The Rubicon Trail proved to be soothing to my soul and that long overdue hankering to escape.
And escape we did. All told, we traveled close to a grand total of 25 miles during our two-day journey. But it really wasn't about the distance, it was about the terrain and conquering it! The Rubicon is as rock-strewn and treacherous as they come. The landscape, as well as riding in a 12-car group, always dictates the pace. It's not about going from point A to point B hard and fast. It's an off-road trail that requires the driver to remain cool, calm and collected. Along with slower speeds, it required a keen eye for picking the cleanest lines (sometimes with a spotter's assistance), not only to avoid possible damage and conquer obstacles, but also to keep us on schedule.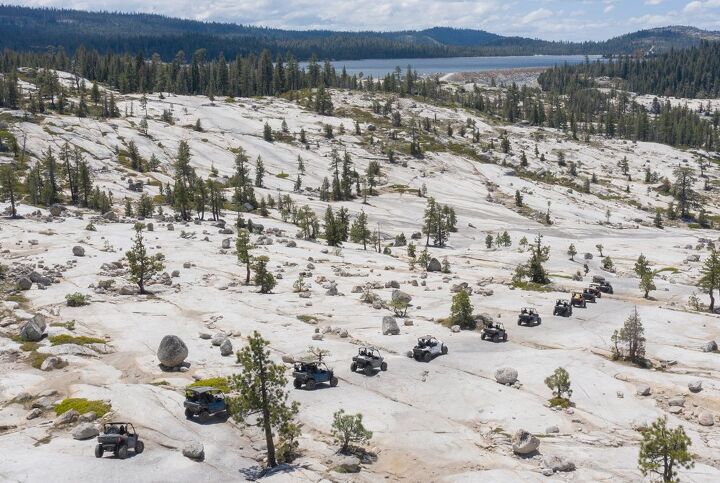 After a two-year layoff from driving a UTV, was I worried? Not really, but a tad bit of skepticism crept in for a few reasons. One, when Yamaha's PR guy said kindly, "we can always have someone else drive if you don't feel comfortable with certain parts of the trail." The other was when I signed two waivers and a Reach Air membership (read: medical/transport helicopter) in the event of an unlikely emergency). The third reason was my wife also verbally questioning me about my abilities behind the wheel. The tiny bout of anxiety quickly wore off once I made the commitment to attend. Plus, because we were getting to ride brand new Yamaha Wolverine units at such an acclaimed locale, any worry or concern was practically eliminated.
Day one started early as we departed South Lake Tahoe and headed for Loon Lake. We staged in the parking lot off of Ice House Road overlooking the lake. Our journey began at the Loon Lake Rubicon Trail Head (39.003299732543, -120.31149337910026), which is actually the backside of the dam. It's here where we entered the trail, aka El Dorado County's "Crown Jewel," and where we were almost instantly greeted with flatrock similar to that found in Moab only lighter in color and a bit tamer. The route, known as Wentworth Springs Road, is marked with reflectors and is relatively easy, but the surrounding natural beauty and rock shelves make for a fun and interesting drive. Before long, though, you enter rocky sections that demand spotters and take on obstacles like Soup Bowl (39.02190739141784, -120.2790568161434), Little Sluice Box (39.02063116487967, -120.27282015996755) and more.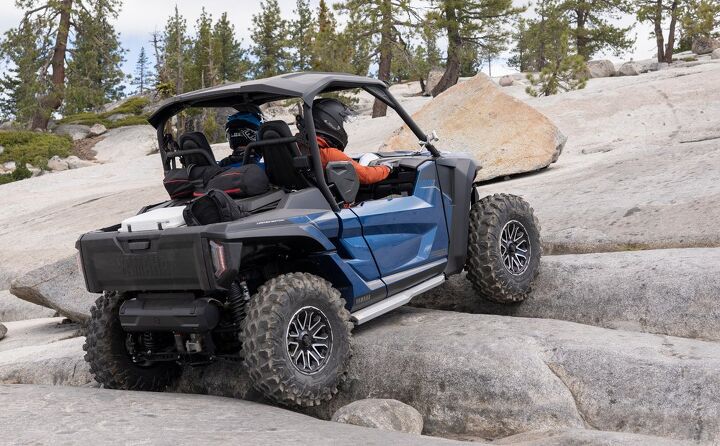 We made it unscathed to our lunch stop at Buck Island Lake (39.004898, -120.254515). There's just something about sitting lakeside in a remote area with a bunch of friends after a satisfying trail adventure that makes sandwiches and water seem way more extravagant than it should. After a brief rest, we headed back to the trail and the rocks. The first ascent after lunch consisted of a blind climb that required steady throttle control, spotters and the watchful lens of photographers. The Yamaha Wolverine RMAX2, with its Crawl Mode and true locking front differential, made quick work of this challenge.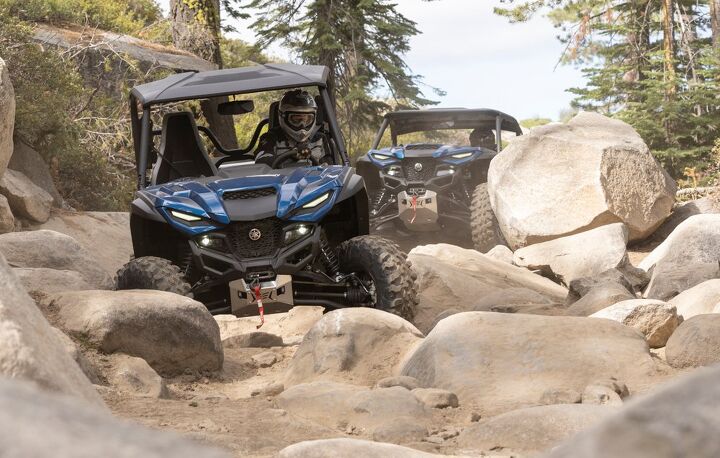 The ride to Rubicon Springs (39.017949, -120.245173) took a bit more time after lunch than it did prior to lunch, or at least that's how it seemed. It had a lot to do with the rocks and challenges. There was an especially sketchy section called Big Sluice Box that took more patience, skilled piloting and line selection. Before we could settle in for the night and enjoy dinner, we decided to take the opportunity to go to Observation Point (39.03512947964237, -120.25515760830044) via the famous Cadillac Hill (39.03119862736901, -120.25167515855374). The overlook gives you a better vantage point of the Rubicon River valley and its spectacular surroundings. It proved to be an ideal spot for a group shot.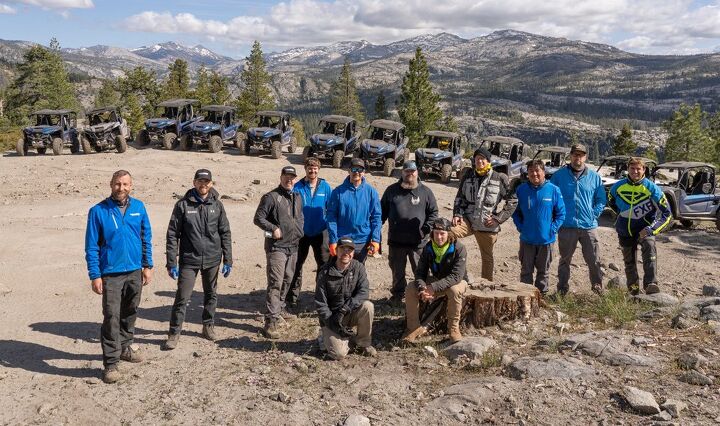 We all made it back down to Rubicon Springs where we were greeted with waves, smiles and amazing smells from the meal Rubicon Trail Adventures was preparing for us. Tri-tip, jalapeno poppers, baked potatoes … don't mind if I do. It's here we learned about how Rubicon Springs actually used to have a hotel on site while sitting fireside sharing laughs and stories about the day's adventure. While the hotel may be gone, the hospitality from the site manager and the RTA staff, as well as the entire Klymit Gear camping setup Yamaha had laid out for us, made it feel a bit like home, only with a river running through it and stars blanketing the sky.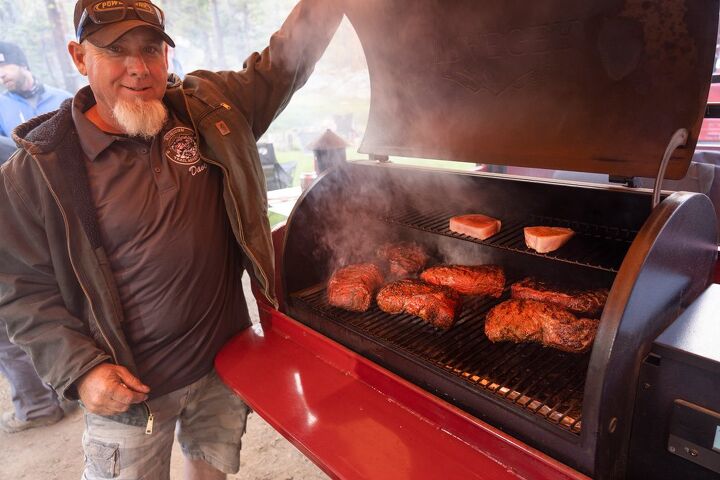 Day two greeted us with an early wake-up, an aroma of freshly made breakfast and some laughing banter about someone either seeing a bear or "hearing" many bears through the night. The previous day's journey must have worn out several of us, as our log sawing replaced the chirps of crickets and other nocturnal wildlife.
Our goal on day two was to get an early jump on the return trip to our original first-day rendezvous point. The early departure would add time to our schedule in the event we were faced with a mechanical or any other pace-slowing hiccup. However, a combination of expert piloting (and spotting), a durable and capable vehicle like the Wolverine and experienced scouted route and planning put us way ahead of schedule during the journey back up Big Sluice and past Buck Island Lake.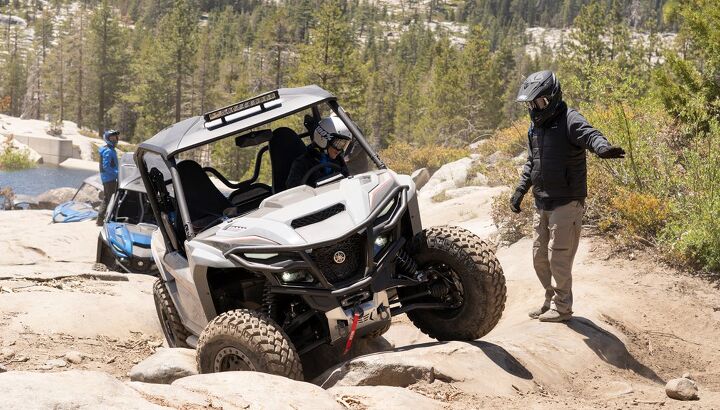 In all honesty, the only damage suffered in the entire group was two bent tie-rods (not counting the roughed up plastic and skid plate scrapes). With 12 total cars and all the rocks and challenges faced, everyone considered it a huge win! The fact that nobody, even those drivers with little rock experience, made it out unscathed (both man and machine) is a huge testament of, one, a well-planned event, and two, a sturdy vehicle. One that is easily capable of filling any void you may have accumulated, helping to leave thoughts of the pandemic in your dust!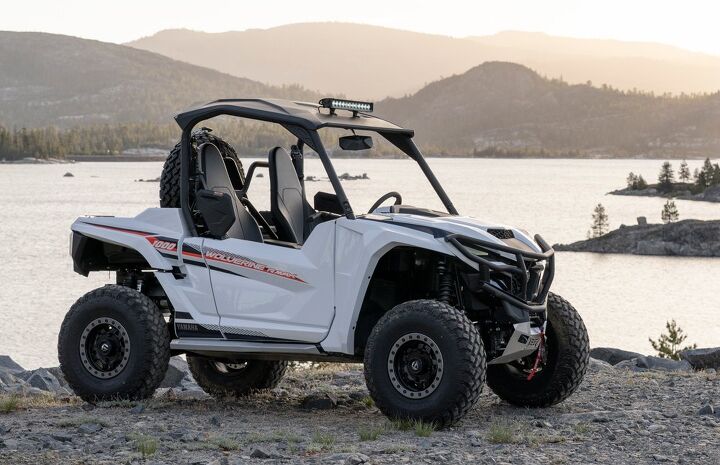 Don't own? Rent!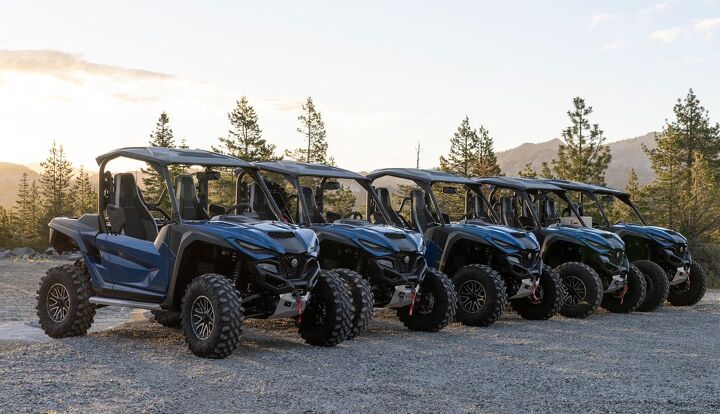 While this may have been a custom (read: one off) trip to The Rubicon Trail with Yamaha, that doesn't mean you can't participate in your own off-road excursion. I'd highly recommend you explore a Yamaha Destination adventure near you. Yamaha encourages off-road enthusiasts and those new to the sport to make the most of their time on Earth. Yamaha has partnering companies all across the U.S., so you can start local and expand your journeys as you gain more experience. Then, when it's time to buy, you'll be comfortable with your skills and the vehicle because of your time behind the wheel.
Or you can go your own route and rent from an experienced tour company or guide. One of the drivers in our crew was Bill TooFast who owns Eagle ATV Rental & Tours. Bill is an experienced off-road rider and guide who is also an authorized Yamaha Rental Facility and Hatfield Outfitter located in West Virginia. Look him up if you want to give a Yamaha a go while taking on the Hatfield-McCoy Trails.
If you can't experience The Rubicon Trail in side-by-sides or just want to take a private tour of this epic riding location, then Dave and Marlys McKinney and their crew can show you the ropes and a wonderful time. From getting behind the wheel of your own rig, their trail vehicles or riding shotgun, they focus the journey on the trail experience, but with emphasis on safety, food and fun. They had me at tri-tip! But seriously, The Rubicon Trail is a bucket list trip regardless of how you do it. Just, ahem, do it!
Wolverines!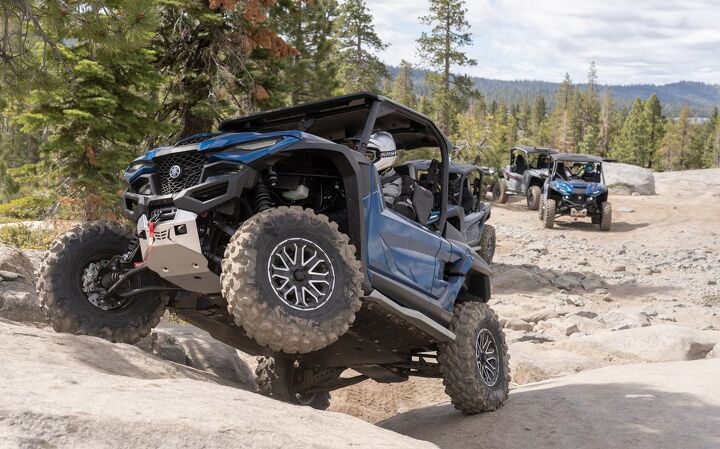 Yamaha provided us with several Wolverine RMAX models to drive, but my trusty steed was the 2021 RMAX2 1000 LE dressed in the Cobalt Metallic finish. MSRP is $23,799, but my SxS was also outfitted with powder-coated steel rock sliders, steel reinforced aluminum Front Skid Plate and given a synthetic rope. While you can read the full RMAX2 review here from my buddy Joe Tolle, I'll give you five of my favorite features below.
D-Mode: The Yamaha Chip Controlled Throttle offers three drive modes in Sport, Trail and Crawl. Much of my time was spent in Crawl mode, which was perfectly optimized for walking through the rock-strewn runs we faced. When the trail opened up a bit (read: not rock chutes) Trail mode became a friend as the throttle control it offered was smooth and linear. And at times, it also worked well for a quicker response over some of the obstacles. Sport mode was not the wise option for this outing, but you can read more about it in the RMAX2 XT-R review.
On-Command 3-way locking differential: Full diff-lock 4WD is like having an extra bullet for your gun. Conquering the Rubicon is not a simple task, and while I could do some of the trail in 2WD and many other challenges in 4WD, I was thankful for diff-lock as it helped me save face a few times. Diff-lock is your friend!
FOX 2.0 iQS Suspension: Part of Yamaha's marketing copy about the FOX iQS suspension includes the words comfort-focused, heavy-duty and maximum articulation. I can now vouch for our friends in blue that this is not an overstatement. When combined with Yamaha's suspension (wide-arc A-arms and design) the shocks, with help from 14.2 (front) and 16.9 inches (rear) of usable travel, just walked over the rocks. And giving me the ability to dial in damping levels from the cockpit was definitely a bonus.
Adventure Pro: Yamaha describes its integrated Yamaha Adventure Pro display and advanced adventure tool. I couldn't agree more, as it kept me informed many times during our ride. From GPS mapping to navigation to its many other owner-friendly features it would feel odd to get in a Wolverine that didn't sport it.
Rock sliders: I almost felt bad about hitting these amazing rocks sliders against a rock. But giving them a scratch here and a small ding there seems like part of the initiation process at The Rubicon Trail. The fit and finish and look of the powder coated steel rock sliders made the Wolverine RMAX2 look that much tougher, if that's even possible. Rocks sliders are almost mandatory for trails like these.
Camping Tips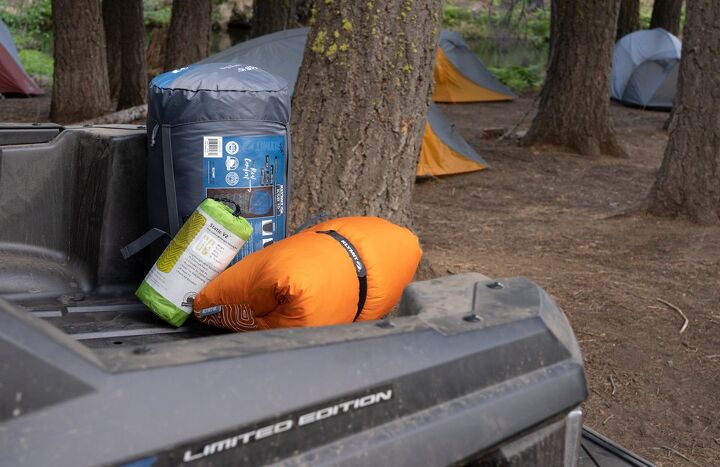 Yamaha took care of us on this trip in terms of camping supplies from Klymit, but there are few tips to know.
Pack light. Our arsenal consisted of a lightweight mummy bag, Maxfield two-person tent, Static V sleeping pad in Realtree camo, KSB 15 sleeping bag, Everglow light tube and Drift camp pillow. Klymit, an expert at lightweight camping gear, supplied us with perfect equipment for the single overnight at Rubicon. The tent was much larger than it appeared at first glance, housing me, my giant gear bag, boots, helmet, backpack and other gear. However, depending on the season and weather patterns, you may need to adjust what you bring.
Cooler: keep your food and drinks cold with a sturdy, bear-resistant cooler from Engel or similar. We used the Engel 25-quart hard cooler the entire two-day event. The water and snacks were always chilled, safe and protected.
Bear spray won't be necessary unless everyone in your party is super tired. We had a couple cans since a few bruins have been spotted over the years.
Remember, on trips like this and in locales like the Rubicon Trail, it's always wise to pack in and pack out whatever you brought with you (this includes trash!). Thankfully, the Rubicon Trail Adventure crew took care of us; handling most of the garbage collection and cooking waste clean-up. Kudos to the entire team.
Be cautious with every fire. This means for cooking or relaxing nearby postride. Assign a fire warden on your team to keep an eye on it and ensure everything is fully snuffed out upon your departure. Part of being an off-road rider is also being a good steward of the environment and protecting nature.
Go Rugged & Digital! Each driver had an RDH-16C handheld digital radio from Rugged Radios. The 5-watt UHF device had a 1-3-mile range and made sure we could communicate for upcoming obstacles as well as when one of our cars went down with a damaged tie-rod.
Published July 16th, 2021 4:40 PM