173 Views
Holiday Gift Guide For the ATV Rider In Your Life
November 17th, 2023 1:02 PM
Share
We're committed to finding, researching, and recommending the best products. We earn commissions from purchases you make using links in our articles. Learn more here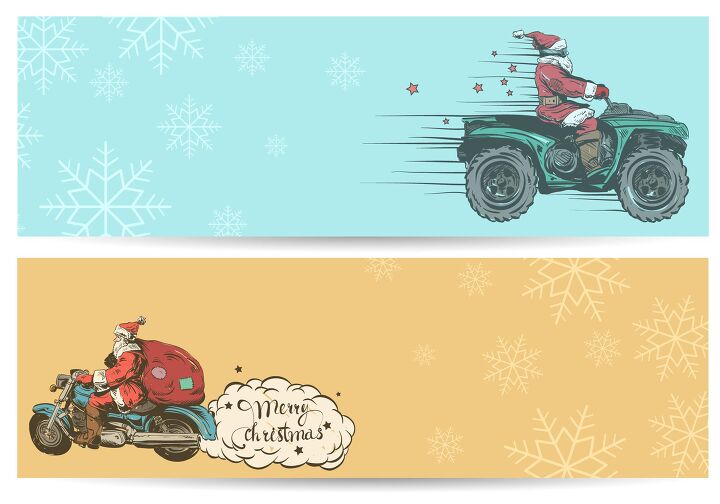 It's that time of year again. For many of us in the Northern Hemisphere the onset of winter means the imminence of cold and, with the plummeting mercury, the end of (or at least lull in) the ATV riding season. But while winter might mean less four-wheeling fun it can also mean the joy of giving (and receiving) gifts, so why not spice up the peppermint with powersports parts and the reindeer with riding gear? Here's our guide to a few choice gifts for the ATV enthusiast in your life.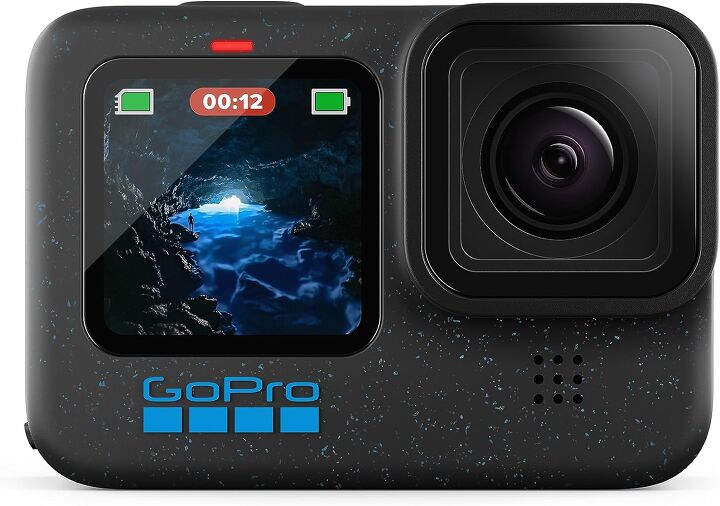 Action Camera
Because you might want to revisit your adventures and excursions with some of your own footage, an action sports camera is a go-to gift. While many less expensive options are available, those with deeper pockets may opt to go for the tried-and-true brand name models like those from GoPro.
Go further and you can throw in a dose of accessories. There are a plethora of items to add like mounts, cases, auxiliary microphones, extended length batteries, and so on. Charging stations, selfie sticks, tripods, helmet and roll bar mounts, vibration dampers, and so on can improve the action camera experience. In any capacity, this is a gift the ATVer is likely to love.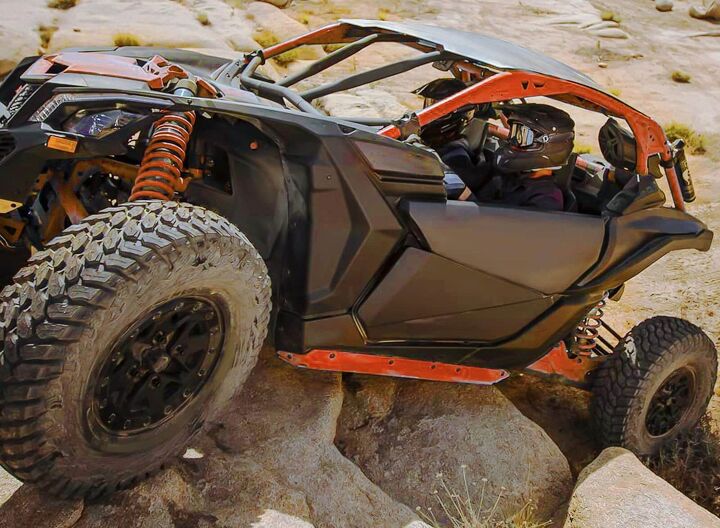 Kemimoto Accessories
Kemimoto is coming up big with some great deals on ATV and UTV accessories for the holidays.
From Black Friday/Cyber Monday deals (including 20% off all doors and windshields and 20% off heated gear), Kemimoto is also hosting a big giveaway. Even if you don't win, everybody that enters will get an 18% discount.
Kemimoto makes a massive lineup of off-road accessories designed to make your next ride that much better.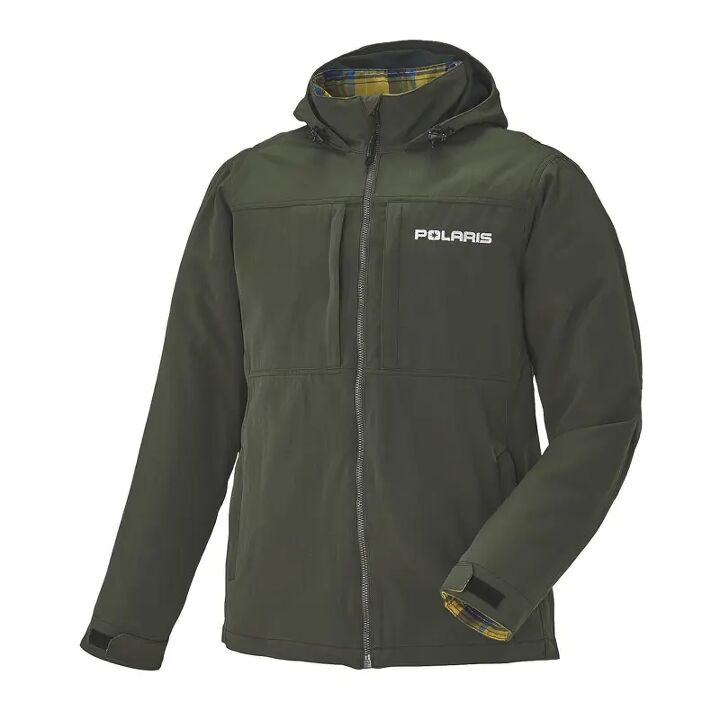 Branded Apparel
Everybody loves to represent something they love, whether it's a sports team, a band, or an off-road vehicle manufacturer. There are endless options for questionable, third-party purchases when it comes to wearing a company's logo on a piece of clothing, but the best bet that supports the manufacturers we love is to buy products straight from the source. OEMs like Polaris usually sell apparel like jackets in their dealer sales areas, and many do through their websites as well.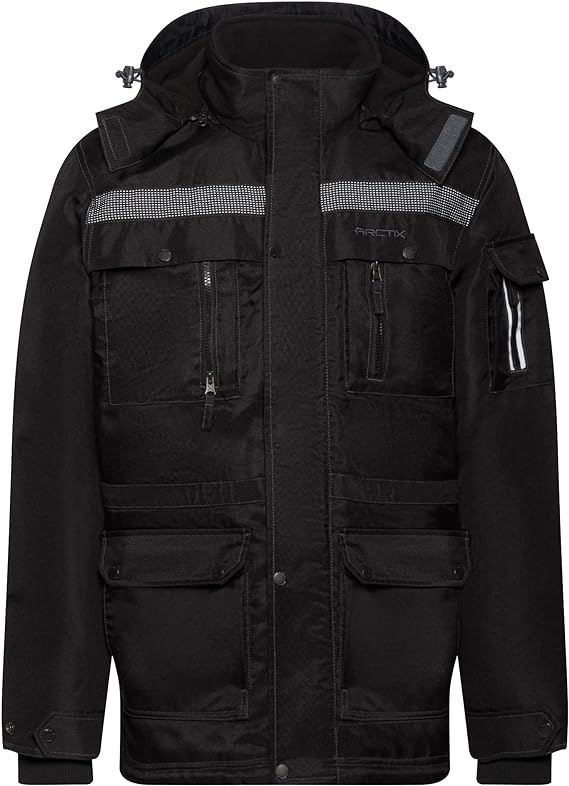 Winter Weather Gear
Those bold enough to brave the elements would do well to wear warmer attire than in warmer months. Doing so not only keeps you warm, but staying warm means more time can be spent riding or driving your favorite machine. We're suckers for lightweight products that do the job as effectively as heavier, bulkier winter weather wear, and a quality jacket is a good place to start. One with high-visibility striping is an added benefit, as it tends to be darker earlier into the evening this time of year.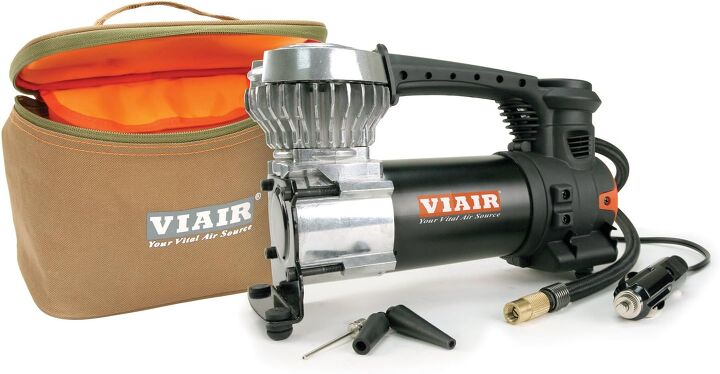 Tire Patch Kit and Compressor
Like it or not, chances are good that at some point in your off-roading life one of your tires will require the addition of air to get it back to the proper pressure. Whether that's due to the changing temperature or some kind of rock-induced puncture, it's extremely likely that you will need to patch and subsequently air up your tire(s). To keep the rubber just right, a tire patch kit and portable air compressor are great gifts that should be mandatory inclusions in any ATV enthusiast's tool kit.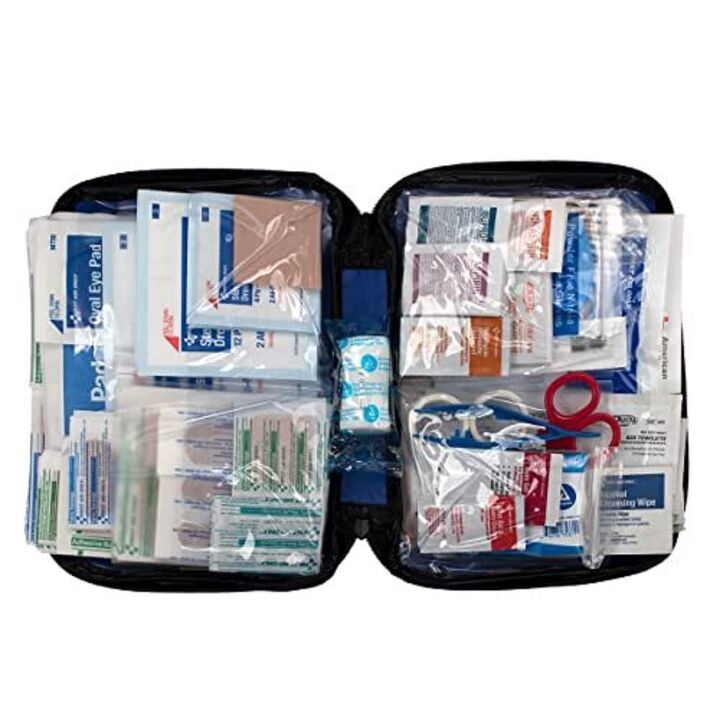 First Aid Kit
Self-explanatory as this is, a first aid kit is an often overlooked item that can make a bad day or a physical mess that much less worse, and in the case of more robust kits literally save a life. Storage space in many ATVs is fairly limited, so a compact, all-purpose first aid kit is a great thing to have in the odd, unfortunate event should something require medical attention.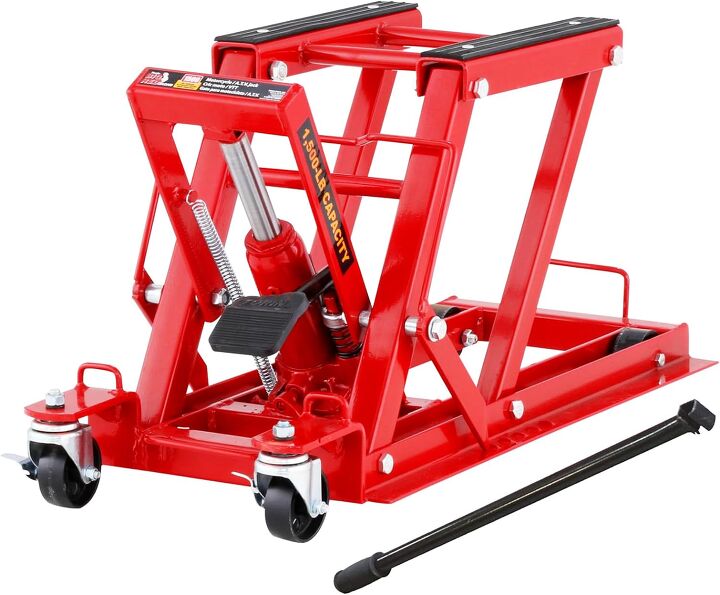 ATV Jack
For some, the winter is the optimal time to work on an ATV. Whether this is basic maintenance, replacing worn components, or performing upgrades, doing so is always easier with the machine lifted off the ground. A traditional bottle or floor jack usually works fine when paired with a set of jack stands, but there's better options to help optimize the ability to get things done on the four-wheeler with ease. ATV jacks lift the machine from the center of the frame, helping to distribute weight properly and allowing an even, high lift without the huge price that comes with built-in two or four-post automotive lifts.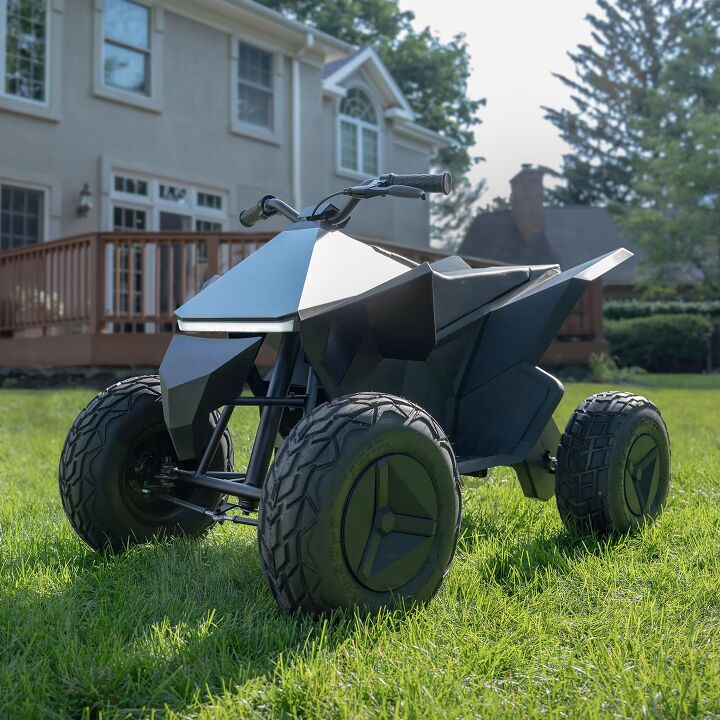 Cyberquad For Kids
Have deep pockets and the urge to give the gift of an electric, on-road-only ATV to someone aged 9 to 12 years old? Radio Flyer just announced the Model 915 Cyberquad For Kids, a little four-wheeler that is evidently "[...] not for off-road use and is not a youth ATV" (as per the new warning label) but should provide some fun for those who can play with it in a controlled environment. At $1,900 the Cybertruck-inspired machine costs a pretty penny, and its 10 MPH top speed is barely faster than the speed a passionate runner exercises at, but it's an interesting proposition.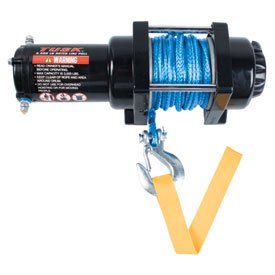 Winch
A winch is a great accessory for any off-road machine that has a chance of getting stuck. Black Friday and the holiday season are also a great time to pick one up for yourself or someone who has an ATV but not a winch, and the variety of brands, line types, weight limits, and so on is vast. We recommend buying a reputable brand from a reputable seller, then testing it out before you actually need to rely on it. This is a great gift that can save the day should a mud pit (or hill climb) be deeper or more difficult than expected.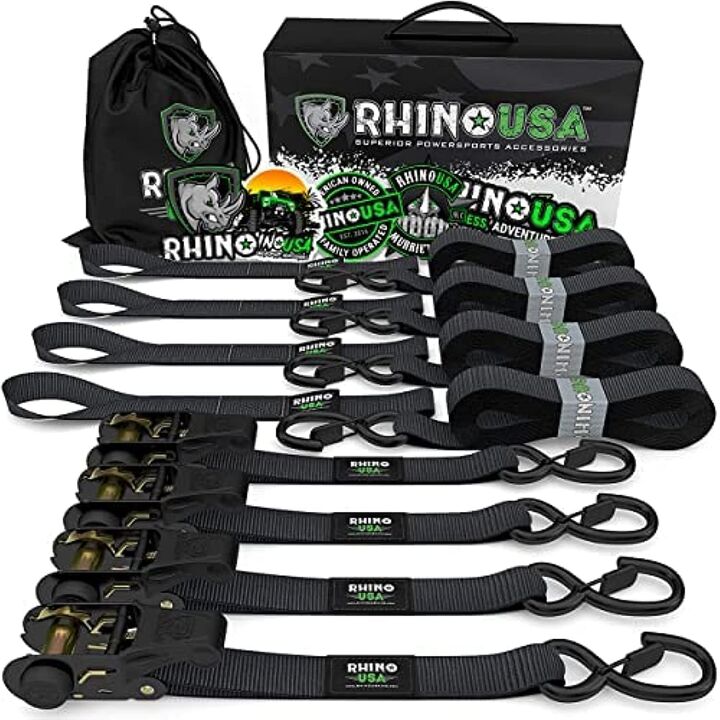 ATV tie-downs
More frequently than not, we see ATVs strapped down to a truck bed or trailer in unsafe, improper manners. Everyone thinks they're an expert on the subject until those ultra-budget, poorly used tie-downs fail and a machine comes loose or worse. A set of high-quality, durable, strong ratchet straps can assure that a machine stays in place when used properly, and they last longer as well.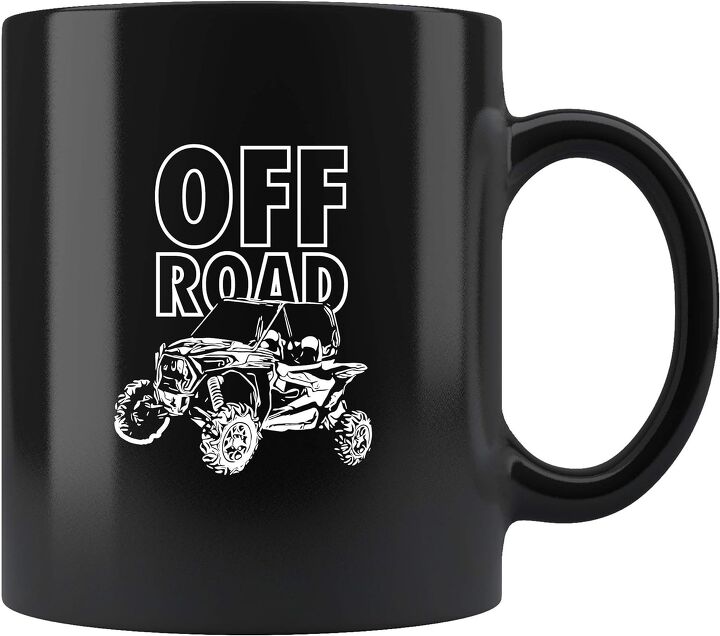 Mug
Be it coffee, tea, or whiskey, a mug is a gift that can be given in good nature and that lets you show and remember your passion every time you take a sip of the fluid contained within. It's easy to find a drinking vessel with a brand's logo on it, and there's plenty of options for fun-fueled cups that involve and center around the ATV hobby.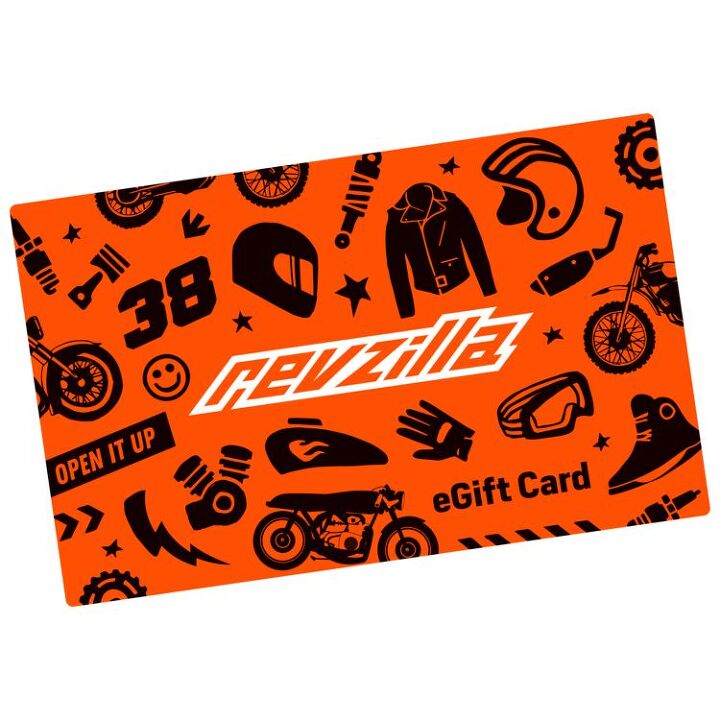 Gift Card
When all else fails, a gift card is a fail-proof way to give the gift of ATV toys, accessories, parts, or upgrades to someone you love, care for, or are obligated to get a gift. Obviously the amount on a card can vary widely and is up to the purchaser, but we're hard-pressed to think of a gift more universally welcome by four-wheeling enthusiasts than the gift of letting them decide on their own gift. Published November 17th, 2023 1:02 PM
Top Brands
Popular Articles