1 View
ROHVA Offers Free On-Line Course for Off-Road Vehicles
January 13th, 2011 12:24 PM
Share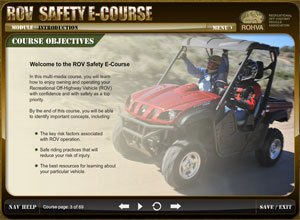 The Recreational Off-Highway Vehicle Association (ROHVA) has launched a new e-course available to help users understand safety measures that should be taken when operating Recreational Off-Highway Vehicles (ROVs). The e-course is available at rohva.org and is free.
The course, which focuses on UTVs, will not teach you how to drive. Instead, it is designed to improve your awareness about these powerful machines and inspire a more safety-minded approach to off-highway recreation.
The interactive course is broken down into seven areas: Understanding Your Risk, Risk Management, Understanding Your Vehicle, Driver/Operator Responsibility, Passenger Safety, Responsible Operation, and Environmental Responsibility.
After snooping around the e-course for a little while it seems to us that it's mostly common sense. However, we've found over the years that common sense isn't all that common so if you're thinking of lending your UTV out to a friend it's probably a good idea to have them take the course.
Published September 29th, 2010 1:13 PM