1 View
Polaris Reports Huge Second Quarter Sales Growth
July 20th, 2011 12:10 PM
Share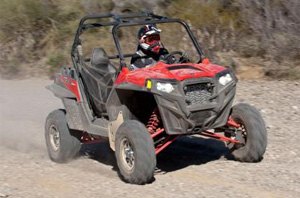 Polaris Industries Inc. has reported incredible sales growth for the second quarter (ending June 30, 2011). Sales for the second quarter totaled a record $607.9 million, an increase of 41 percent from last year's second quarter sales of $430.9 million.
Much of that growth came from off-road vehicle sales, which increased to 41 percent to $482.3 million from $342.1 million the previous year's second quarter. According to Polaris, the increase reflects significant North American market share gains for both ATVs and side-by-side vehicles and increased sales in Polaris' military and Bobcat businesses.
North American consumer unit retail sales for Polaris were up mid-teens percent from the second quarter last year, with side-by-side vehicle retail sales climbing significantly and ATV retail sales up mid-single digits percent.
North American ORV dealer inventories were up slightly from the second quarter of 2010, as higher side-by-side vehicle inventory was required to support very strong retail demand. Sales of ORVs outside of North America increased 35 percent compared to the second quarter 2010, due to higher volume, increased sales of higher priced side-by-side vehicles, and positive currency benefit from the weaker US dollar.
Polaris also saw growth in snowmobile sales ($6.8 million up from $1.9 million), on-road vehicle sales ($30.9 million up from $15.5 million) and parts, garments and accessories ($87.9 million up from $71.4 million).
"The Polaris team continues to excel and I am proud of our ability to accelerate sales while simultaneously expanding margins and strengthening earnings," says Scott Wine, Polaris' chief executive officer. "Next week we will be unveiling a number of new model year 2012 products. Innovation has always been one of our key competitive advantages and these products exemplify our commitment to providing consumers with high quality, cutting-edge products."
Published July 20th, 2011 12:10 PM
Top Brands
Popular Articles