1 View
Yoshimura Unveils Line of UTV Accessories
February 16th, 2012 12:10 PM
Share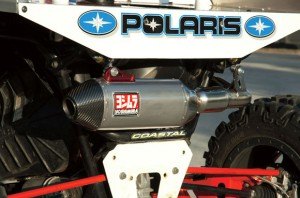 Yoshimura R&D of America has introduced a line of performance exhausts and hard parts for the UTV market.
"In recent years, UTVs and Side x Sides have emerged as one of the top off-road sports," Yoshimura says in a release. "We were excited for the opportunity to put our knowledge, skill, and craftsmanship forth and develop performance products for these machines."
To thoroughly test out the new lineup, Yoshimura teamed up with William Yokley of Yokley Racing, winner of countless ATV and UTV race, including the Baja 1000
"Yoshimura has been working intently with Yokley Racing to develop parts specific to racing, while also benefiting the weekend warrior," Yoshimura says in the release. "Through the use of high-tech data acquisition and GPS tracking technology, similar to those used in Formula One racing, we've developed the best performing products in the industry. With additional input from Yokley and his team, we've tuned intakes, exhausts, engines, engine management, and fuel – everything conceivable for the best performance possible."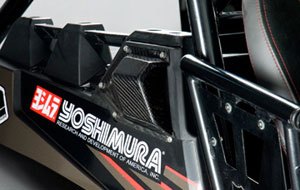 The RS-8 slip-ons are manufactured from polished 304 stainless steel and feature a deep draw polished stainless steel end cap. The muffler features multi-staged construction that starts with a straight baffle that initially flows into a large volume perforated baffle chamber. From there gases flow into a floating baffle that is integrated into the end cap. Inside the floating baffle is a USFS approved spark arrester. Low 96dB sound levels keep the RS-8 friendly on the trails. Yoshimura says the overall design produces big increases in power and torque.
Yoshimura calls the RS-4 is a technological marvel and it's packed with features like a Carbon Fiber end cap (a first in the UTV market), a USFS approved spark arrestor, Yoshimura's exclusive Duplex resonance chamber and 2-stage stepped internal baffle. According to Yoshimura, this effectively acts as a mechanical system and in turn improves power while lowering dbs.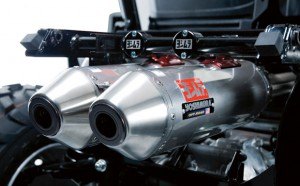 Yoshimura says its RS-2D (Dual Muffler) is a really versatile and very potent pipe. It is basically an evolution of the original TRC design, but with a slightly different (pyramidal) shape that features increased volume. The volume enables a quieter system and larger cores. This unit comes with a USFS approved spark arrestor.
Yoshimura will also have a host of slip-on, full systems and hard parts available soon for the most popular makes, models and applications.
Click here for more information on Yoshimura's UTV Products.
Published February 16th, 2012 12:10 PM
Top Brands
Popular Articles