1 View
ATV Motocross Series Offers Free Admission for Veterans
November 12th, 2014 4:16 PM
Share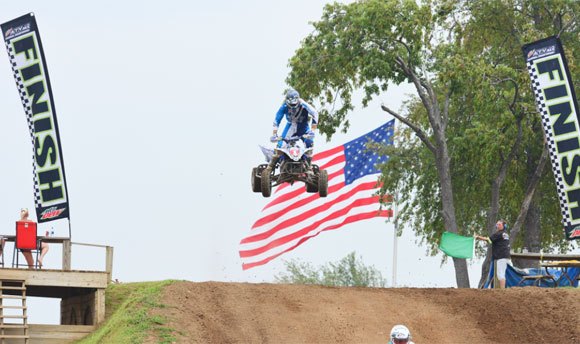 (Photo courtesy Ken Hill)
MX Sports Pro Racing and the ATV Promoter's Group (ATVPG) have introduced an initiative with the Veteran Tickets Foundation to offer free admission to any round of the 2015 Mtn. Dew ATV Motocross National Championship, sanctioned by AMA (ATVMX).
For the first time ever, active and retired military veterans can watch the on-track excitement of the world's premier ATV motocross series at no cost.
ATVMX has donated 50 General Admission tickets to the Vet Tix foundation for each of the 10 rounds of the championship. Tickets will be available to all military veterans two weeks prior to each event through VetTix.org.
"The donation of free tickets has dramatically widened the range of ways that veterans can relax, enjoy themselves, share smiles with their families and loved ones, and for some, be re-integrated into civilian life," says CEO and Founder of Vet Tix Michael Focareto.
Major sports franchises from Major League Baseball, the National Basketball Association, National Football League, and National Hockey League have also partnered with Vet Tix, as have touring organizations like World Wrestling Entertainment and Professional Bull Riders.
Vet Tix, based in Phoenix, is a national nonprofit organization that provides free tickets to veterans and active-duty members of the military and their families. Focareto, a U.S. Navy veteran, developed the concept of Vet Tix in 2008 and since then the organization has given away more almost 1.2 million tickets to veterans nationwide.
All active and retired military veterans can create an account on VetTix.org to receive emails and reminders about when ATVMX tickets become available. More information about Vet Tix can be found at VetTix.org.
The 2015 Mtn. Dew ATV Motocross National Championship kicks off Saturday, March 21, with the inaugural visit to Echeconnee MX Park in Lizella, Ga.
Published November 12th, 2014 4:16 PM
Top Brands
Popular Articles