1 View
March 16th, 2016 8:20 PM
Share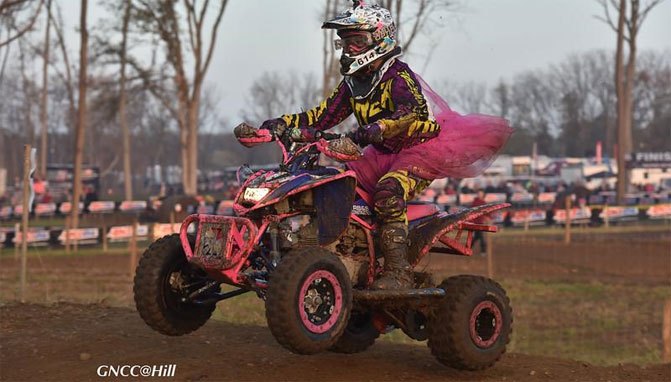 Final round of GNCC honoring breast cancer awareness
When the 2015 AMSOIL Grand National Cross Country Series descends on Crawfordsville, Ind. for the Ironman GNCC, you can expect to see an awful lot of pink.
The final GNCC race of the year takes place Oct. 31 and Nov. 1 and has been deemed a "pink race" in honor of October's Breast Cancer Awareness Month.
The goal of Ironman's pink-effort is to raise awareness and funds locally for breast cancer care and research, while also bringing the GNCC Racing community together for a cause that transcends racing.
GNCC Racing will relax number-plate background codes for the race and encourages riders to run pink backgrounds, available via Powersport Grafx. Same as last year, a $22.95 pink front number plate background will result in a $5 donation; however, this year a full set of front and side backgrounds will retail for a reduced price of $59.95 and includes a $10 donation. In addition, each order will include one free mini plate.
RidePG.com will also sell exclusive GNCC breast cancer awareness race stickers for a minimum $1 donation. Donations will go to the Montgomery County Free Clinic (MCFC), a non-profit organization dedicated to providing free mammogram examinations. A recent partnership with Montgomery Country Community Foundation (MCCF) has allowed MCFC to continue to provide support for those affected by breast cancer. MCCF will match 50 cents to every dollar that is raised throughout the event.
The race facility will be adorned in pink, including a special pink podium backdrop. The backdrop will be autographed by each podium finisher during the weekend and auctioned off, with proceeds going to the MCFC. Additionally, pink-themed trophies, awards, t-shirts and plaques will ensure a memorable scene for all. Racers and spectators can get in on the fun by bringing and wearing pink clothes, riding gear, graphics and other decorations.
Published October 7th, 2015 10:10 AM