1 View
Yamaha Targets Massive UTV Growth
January 5th, 2016 11:48 PM
Share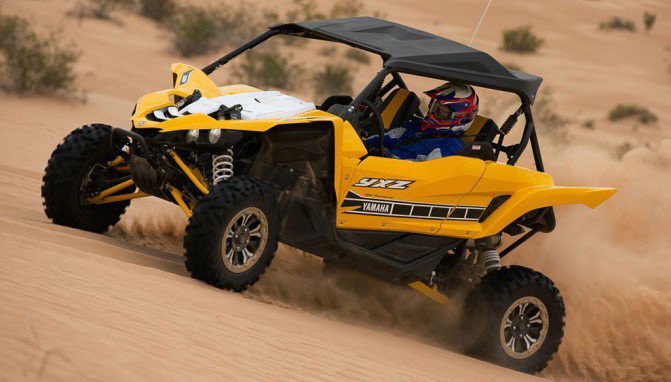 Market share of Sport UTV segment expected to climb exponentially
Yamaha plans to more than double the number of UTVs it sells by 2018, with a particular focus on the Sport and Recreational segments.
According to the Medium-Term Management Plan released by Yamaha Motor Ltd., Yamaha sees a bright future for UTVs and plans to capitalize.
Looking at the big picture, the manufacturer sees the demand for UTVs growing from 340,000 units in 2015 to 410,000 in 2018. That's an increase of 70,000 units and Yamaha plans to own 37% of those.
Yamaha plans to increase its UTV sales by more than double by 2018.
As of 2015, Yamaha claims it has 7% of the UTV market share. By 2018, Yamaha plans to have 12% of the market share. This would see an overall increase from 24,000 Yamaha models sold to 50,000.
That increased market share seems to be coming from the Sport and Recreational segments. Yamaha says it currently owns 3% of the Sport UTV market share and plans to control 19% of the segment by 2018 with the goal of "Establishing the No. 1 brand" of Sport UTV.
The Recreational UTV market is also a big focus of Yamaha, with plans to increase its current 5% market share to 15% by 2018.
While Yamaha sees its Sport UTV and Recreational UTV market share growing exponentially, its Utility UTV market share is expected to fall.
Interestingly, Yamaha sees its market share falling in the Utility segment, which is far and away the largest segment in the industry. Yamaha claims it currently owns 9% of the Utility UTV market, but expects that number to drop to 6% by 2018.
What's Next?
So what does this all mean when it comes to future UTVs? No specific details are given in the Medium-Term Management Plan, but it seems clear that the Sport and Recreational UTV segments are going to expand in a significant way. If Yamaha really plans on taking over 19% of that segment, we wouldn't be surprised to see an army of machines on the way. Likely candidates are a four-seat version of the YXZ1000R, as well as a turbo-powered machine. It also wouldn't be a huge surprise to see a version of the Ultramatic transmission in a Sport UTV to appeal to a larger group of customers.
The Wolverine R-Spec is the flagship of Yamaha's Recreational UTV line.
Yamaha already has a couple of versions of its new Wolverine Recreational UTV available, but with plans on tripling its market share in this segment, we'd expect to see more versions in the not too distant future. A multi-passenger Wolverine would make sense, as would a trail-capable YXZ with a little less power and narrower stance – something like the Polaris RZR 900 or Arctic Cat Wildcat Trail.
As for the Utility segment, with plans for market share to drop, we wouldn't be surprised if Yamaha stuck with the Viking and Viking VI and left them alone, outside of some minor tweaks and improvements. After seeing the Medium-Term Management Plan, a new Yamaha Utility UTV seems unlikely.
What about Yamaha ATVs?
While Yamaha has revealed its thoughts on the UTV segment, much less was said about the ATV line. In fact, the only mention of ATVs was when Yamaha noted the demand shift from ATVs to UTVs.
There was almost no mention of Yamaha's ATV segment in the Medium-Term Management Plan.
Yamaha has just recently given the Grizzly an overhaul and introduced the new Kodiak, but it's tough to see what the future holds in this segment when it was essentially ignored in the Medium-Term Management Plan.
Published December 21st, 2015 2:35 PM