1 View
How Can I Fix My Poorly Repaired ATV?
May 5th, 2017 2:52 PM
Share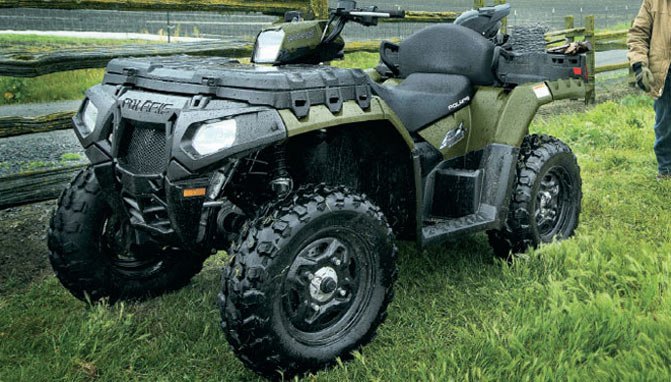 How can I fix my poorly repaired ATV? One of our readers needs some help from the ATV AnswerMan after discovering his newly purchased Polaris Sportsman X2 500 EFI was previously in the wrong set of hands…a set of hands with access to expandable foam!
Here is exactly what the reader asked the ATV AnswerMan, followed by his response:
I recently bought a 200o Polaris Sportsman X2 500 EFI. The engine was rebuild and who ever did the rebuild had expanding foam over the tension to stop an oil leak. I figured they did not replace the gasket and it was leaking or they split the tensioner housing so I ordered both and when it came in and i went to install. It was the same tensioner but appears nothing is wrong except the tensioner is the wrong size yet its correct for the bike so i am assuming they put a new jug on the bike also just looking at it then and the jug is a different shade of grey/silver than the head and base. What jugs fit my bike or how can i find out?
Thanks
Jordan
Wow, what an incredibly crazy situation. So if I am reading this right the "Timing Chain Tensioner" is what we are studying here and the cylinder seems to be the wrong jug for this machine. In splitting hairs to get the best possible results for you, as you now own this mess, let's start with the fact that the timing chain tensioner does not fit the cylinder. That is a little worrisome to me as sometimes parts will interchange on a series of machines, but it doesn't make it fail proof or right when piling in pieces from different year models. Not all 500 engines are created equal.
I noticed in your original question you had placed the year of this machine as a 2000 but the Sportsman X2 first appeared in 2008 (it existed as a non-Sportsman model before that). Maybe it was just a slip of the finger on the keyboard but make sure that didn't happen when you ordered your parts as well or you will really have a mess. Find your VIN number and be positively sure of the year.
So lets address the fact that expanding foam was used in the rebuilding process. This should have been a giant red flag when buying any machine with a note saying the engine was rebuilt! Anyone can simply install parts with bare minimum skills and using expanding foam is not part of a professional rebuild process in any shape or form. It makes me very worried about what other short cuts or shady tree practices went into your motor.
Next, if you need the correct year cylinder then you just find the exact year for the machine and order it from a genuine Polaris dealer. It is as simple as that. Just remember you may also need to order a stock size piston and rings as well. If the engine has any identifying numbers, take those to the dealer with you and a good parts counter can figure out if the engine actually belongs to the frame in which it now resides. This sounds to me like it could be a big problem and a host of issues could be coming your way. Good luck and keep us posted.
Published April 28th, 2017 2:10 PM
Top Brands
Popular Articles