42 Views
2018 Polaris Ranger EV vs. Textron Prowler EVis: By the Numbers
February 12th, 2019 12:44 PM
Share
We're committed to finding, researching, and recommending the best products. We earn commissions from purchases you make using links in our articles. Learn more here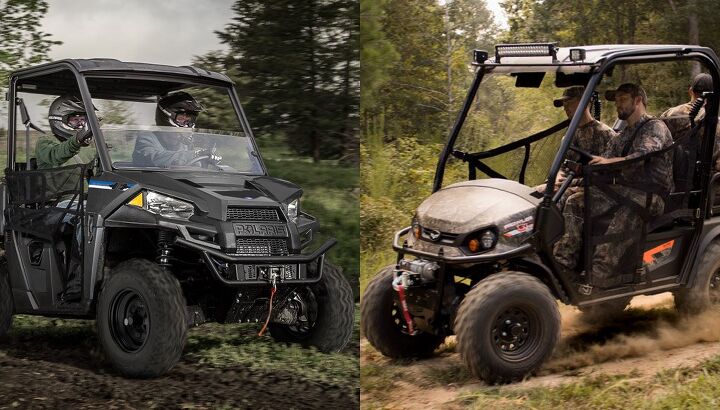 You won't hear their engines roar, but the electric-powered Polaris Ranger EV and Textron Prowler EVis are great options for those who don't want to be heard.
We'll be the first to say that when it comes to UTVs, we tend to think of gas-powered, big horsepower brutes that can either do heavy chores, or haul the bacon at insane speeds. What we often forget about are the alternative options we have. Hybrid and electric cars are growing in popularity in recent years, but electric-powered UTVs have been around for many years as well. Textron has the Prowler EVis and Polaris has had a battery-powered Ranger EV in the lineup for some time. Let's take a look by the numbers.
| | | |
| --- | --- | --- |
| | 2018 Polaris Ranger EV | 2018 Textron Prowler EVis |
| MSRP | $11,299 | $13,499 |
| Engine | Single 48-Volt, High-Efficiency, AC-Induction Motor | 72V Battery System 6-12V Heavy-Duty Deep Cycle Batteries |
| Driveline/Differential | On-Demand True AWD/2WD/VersaTrac Turf Mode | Dash Mounted Direction Selector Switch (Forward-Neutral-Reverse) |
| Wheelbase | 72 in | 70 in |
| Overall Dimensions | 110 x 58 x 73 in | 111.8 x 53 x 76.8 in |
| Weight | 1,350 lbs | 1,710 lbs |
| Front Tires | 25 x 9-12; Carlisle | 25 x 8-12 Carlisle Trail Pro Tires |
| Rear Tires | 25 x 9-12; Carlisle | 25 x 10-12 Carlisle Trail Pro Tires |
| Ground Clearance | 10 in | 9.5 in |
| Bed Capacity | 500 lbs | N/A |
| Towing Capacity | 1,500 lbs | 1,000 lbs |
History Lesson
Textron has a long history with electric vehicles. How many remember the Bad Boy Buggies? These machines were around for years, gaining popularity with hunters and outdoor enthusiasts with features aimed at helping one bag a trophy. When Textron changed its name to Textron Off-Road and with the integration of Arctic Cat, the EV lineup pared down and took on the familiar Prowler badge. The current machine comes in two forms. The Prowler EV ($10,499) and the Prowler EVis ($13,499), which adds independent suspension in place of a solid rear axle.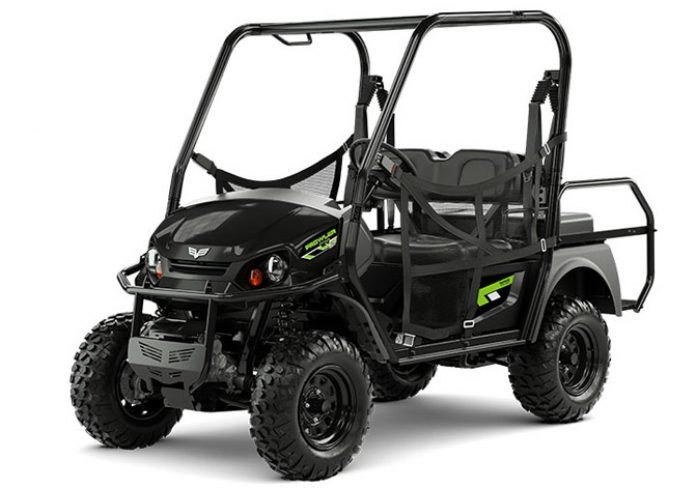 Polaris added an electric-powered option to the Ranger lineup several years ago and it is quietly building a following. It takes the compact two-seat Ranger platform and replaces the gas-powered engine with a battery system. All of the other systems remain basically unchanged from a standard Ranger. The controls, suspension styling and capacities are the same. Not long ago, Polaris added a second model that added the long-lasting performance of Lithium-Ion batteries to the Ranger EV ($11,299). The Ranger EVLi does more than double the price tag, however, coming in at $22,999.
Powering Up
So normally at this point in a By The Numbers story, I'd be comparing engine sizes and horsepower numbers. What's fun is, I can still do that, but there's a twist. With a normal gas-powered powerplant, the power is a matter of a curve. A 50-horsepower motor doesn't make 50 horsepower right off the bat. That is not the case with an electric engine. From the moment you touch the accelerator, the power is available including the full-range of torque. This is a big plus to an electric motor.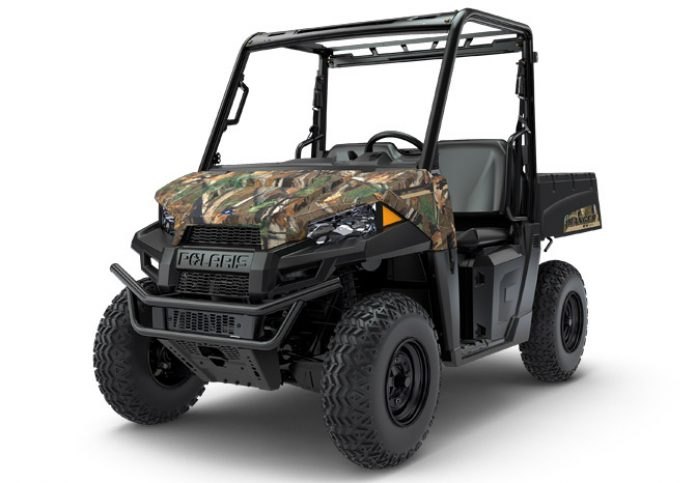 The Textron Prowler EVis runs two (front and rear) 72-volt electric motors that work simultaneously to power both front and rear drivelines. Because the Prowler is full-time all-wheel drive, the motors do not work in series, meaning they don't multiple each other. They are good for a 38-horsepower rating, but you have all of that power on both the front and rear drivelines. The major advantage here is battery life. There are 6 12-volt batteries on board the Prowler.
The Polaris EV runs a single 48-volt, high-efficiency motor that powers the Polaris On-Demand all-wheel drive system with 30 horsepower. This system lets you pick from AWD, two-wheel drive and turf-mode. It is fed by a sealed lead-acid battery system. Battery life is decent, especially in turf-mode. If you need better, well, there is that Li-model…
Capabilities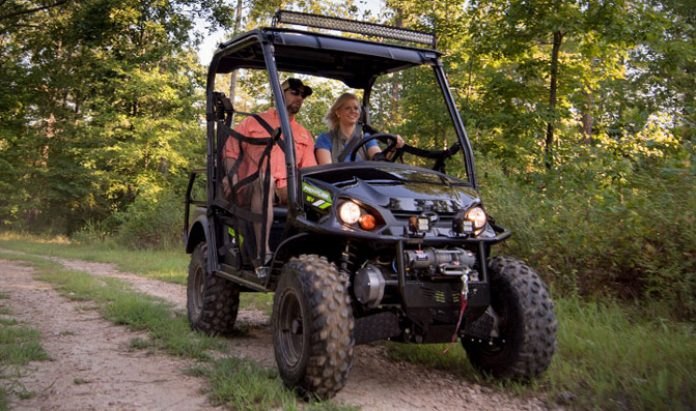 Both machines have a two-inch receiver hitch and 10 inches of basic ground clearance to the axles. They also share McPherson Strut suspension systems riding on A-arms, and four-wheel brakes. That's about it for the similarities. The Polaris has a 500-pound rated dump box and 1,500 pounds of towing capacity. It can carry two people and has an overall payload capacity of 1,000 pounds. The Prowler has a convertible rear bench seat, so it can carry cargo, or two additional passengers. The towing rating for the Prowler sits at 1,000 pounds and its overall payload capacity is 840 pounds.
Do You Want One?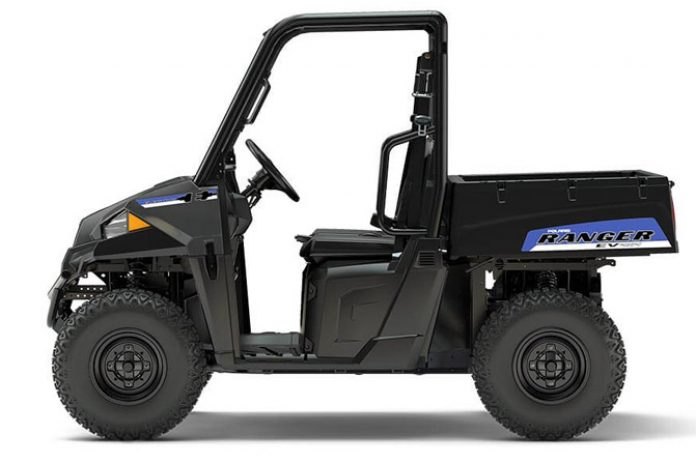 There's a few definite reasons to be interested in an electric UTV. Noise is the first and foremost selling point. Hunters have long liked the idea of not making noise around game animals. It's been my experience that this isn't always the case, but I get it. If you're using the machine on your own property and range isn't a big issue, an EV is a neat way to go. I know these machines both have a decent range, but you wouldn't want to be deep in the woods and have the battery die. Neither company lists an average run time for the motor, as this would be impossible to predict with temperature and load variations have an impact.
It used to be true that electric UTVs were little more than glorified golf carts, but technology and interest has advanced them way beyond that point. Take a look at the Nikola NZT and you'll see what I mean. Derrek Sigler
Derrek's love for all things ATV started when he was a mere 11 years old, growing up on his family farm. His mom gave him and his sister a choice - get a horse, or a three-wheeler. The sister wanted the horse, and Derrek wanted the ATV. Luckily he won out, and was soon burning up the trails on a Yamaha Tri-Moto 200. By the time he was 14, he had saved enough of his own money by working on the farm and in his folks restaurant to buy a new 4-wheeler. That happened the day he and his mom were driving past the dealership and saw 1987 Banshee. His mom had no idea what he was buying, and he never looked back. He's been riding ever since, and been writing professionally for many years. He has ridden all over North America and been behind the controls of just about every machine out there. And yes, he still has his 1987 Yamaha Banshee.
More by Derrek Sigler
Published January 5th, 2018 4:52 PM
Top Brands
Popular Articles