1 View
Borich Wins Unadilla GNCC
September 13th, 2010 10:32 AM
Share
We're committed to finding, researching, and recommending the best products. We earn commissions from purchases you make using links in our articles. Learn more here
Last lap charge leads Suzuki pilot to victory
Chris Borich kicked off the second half of the Can-Am Grand National Cross Country Series by taking his eighth win of the season, using his patented last-lap charge to win the Can-Am Unadilla GNCC in New Berlin, NY.
Borich mixed it up with Balance Racing Yamaha's Taylor Kiser and Warnert Racing Can-Am's Adam McGill during the first four laps of the two-hour race, but like he as done several times this year the Pennsylvania rider picked up the pace on the final lap, putting his Yoshimura Suzuki into the lead to edge Kiser for the win.
"I was trying everywhere to get around Taylor and he finally left the door open and I was able to get him. After that I just put the hammer down to get a bit of breathing room," says Borich. "He pitted a lap before us and that gave him the lead, so I just tried my best to catch up with him and once I did I just dogged him until he made a mistake."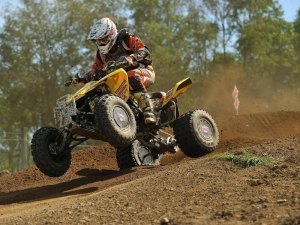 The win extended Borich's lead in the title chase to a whopping 45 points over Kiser with just three rounds remaining on the schedule.
Kiser had been in good position to claim his second win of the year when he took the lead on the second lap of the race, however, a transmission problem at the halfway point threw a wrench into his plans.
"We pitted a little earlier than everyone else and that gave us the lead and then we just put in a really good, solid race," says Kiser. "But our motor started acting up with about two laps to go and I just couldn't keep up the pace, so a mechanical issue kept me from the win today. But we'll be back… trust me, I'm coming."
McGill held the lead at the end of the first lap – coming from behind after getting tangled up right after the start – and put in a good race to finish third.
"This is the first race back and I'm happy to be on the podium" says McGill. "I ran with Borich at the first part of the race, but Kiser had a good pit strategy and he moved in front of both of us. Borich and Kiser were running a fast race and I just did what I could."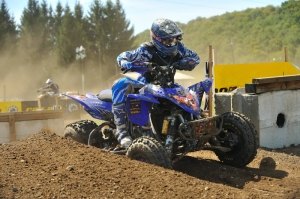 Fourth place went to McGill's Warnert Racing Can-Am teammate Chris Bithell, who ran as high as third at one point, before tangling with a lapper and going down.
"Getting caught up with the lapper dropped me back to fourth, but I felt good all day and I think I ran a strong race," says Bithell. "The Can-Am was pulling really strong today and I wish I had been on the box, but you take what you can get."
Fifth place went to Donnie Ockerman, who grabbed the holeshot to start the race. Meanwhile, Yamaha riders made up the next four positions, with Jeffrey Pickens, Brandon Sommers, Patrick Brown and Johnny Gallagher filling the sixth through ninth spots. Honda-mounted Craig Bowman rounded out the top 10.
In the XC2 Pro-Am division, HMF Honda rider Brian Wolf claimed his fourth win of the year and second in a row after coming out on top of a hard-fought battle with Balance Racing Yamaha's Walker Fowler.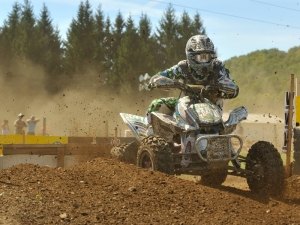 "I saw Walker behind me after the start and I knew it was going to be a long day," says Wolf. "We had a blast out there, going back and fourth, and I'm surprised I came out on top – I haven't trained much this summer. But it was a good race and I'm happy to come out with the win."
Fowler led much of the race and when he wasn't in the lead he was right on Wolf's tail, that is, until the final lap when Wolf finally pulled away.
"I was right there and I just couldn't make it happen," says Fowler. "It is what it is and you can't take anything away from Brian, he's an awesome rider."
Third place went to round-five winner Gabe Phillips, who put his Yamaha into the lead at the start and nailed the holeshot.
Honda-mounted Parker Jones finished the day in fourth ahead of Kawasaki rider Dustin Canipe, while Yamaha riders Kevin Yoho, Eric Hoyland, and Matt Hanna finished sixth through eighth. Nathan Thomas was ninth on a Honda and Blake Kramer finished 10th on his Suzuki.
With the win, Wolf extended his lead in the XC2 title chase to 15 points over Fowler, while Yoho sits third another 28 points back.
In the morning race, Women's class winner Kristen Atwell claimed the GT Thunder ATV Amateur $100 Overall Award with an impressive win over Can-Am rider Lexie Coulter. Yamaha-mounted Super Senior Dave Simmons was third overall, beating out Canadian Can-Am rider Amelie Lauallee.
In the Youth race, Marshal Goings took the overall win for the second race in a row and topped the 90 Modified (12-15) division in the process.
XC1 Standings
XC2 Standings
Pos.
Rider
ATV
Points
Pos.
Rider
ATV
Points
1.
Chris Borich
Suzuki
286 (8 wins)
1.
Brian Wolf
Honda
226 (4 wins)
2.
Taylor Kiser
Yamaha
241 (1 win)
2.
Walker Fowler
Yamaha
211 (3 wins)
3.
Adam McGill
Can-Am
199
3.
Kevin Yoho
Yamaha
183
4.
Don Ockerman
Yamaha
166
4.
Josh Kirkland
KTM
178 (1 win)
5.
Chris Bithell
Can-Am
163 (1 win)
5.
Gabe Phillips
Yamaha
178 (1 win)
6.
Johnny Gallagher
Yamaha
130
6.
Eric Hoyland
Yamaha
133
7.
Bryan Cook
KTM
124
7.
Corbin Knox
Honda
121
8.
Brandon Sommers
Yamaha
119
8.
Dustin Canipe
Kawasaki
115
9.
Jeffrey Pickens
Yamaha
119
9.
Blake Kramer
Suzuki
113
10.
Jarrod McClure
Polaris
102
10.
Mark Notman
Suzuki
112 Published September 13th, 2010 10:32 AM
Top Brands
Popular Articles