1 View
The Roar of Engines in Parry Sound – Video
July 3rd, 2015 11:58 AM
Share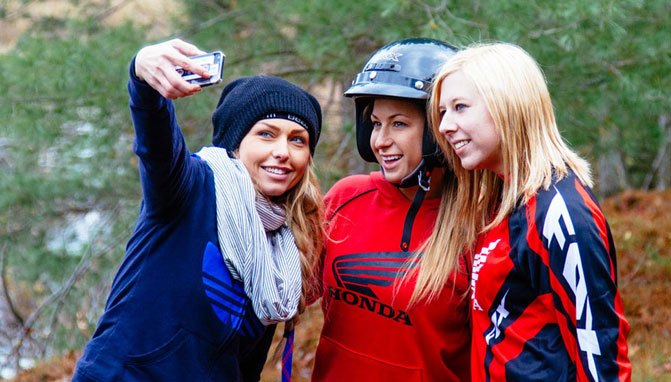 Thoughts on Women in Motorsports and Coming Home
Growing up in Parry Sound, you might've heard me and my friends complain about how much we hated the town. We'd grumble about how boring it was and how we wanted it to be bigger, better and with more stuff to do.
Looking back now, I have to laugh at the kid I was. I guess it takes time to realize what a fantastic thing living here actually is, and how incredibly lucky I am to have grown up here.
My childhood was filled with snowmobiling in the winter and ATVing in the summer. I've covered thousands of kilometers on my snowmobile and ATV, and have seen some of the most amazing and breathtaking scenes that the western side of Explorers' Edge has to offer – all thanks to motorsports.
Get the Flash Player to see this player.
ATVs and snowmobiles have taken me places few people ever get to go. The intricate trail system here cuts through the thick forest, carves up massive hills, cruises over the open rock faces of the Canadian Shield, and glides alongside the rivers that feed the hundreds of lakes in this area. And this is really what living here is all about.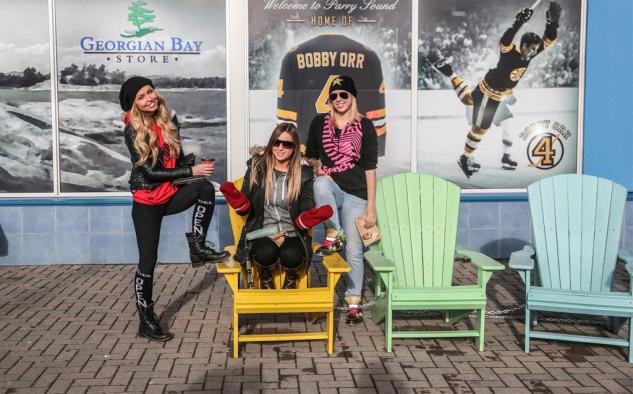 Showing the ladies some of what makes Parry Sound famous!
My most recent tour reminded me of how lucky I am to live in this beautiful area that is simply overflowing with fun and challenging experiences. It also gave me the opportunity to meet two amazing riders, Ami Houde and Leticia Cline. These two women came into my life and taught me that though some people may doubt my abilities because of my gender, when it comes down to it the only person that needs to believe in me is me.
Picking My Tour Mates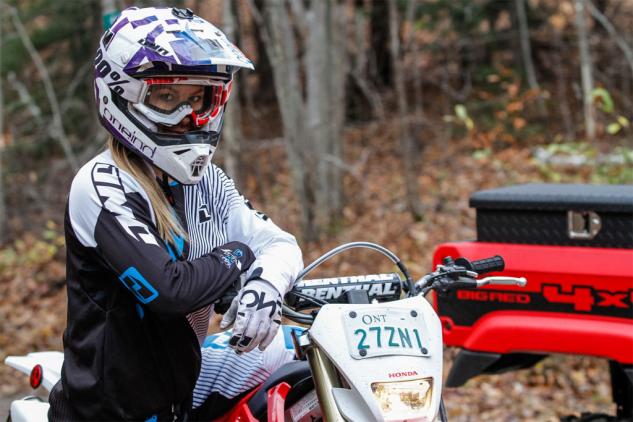 Ami taking a break trail side.
I began talking to Ami Houde earlier this year, after seeing her Moto Adventure videos on YouTube. Ami is a professional motocross racer with 11 Manitoba Women's Championship titles and is also a model. I was dying to meet her, as she's a fellow Canadian and professional racer.
COMPARISON: ATV Touring Operators In Ontario Make It Easy To Go Riding
We spoke briefly in the spring, after I'd contacted her to tell her what a positive role model she is for women in motorsports. I hoped some day I would eventually run into her at a motocross event, but I never thought I'd actually get to meet her.
Lucky for me, this epic tour opportunity popped up and I not only got to meet her, but also ride with her!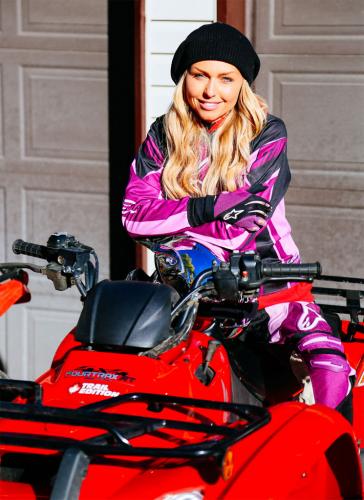 Leticia before we headed out on the trails with Bear Claw Tours.
But our crew wasn't complete, and there was another motorcross rider who'd captured my attention years ago – Leticia Cline. Leticia is a professional model with a passion for adventure. When I saw her host the Racer X Show, her authority about motorsports shone through – she really knows what she's talking about when it comes to motorsports. I'd wondered if she was still as big an off-road adventurer as before, but after browsing through her Facebook and Instagram, it quickly became clear that she's a dyed-in-the-wool motorsports adventurer and always will be.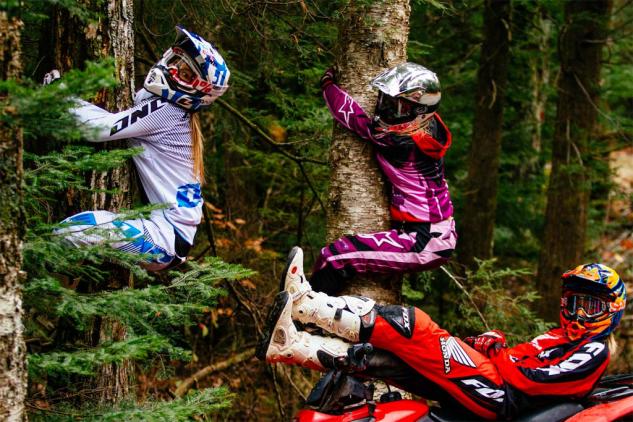 I knew these two would be full of fun and excitement!
I'd started thinking about inviting these two to come along with me on a motorsports adventure in my home turf. Why them, you might ask? These two women had inspired me and I knew they would inspire others. I also had just a feeling that they'd love the motorsports paradise that my hometown of Parry Sound had in store for them.
The Gang's All Here in Parry Sound
After months of planning and anticipation, it was finally time to get out there and ride. Ami and Leticia flew into Toronto and we all drove up to Parry Sound together. I called our adventure a "BAM" tour, because we'd planned to ride "by any means." When you're riding through an area on a float plane, hovercraft, ATV and dirt bike, I think we can safely say we've covered every means possible!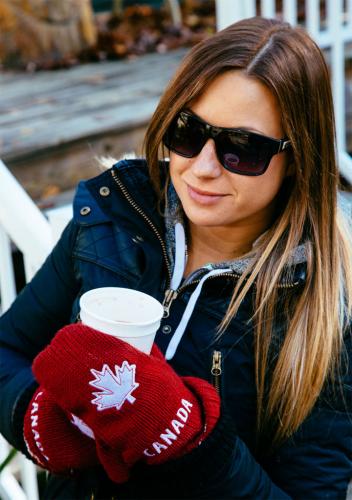 Ami sure loves her hot chocolate…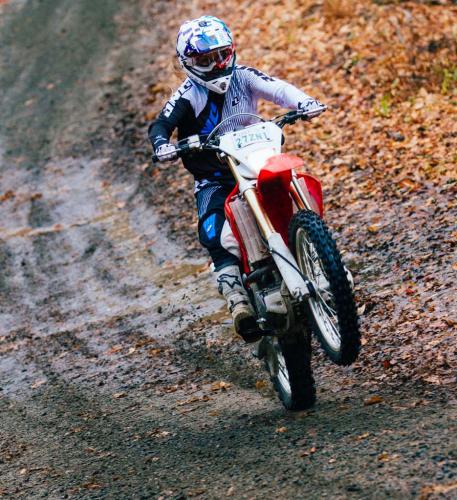 …and dirt bikes!
We met Andrew Ryeland of Bear Claw Tours at his home, most of us still exhausted from travel the day before. Luckily we were pampered at an amazing resort called Glenn Burney Lodge…a must stay if in the area for more than one day! The chilly weather had us cold and tired, but luckily Andrew had a quick fix, pumping us full of delicious hot chocolate to chase away the chills. As Ami sipped hers and slowly woke up, it seemed almost as if a light switch had gone off in her head, and suddenly all that she could think about was getting to ride a dirt bike as soon as possible.
COMPARISON: ATV Trails: Ontario's Ganaraska Forest – Video
I was more excited to ride ATVs, as I'd just spent two months in a cast after breaking my wrist on a dirt bike. But Ami's excitement was contagious, and although nervous for the bikes, I was soon back in the saddle of a Honda CRF230F. When the time came, the three of us got on our bikes and, with some quick dirt tutorials from Ami, we rode off for an adventure in my hometown of Parry Sound, Ontario.
Time for Adventure!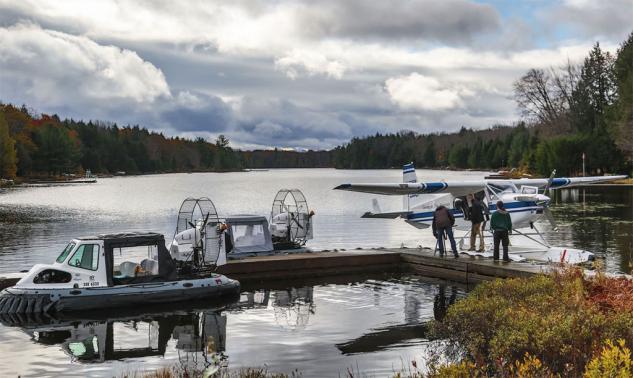 Float planes and Hovercrafts let you see Georgian Bay from above and below.
Our first stop was a float plane ride with Georgian Bay Airways. As our guide flew us up into the sky, we really got to see why Parry Sound was the best destination for this trip. The scenery, landscape and geography looked like it was made for motorsports to conquer.
What better way to see the scenery from land and sky?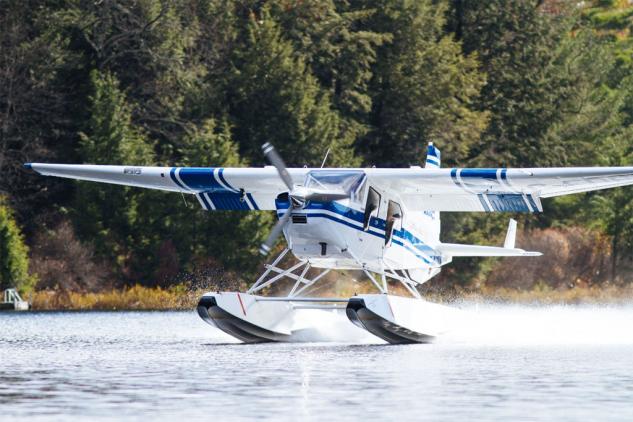 The float plane was a great way to see the beauty of Parry Sound.
Just as we landed, we caught a glimpse of our next ride, gliding miraculously on the same lake our float plane had just landed on! The Air Rider Hovercraft was next and boy; let me tell you, that was one heck of a ride! If you have a chance, check out this unique and rare form of transportation – there's nothing like gliding over lakes and rocks on a cushion of air.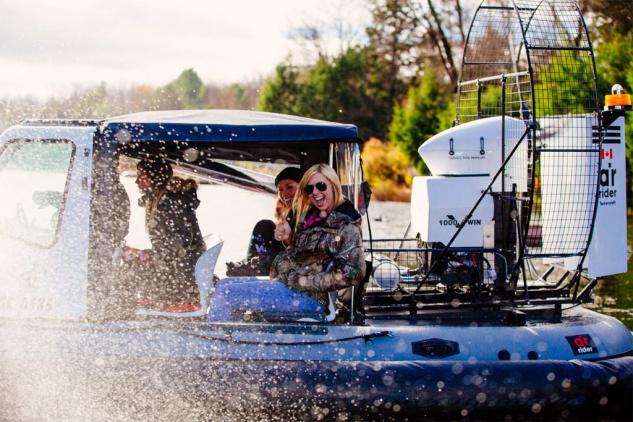 Taking a ride with Air Rider Hovercrafts was a real blast!
The next day we set out for Ami's favorite part of the trip: the dirt bikes and ATVs. With our tummies full of Bear Claw Tours' hot chocolate, we jumped on a set of trail bikes from Honda and finished the day off on Honda quads.
The trails brought us through some prime examples of the Canadian Shield. The beautiful landscape also made for some tough and challenging trails.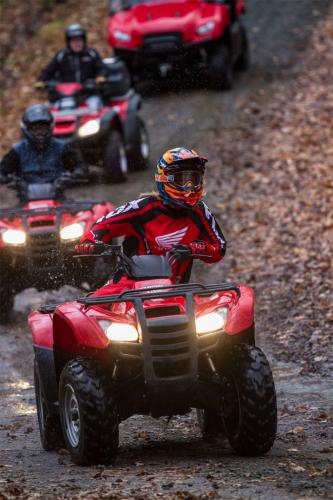 Ripping around the Bear Claw Tour trails on the Honda quads was my favourite part!
Riders First
When I started racing snocross in 2012, I encountered a lot of negative feedback from people that I'd once considered friends. I was told that I wouldn't win, that I wasn't strong enough to race and, ultimately, that I would fail because I was a woman in a man's industry.
COMPARISON: ATV Trails: Exploring Mattawa's Multi-Use Trail System – Video
My first year of racing, I decided to compete in the Trail Sport Men's class, as well as the Women's. During my first race in the Men's class, I was rammed and flipped over in the first corner. Part of me wondered if it had been on purpose. Soon after the incident, I began hearing rumors that people didn't think that I belonged in the men's class. I lost my confidence, got nervous and dropped the class. Even last season when I was racing in the Pro Women's class, I was still too nervous to race with the men.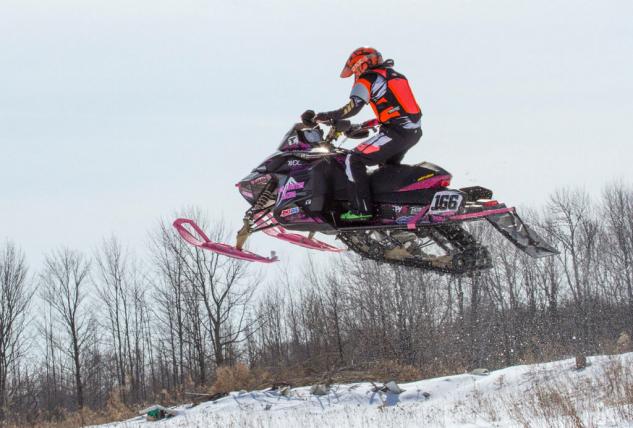 Practicing my snocross skills.
However, over the past few years I've caught glimpses of other women in this industry, women like Ami and Leticia, who have triumphed over the criticisms about being women in motorsports.
Their fearlessness and determination in this industry has inspired me to pursue racing in the men's classes, and this season you'll see me lining up alongside the men in the Sport class. I may not make the top 10, but every race will be a victory because I am proving to myself that I am no longer afraid.
I'm thrilled to have had the opportunity to bring these two amazing women to my hometown. Not only did I get to meet like-minded women who love motorsports, but I also had a chance to give them a true Parry Sound experience.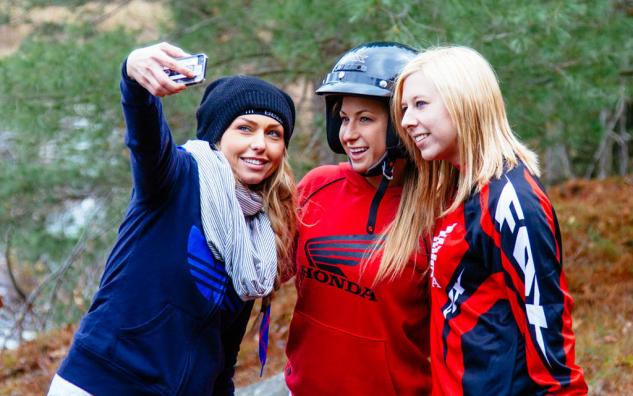 If I had to choose who to spend two days adventuring with I'd pick these two for sure!
People often visit this area because of the beauty of the scenery. The town's history of motorsports-related adventures and events are somehow sadly overlooked. I can't imagine a better way to bring some attention back to motorsports in Parry Sound than to let strong, influential women who love motorsports share the story of their trip to my hometown with the rest of the world.
Now that I think about it, there are a lot of similar connections to be made between Parry Sound and Ami and Leticia. Both equally beautiful but also challenging, tough and rugged. I guess this proves that we shouldn't assume that just because something is beautiful, that there isn't more to it.
About The Riders
Shelby Mahon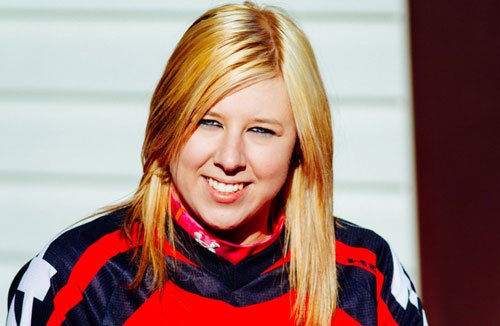 Owner of Back Country Photography and Design
Cambrian College degree in journalism
Freelance writer for The Rider Scope, Snow Goer Canada, American Snowmobiler Magazine
Snocross racer
Personal website – ShelbyMahon.com
Ami Houde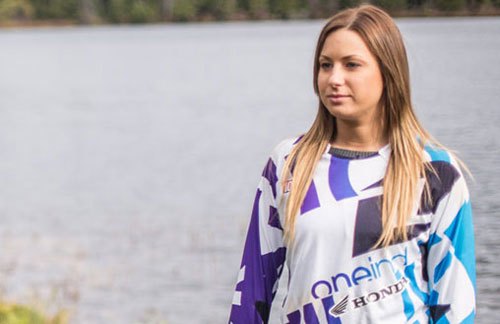 Professional motorcross racer
First Canadian to race the World Motocross Championships in Europe
Owner of MXA – a motocross academy/traning school
Personal website – AmiHoude.com
Leticia Cline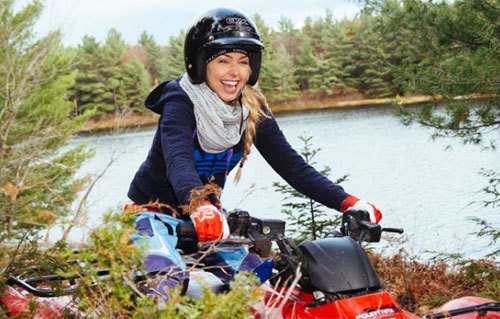 Host for the Racer X Show
Writer for Racer X magazine
Host of the Motocross De Nations
Host for GNCC on OLN TV
Miss Motocross winner, Miss Supercross finalist
Modelled for One Industries, Thor, Alpine Stars, HJC Helmets, Joe Rocket and more
Published November 14th, 2013 7:28 AM
Top Brands
Popular Articles